It's not often you come across a great designer brand which is cool, wearable and affordable too but White Tent ticks all those boxes and then some. For a start, their sustainable, often androgynous separates are designed with both men and women in mind.
Based in Lisbon and London, White Tent is the brainchild of design duo Evgenia Tabakova and Pedro Noronha-Feio who are all about producing relaxed fashion in easy to wear fabrics and re-interpreting classic shapes with a sharp focus on innovative cuts.
The pair, who trained in London at Central St Martins and The London College of Fashion, as well as doing internships at Alexander McQueen and Matthew Williamson, believe their desire to create "a product which is simple, useful and accessible" led them to fashion and they set up White Tent in 2007. As Evgenia tells me, "We approach fashion from a standpoint of creating effortless and, in a way, timeless pieces of clothing that we can see women of different ages wear, and it was always about that."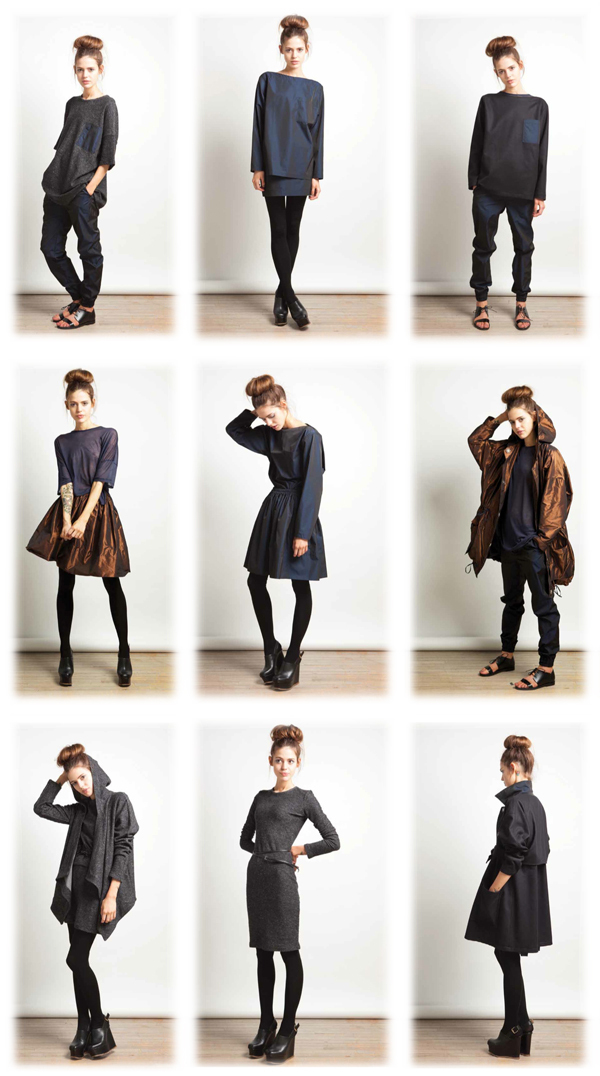 Womenswear from the White Tent AW12 collection:
Top Row: Oversized T-Shirt "Liberty", £33 worn with Tafetta Pants "Baical", £45; Tafetta Smock "Studio", £53 worn with Tafetta Mini-Skirt "Slim", £31; Wool Smock "Studio", £73, worn with Tafetta Pants "Baical", as before.
Middle Row: Oversized T-Shirt "Mars", £25-£29, worn with Gathered tafetta Skirt "Iris", £51; Tafetta Smock "Studio", £53, worn with Gathered tafetta Skirt "Iris", as before; Parka "Lisbon", £145 worn with Oversized T-Shirt "Mars", as before.
Bottom Row: Cardigan "Ricco", £55-£58, worn over Jersey Dress with Peplum "Bica", £39; BodyCon Dress "Cora", £25-£30; Military Parka "Moscow", £129.
The sporty, urban vibe and easy chic of fabrics like cashmere jerseys instantly drew me in to White Tent whose signature is undoubtedly it's simplicity and the way the unisex pieces work on both men's and women's bodies. Evgenia explains, "We like to comment on the basic forms of clothing - t-shirts, or parkas, and add our own ideas to the familiar shapes. The new collection will feature reversible parkas, skirts and shorts that are effortless and casual in a positive way."
It's not just the cuts and aesthetic which reflect the brand's democratic approach to design either - I was incredibly surprised to see how affordable their pieces are, starting from around £22 for a top and going up to around £145 for a coat. "We believe that there is a gap in the market for designer brands creating modern contemporary clothing produced ethically and with attention to quality, detail and price point. We believe that looking original should not cost the earth". Totes, Evgenia. Totes.
Making this urban label even more accessible, and an added bonus of their unisex angle, is that White Tent is available in sizes XXS to XL - another big plus and something quite rare in new designers' ranges these days. As Evgenia mentioned above, the brand are also really into ethical production and conscious consumers, "We would like to see more people wearing our designs who are aware of principles of sustainable manufacturing as we strongly believe that change should happen in people´s attitude to fashion consumption." So that's another big tick in the green credentials box too then.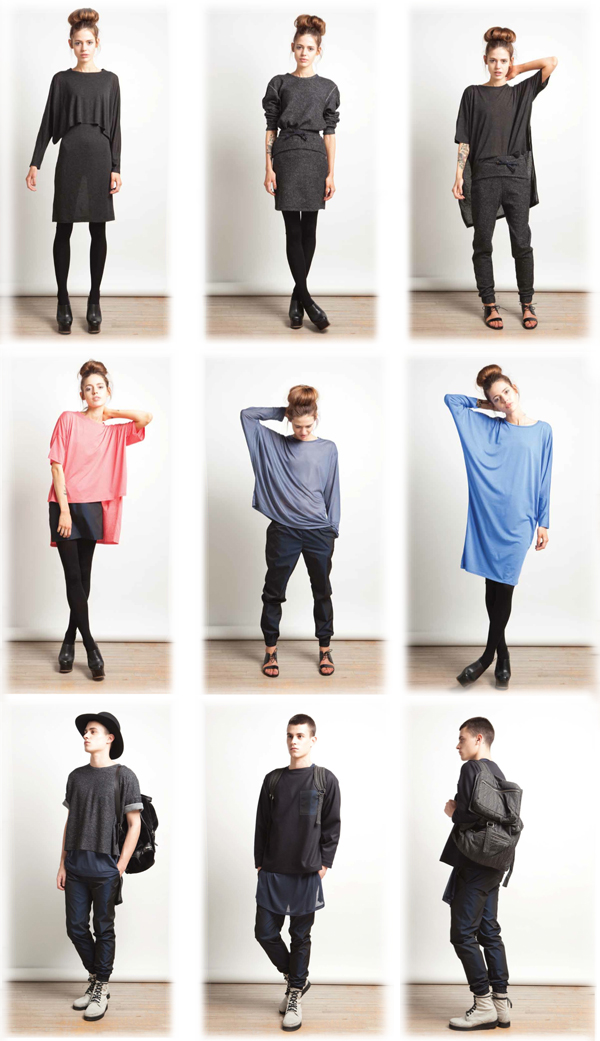 White Tent AW12 pieces for Guys and Girls:
Top Row: Layered Dress "Lupin", £26-£32; Sweatshirt "Pearl", £35-£38 worn with Mini-Skirt with Peplum "Opal", £30; Cropped T-Shirt "Daisy", £23-£29 worn with Jersey Pants with Peplum "Estrela", £39.
Middle Row: Cropped T-Shirt "Daisy", as before, worn with Mini-Skirt "Slim", £31; Asymmetric Top "Harper", £22 worn with Tafetta Pants "Baical", £45; T-Dress "Marseille", £26-£31.
Bottom Row: Oversized T-Shirt "Mars" in Midnight Blue, £25.00worn with Cropped T-Shirt "Daisy" in Black Melange £29.00and Tafetta Pants "Baical" in Dark Blue, £45.00; Wool Smock "Studio" in Dark Blue, £73.00worn under Cropped T-Shirt "Daisy" in Midnight Blue, £23.00 worn with Tafetta Pants "Baical" in Dark Blue, as before. Backpack "Wood" in Black Moire, £94.
I was curious as to what inspires the pair who are currently finalizing their Spring/Summer 2013 collection, as well as developing a capsule collection for men. "At the moment we are inspired by all things Olympic. Our London studio is based in Hackney - one of the three London boroughs which is hosting the Olympics - and we are heavily caught up in the spirit of excitement and change that has entered London. We are drawn to fabrics that reflect this attitude of movement and energy that sport creates."
"Also, we loved Danny Boyle's Opening Ceremony for the Games, when the Olympic Torch was passed from Sir Steve Redgrave to the seven young athletes who represent the country´s sporting future. We feel that it was an incredible moment to entrust the sporting future to the youth, and we feel the same is happening in the design world."
With this brilliant, modern utilitarian AW12 collection ready to drop soon, an appearance in London Fashion Week's Esthetica coming up and their own online shop under construction, Evgenia and Pedro are moving quickly towards their goal of making White Tent a great, accessible, contemporary brand. Currently available in the UK, Spain, Portugal and Russia, as well as internationally via ASOS.com, for more info and stockist details, check out www.white-tent.com.