A quick update from me on one of my favourite fashion topics, footwear. Specifically, boots and even more specifically, mostly ankle boots.
No matter what shape legs you have - yes, even including if you have cankles - there is an ankle boot for you that will do all those wonderful things that ankle boots do: look cool, lengthen the look of your legs, go with literally anything - skirts, dresses, trousers, jeans etc - and they're so much easier to find good versions of that fit properly, compared to regular boots.
I've included a couple of non-ankle boot designs - in fact the thigh high Louboutins are pretty much as far as it's possible to get from an ankle boot - just because when I saw them, they made me drool a little bit. My practical, casual side is leaning towards the reliable Acnes, or the Marc by Marc Jacobs Moto boots for the new season but my heart is set on saving up for the red Saint Laurent 'Paris' booties with their perfectly pointed toes and overall 'and what?' hotness. Probably not great for a bad back though (dammit).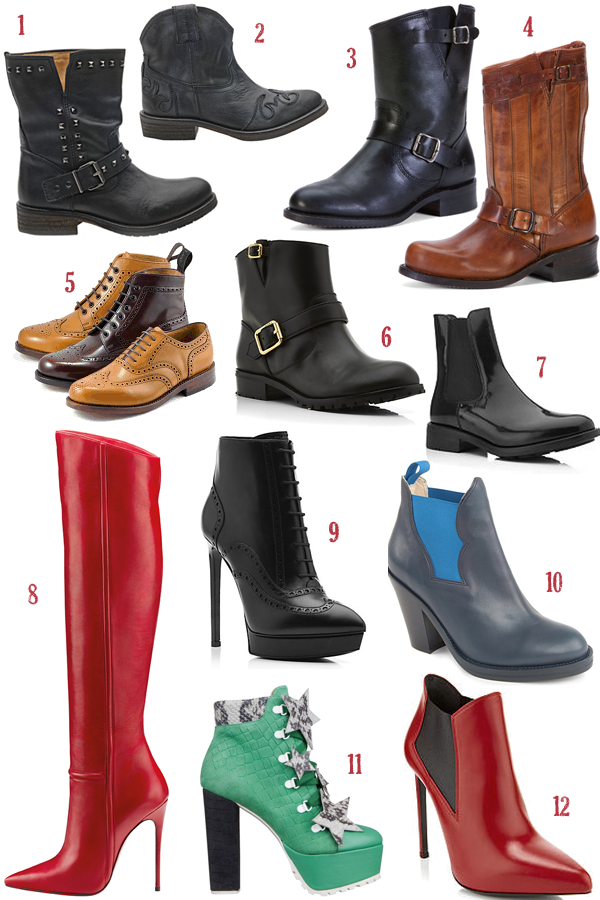 1 Adora boots, £175 and 2 Annie charcoal leather boots, also £175, both by Seven Boot Lane from sevenbootlane.com; 3 Jet Engineer Short, £360 and 4 Engineer Americana Short, £560 both from the 150th Anniversary, Made in the USA collection by Frye from www.thefryecompany.com; 5 Loake for Topshop - boy meets girl in this first ever women's collection from the heritage British shoe brand. Brogue Boots, £190, Brogues, £165. from www.topshop.com. 6 Marc by Marc Jacobs Classic Leather Moto Boot, £325 from Harrods; 7 Seymour Chelsea Boot by Kurt Geiger London, £220; 8 Christian Louboutin Armura Boot Red www.ChristianLouboutin.com; 9 Janis Lace-Up Leather Boot by Saint Laurent, £720 from www.Harrods.com; 10 Star ankle boots by Acne, £400 from www.Selfridges.com; 11 ankle boots by Minna Parikka coming soon to www.minnaparikka.com; 12 Paris ankle boots by Saint Laurent from Selfridges