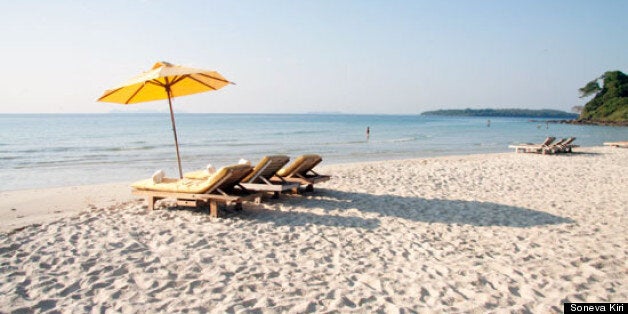 In Thailand, a country where the idea of car ownership is still causing a frenzy of excitement, green tourism has yet to set down strong roots.
As a result, those planning an 'eco friendly' holiday in the country will not only save the planet, but themselves from having a predictable holiday.
Travelling from Bangkok down the coast of eastern Thailand to the island of Koh Kood, my partner and I discovered three eco-friendly resorts, which each deliver a new perspective on how it can be done.
When it comes to an eco-resort that challenges the local 'norm', there is almost always a person, rather than a corporation, behind it.
In the case of the Bangkok Tree House, which opened in 2011, the name is Joey Tulyanond; a Western-educated son from an hotelier family (Old Bangkok Inn), who came across a chance to develop a small eco-friendly resort in his home city, six years ago.
The 12-bedroom boutique hotel is located downriver from the centre of Bangkok and built on stilts in the swampland of Phra Pradaeng, known as the city's 'green lung'.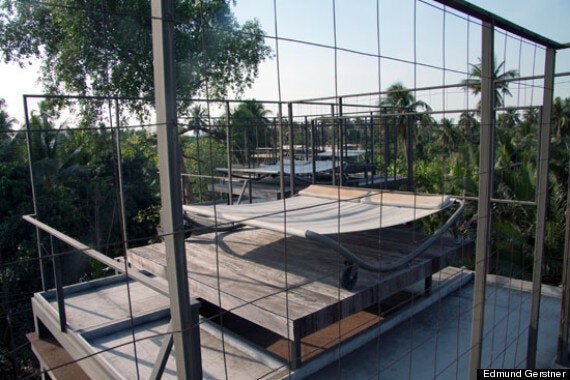 Guests of Bangkok Tree House can sunbathe among the trees
Residents of Bangkok's green belt travel around their watery wilderness on elevated walkways, via mud paths, and arrive and depart directly by boat, or via a long winded car journey from the city. Indeed, that's how Joey gets in each morning, through the traffic-congested streets of Bangkok, towards a green enclave that is factory and development-free, by design.
Sitting in the bar of the Bangkok Tree House, underneath a ceiling of bamboo poles, guests gaze upon the twinkling black silhouette of the gigantic oil refinery across the Chao Phraya river. The view serving to remind us that Joey's intimate and assured eco offering is hardly a foregone conclusion in Asia's 13th most polluted city.
Each guest suite room is set over several levels, with clear panels of glass in the ground floor to remind you of the mangrove marsh below -- and the other residents of Bangkok.
Used tissues, Coke bottles and the tips of bright plastic boxes wash up among the thick green vegetation. Household trash thrown into the city's biggest rubbish bin.
Note: One of Joey's green policies is to remove 1kg of trash from the river for every booking made.
Scroll down to see more pictures of eco-friendly resorts in Thailand
Yet fans of Thailand will know that the country's natural assets often manage to subsume the ugliness caused by fast construction and poor waste management.
Lush green leaves curl around the steel rods that prop up each treehouse. The nearby concrete pathways are lined by butterfly pea, ginger, lemongrass, mangosteen, rose apple, papaya plants. And the local bamboo doubles as building material for the walls, as the material allow cool breezes to pass through them.
The location is also a fantastic place to enjoy daily, low-key living. In the small resort, a chalk map is all you need to identify key local spots to enjoy, which include the 200-year-old Wat Bang Nam Phung Nok temple, Bang Nam Pheung floating market and the Sri Nakon Kuan Kan Park, with its stunning botanical garden.
Very soon after arriving, you'll start to forget the hustle and bustle of the city even exists.
The coastline in the east of Thailand, which stretches between Bangkok and Cambodia, is relatively underdeveloped. The beaches aren't as filmic, vegetation more scrubby and, up until recently, the roads were less good.
However, nowhere in Thailand is immune to the desires of Western tourists and prices for land have shot up, says New Zealand-born Bronwen Evans.
Since the former economics correspondent for Radio New Zealand set up the FaaSai Resort and Spa nine years ago with her Thai husband Surin, she has seen tourism blossom around their plot of land. However, her spot remains unique in its core aims and values.
Working with her small team, Bronwen's vision is expansive, focusing on eco philosophy rather than design-led green tourism.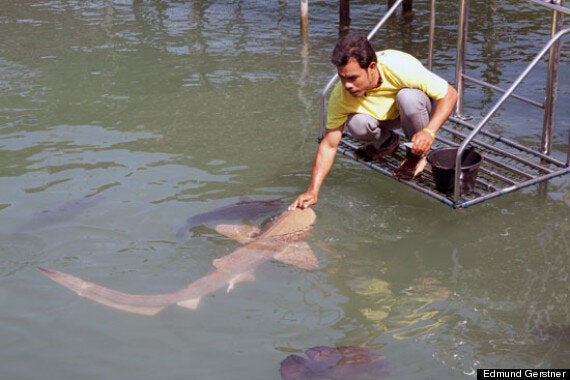 Feeding time at The Kung Krabaen Bay Royal Development Study Centre
At FaaSai, Bronwen works actively to conserve and enhance the biodiversity of Thailand, and the result is a resort that feels deeply personal. From its distinctly homegrown construction style, to the staff, who are all related to Surin, FaaSai is a family-run, labour of love.
And while guests can choose to spend their days in the pool, enjoying a Thai massage on-site, or at the beach (the wonderfully local and tourist-free stretch of sand Khum Wimarn Beach is just 10 minutes away), it's very difficult to avoid the pull of Bronwen's preoccupations.
The resort owner is keen to provide a refuge where people can experience nature in a relaxed and healing environment, while learning about environmental issues.
Among the range of activities on offer is a tour of the smallholding that Bronwen's team have developed and is used to grow food for guests and enhance local biodiversity. You'll watch the cook crack papaya for dinner, harvest fresh basil and lemongrass, and collect mangosteens, against a backdrop of rare agar wood trees circling a small lake -- the air alive with the sound of native frogs, birds and bees.
It's no wonder that the food at FaaSai was the best I'd eaten in the country.
Nature lovers should head to Kung Krabaen Bay, where you can watch oysters being grown and fish fed at The Kung Krabaen Bay Royal Development Study Centre -- a fascinating project where experts develop the fisheries and mangroves to help secure sustainable fisheries resources for the local people. Then you can take a shaded walk (or kayak) through the protected mangroves reserves, before heading off to visit the marine centre at Kung Kraben beach, just up the road.
While other eco resorts, such as the Bangkok Tree House, are undoubtedly more fashionable and comfortable than Faasai, this resort demonstrates the substantial effort that is takes to be truly 'eco-friendly'.
No wonder Bronwen has won so many awards for her endeavours.
Stepping out of the luxury speedboat sent to pick up guests of Soneva Kiri, the calm atmosphere of the resort has a tangible quality. As the latest addition to the hugely successful resort range pioneered developed by husband and wife team, Sonu Shivdasani and Eva Malmström Shivdasani, Soneva Kiri on Koh Kood island is a flawless, high-end version of what it means to have an eco-friendly holiday.
But where other eco resorts are limited in scope and impact, this luxurious, secluded villa-strewn village, with its own stretch of beach and open-air cinema, aims to protect the environment while extending the vision for responsible tourism.
Soneva uses a unique water filtration system that has other like-minded companies snapping at its heels to acquire the technology. The island also provides good quality employment for a 10th of the island's 2,000 residents.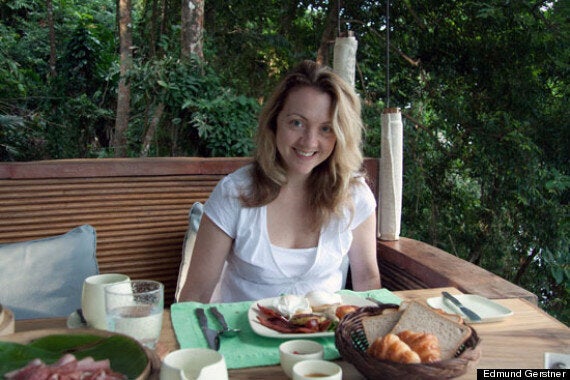 Perfect place to have breakfast in the tree tops overlooking the sea
Koh Kood is the 4th biggest Thai island after Koh Samui and the last to be developed for tourists. Just a few decades ago, it took seven hours to reach by boat, there was one telephone box and the island had no road. But then, inevitably, backpackers arrived, stayed with locals, and the tourism industry began to grow.
Of all the resorts on the island, Soneva Kiri stands shoulders above the rest, with her graceful architecture, extravagant accommodation (every villa is essentially a private holiday home, complete with pool) and seamless approach to relaxation.
But unlike other five-star resorts, the luxury doesn't come with a resource-intensive price tag.
Admittedly, the management have to make some concessions when catering to the world's most elite travellers. The menu is a blend of locally sourced Thai specialities and traditional modern European fare, with all the carbon miles that entails.
Perhaps the most impressive element of Soneva Kiri is its understated air. This brand of eco-luxury is not only sustainable environmentally, but emotionally. The staff are confident and polite, rules are scarce and every experience, from dining to the open-air cinema, is kept utterly simple. Like nature, the resort just falls into place around you.
More pictures to inspire you..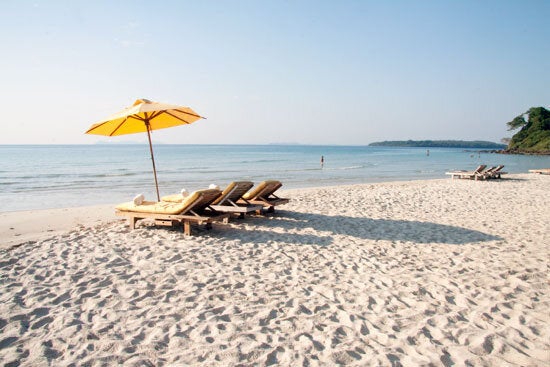 Best Eco Friendly Hotels In Thailand
Note: Ampersand Travel are currently offering 4 nights at Bangkok Treehouse, transfers & international flights to Bangkok from London Heathrow from £1,077 per person. www.ampersandtravel.com/+44 (0)20 7819 9770
Related