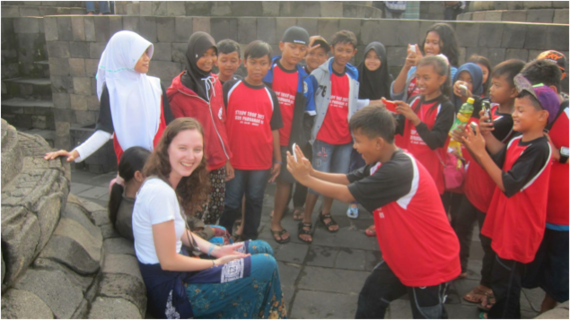 I highly recommend Indonesia (and no, not just Bali) as one the top destinations in Southeast Asia. But it is also one of the harder places to travel due to restrictions, corruption and just the general fact that it is not as touristy as other destinations.
Before going to Indonesia read up! It is an immensely complicated country made up of more than 14,000 islands. The Foreign and Commonwealth Office (FCO) website should be your first port of call. You'll need to ensure that you have all the correct vaccinations (there are a lot you need), you understand the regional tensions (including threats from terrorism), and culture differences (this is an issue even between Bali and the other islands). If you do your research you will be rewarded with a country full of amazing culture, food, and natural beauty.
I spent very limited time in Indonesia and I wish I spent longer. I had a long weekend in Bali and another in Yogyakarta. Bali is, well, Bali. You know, beaches, Australians (mostly) getting extremely drunk on drinks more expensive than a, UK student nights, Oh, and more beaches. But it does have its own charm, especially if you travel inwards to Ubud to see rice paddies and Hindu temples. Yogyakarta is also less of a tourist hotspot but steeped in beautiful history and culture. It is famous for being a centre of education and the capital of the Mataram Sultanate, previously the greatest kingdom in Java and is definitely worth a visit.
Myself and another female friend spent 1 day in the city, visiting the key sights such as the Sultanate Palace and Sumur Gumuling (which is a little hard to find). Our second day was spent visiting the key sights of the wider area, Prambanan temples (the largest Hindu temple in Indonesia) and Borobudur temple (the world's largest Buddhist temple) organised through a tour group (you can't really do it on your own). If you're a student remember your student card as your entrance fee is significantly reduced. Also remember to dress modestly as these are religious sights! It is a pricey day all in, but worth it. Both temples offer their own wonders and you may even be approached by school children who are looking to practice their English and will happily show you around for a short time.
Top tip: Be ready for photos. Both my friend and myself are very pale, relatively tall females. This seemed to attract A LOT of attention from Indonesia tourists who both ask to have photos with you as well as taking photos on the 'sly'. It was pretty overwhelming and exhausting by the end of the day. My personal favourite was when we sat down to apply sun cream (an essential in Indonesia),looked up and primary school children had surrounded us, phones/cameras in hand taking photos. Funny at first, they continued as we stared in bewilderment, then a teacher approached, we assumed to tell them to stop bothering us. We were wrong. The teacher came over, took a picture of us, smiled, and left.
On our final day, we splashed out and did a day trip to Pendawa Temple (which was unfortunately underwhelming compared to the previous day's attraction), Colour Lake and Si Kidang Crater. This was the day corruption became unavoidable. We had driven a couple of hours outside of the city when our car pulled over picked up an individual who was wearing a local authority's shirt with a lanyard attached to an official ID. He said we had to pay 'x' amount to get into the 'nature reserve' area that was the lake and that if we didn't we would have to return to Yogyakarta. We had had to pay up. We then weren't even take to the official entrance of the lake but up a hill. The sights we saw were extremely beautiful (despite the sulphur smell at the crater), but the corruption was less fun. It became clear that the FCO's website is extremely accurate when it states 'Use a reliable and reputable guide for any adventure trips, otherwise you may have difficulties with local authorities if you need their help'. Oops.
Go to Indonesia, see the incredible historical and natural sights, eat rendang (and other delicious dishes). But know you that you may face corruption, so be sure to have enough saved to deal with this. Stay vigilant, aware, and read up - https://www.gov.uk/foreign-travel-advice/indonesia - I wish that I had read this page fully before I went.
Popular in the Community