It's said that writers find inspiration in New England's eclectic and idyllic landscape.
So my task was clear, to spark the imagination of this generation's 'techy-tots' as we set off on a three day adventure exploring life beyond the Big Apple.
The last frost greeted us as we made our way from JFK, a breathtaking two hour drive would take us through blankets of snow embellished forestry and icy lakes, through to gritty inner city Hartford, Connecticut, famed for its jazz and earthy vibe. The home of Mark Twain, where he penned his acclaimed Adventures of Huckleberry Finn and Tom Sawyer more than satisfied the literature loving adults. However Connecticut Science museum was made with kids in mind and featured several sensory sections where Under 4s simply gravitated towards the Get Splashy section.
It was even more mind-blowing playing hide and seek in the snow-capped Shakespeare gardens nestling in the forestry of mayflower grace Washington, just an hour away from Hartford, on our second day on the road.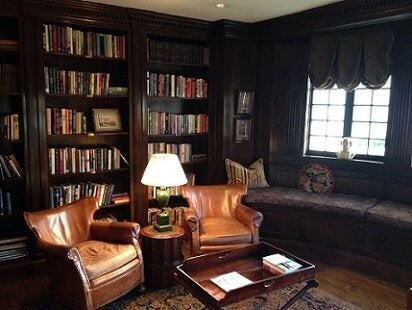 Literary heaven in quiet corner of Connecticut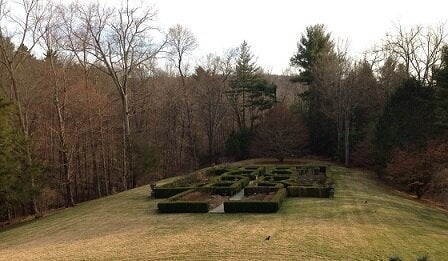 Shakespeare Gardens: Writers find inspiration in Connecticut's mayflower grace gardens
As we approached this stunning pocket of New England, it was like being on a movie set as we were transported back to a time of white picket fences, white wooden houses and churches. A sense of freedom filled the air, as did the spirit of the post colonial times as we looked around the sprawling landscape where writers and creative types would frequent to escape New York on the weekends.Obviously when traveling with kids it's much easier to go for a fast food option when you're on the road. However it's well worth it to take time to discover a few hidden beauty spots like the restaurant on the grounds which served up fresh salmon and seasonal veg as a healthy option, as well as homemade cookies to fuel up before moving onto the visually stunning seaside at Newport, Rhode Island, our next stop.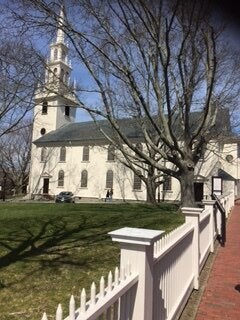 New England: Transported back to a time of white picket fences, white wooden houses and churches
It was an hour-long scenic drive through New England's epic forestry and farms, before we were greeted by the impressive Newport bridge - the gateway to this stunning sanctuary away from the big smoke.
Newport is steeped in the history of old Hollywood glamour - as well as being an incredible destination for family getaways.
Just a stone's throw from the historically captivating 18th century Vanderbilt grace - was St Mary's Church, which has become a massive tourist attraction over the years.
'Jackie O's seat was in aisle 10 you know,' a helpful Newport resident whispered as he ushered us over to see for ourselves.
The woman whose sartorial style inspired generations of fashionistas, Jackie Onassis, married John F Kennedy in that very church.
The plethora of children's activities, including pony rides and Easter egg hunts organised at the Brown House (many free of charge too) provided hours of entertainment for the little ones.
Hiking the 3.5 mile Cliff Walk, is something the whole family can enjoy to see the historic homes against a backdrop of the Atlantic, and it's free.
The pushchair friendly walk is a great way to work up an appetite before a fresh seafood supper at the Vanderbilt for a touch of glamour, all the while maintaining its strong ethos on family life. Taking a cool dip in the family pool is a great way to relax before bed, or a game of snooker with a cheeky beer is also a safe bet to wind down. Though it's also fun to a sing along as the pianist plays your favourite tunes in the restaurant as a roaring fire blazes at the beauty spot by the famous Newport harbour.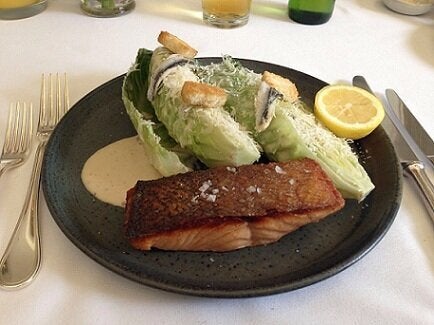 Seafood supper: Fresh from Newport Harbour to vanderbilt Rhode island
Crossing Newport bridge, a little reluctantly back to the main land after our short break, the spring sky above us is criss-crossed with peach and blue. Around every corner is a picture perfect photo opportunity, and a new pocket of natural beauty to treasure.
In just two hours we are back in the heart of New York - where we began. A palpable energy greets us as life-size Disney characters mingle with the crowds by the brightly lit billboards just off Hampton inn and Times Square, with Broadway just on the doorstep of the city that never sleeps.
See, it's always worth venturing out that little bit further for memories that will last a life-time...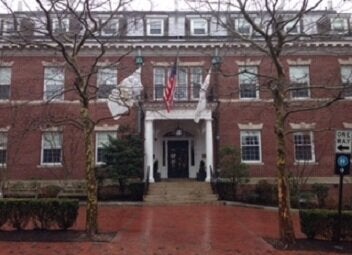 Newport : Steeped in the history of old Hollywood glamour at the grace