WITH Halloween fast approaching, it's just another reminder that you are getting older, and let's face it, there's nothing more spooky than that.
Your vanity takes a knock with the discovery of a new wrinkle or pesky grey hair.
But who says you can't get sassy again once you're 40?
I'm here to tell you, as a wise person told me at the Pure Beauty Awards, you only need to worry about getting older if you're a cheese.
Many of which, just like us, get finer with age.
Whatever age you are, just work it and own it.
The prestigious awards last week recognised best beauty products including Orly nail varnish - which has a sparkly new range for Breast Cancer Care. I had a ball sat with them at The Savoy and also Pai skincare entrepreneur, mum of one Sarah Brown, who started her company from her garage at home, and now makes organic stretch mark cream for Hollywood's yummy mummies Natalie Portman and Nicole Kidman with her ten-strong team. Mum-of-four Katie Price even picked up a gong for her fragrance.
For many people including top celebrities turning 40 is actually a time of their life when they reach their pinnacle, look and feel fantastic - and even give twenty-somethings a run for their money.
Just look at Jay-Z, at 43, he's married ( to Beyonce, no less), had his first child Blue Ivy, and he is touring more than ever before. His sell out gigs at London's 02 prove my point, where he turned up with Chris Martin riding the tube, then went on to party in style with Kate Moss and his protege Rita Ora, treating his pals to massive gold bottles of plush Armand de Brignac champagne.
Seeing Jay perform, he had the passion and energy of a 21-year-old as he bounded about the stage.
No wonder he has the energy. He's one of a host of stars including his wife Beyonce, Victoria Beckham and Kim Kardashian who've been enjoying the latest LA trends of hiking up the Runyon Canyon and cycling along Santa Monica's Muscle Beach with Bikes and Hikes LA, which I nervously gave a go last month with LA Tourism and BA. While I struggled to stay on my bike, having not ridden in, gulp, 20 years, nor passed my cycling proficiency test (shhh), it was so much fun and I felt like we were the kids in ET riding off into the sunset.
BEING a mother shouldn't stop you being 'you' either, says Melanie Sykes.
The model and TV presenter, whose also 43, waded into the age-old debate of whether women become less career minded when you're a mother.
The hottie, whose leant her voice to the new Tate & Lyle Sugars Talking Pack campaign via the Blippar app, for exciting family recipes, is also used to stripping down to her glamorous smalls, and has bagged a new Ultimo campaign in her forties.
Straight-talking Melanie tells me: "Being 43, I'd do exactly the same as I would 20 years ago. I've just done Ultimo.
But it takes a lot of hard work to get in shape. I train five or six times a week, eat sensibly sometimes, I do make the occasional rhubarb crumble. I don't drink much. My guilty pleasure is white wine, but when you drink it goes straight to the waistline."
And what keeps her competing with the youngsters out there? "The nature of the business is about getting to know yourself. It's about making the right choices."
Cryptic but cool. Thanks Mel.
A phenomenal duo came in form of MBE Kanya King and Baroness Doreen Lawrence OBE, the latter was celebrated at the MOBO awards for her strength and her tireless fight to make changes after her son Stephen was brutally murdered 20 years ago.
Say what you like about the awards, but voices like the late, great Amy Winehouse might never have been given a platform to shine had it not been for this urban music awards show.
So what better way to mark black history month,October, than with the Mobo's 18th birthday in Glasgow.
I caught up with Best UK Hip Hop/Grime winner Tinie Tempah, who raised the roof when he opened the show with his hit Trampoline. He told me: "I've been all over the world working on my music, but I wouldn't miss the Mobos for the world. This is where it all began."
Incredibly soulful Laura Mvula scooped 2 gongs, Best Female and Best RnB, and is tipped to do big things at the Brits next year.
Standing ovation went to Jahmene Douglas who brought the house down with his rendition of Emeli Sande's Next to Me, with a full on gospel choir.
But it was the shout out to African music where it all began with the Azonto dance that drove the crowd into a frenzy - topped off with So Solid's hit 21 Seconds which closed the show in flamboyant style.
I was impressed with the new look show sponsored by HTC mobiles, with the fabulously glam and witty TV presenter
Sarah-Jane Crawford at the helm joining veteran DJ Trevor Nelson to host the show.
And I'm excited for next year's event with hotly tipped newcomers X Factor stars The Risk and Scottish rapper Scope tipped to do big things in 2014.
Guests included stars of MTV's brilliant new show Beauty School Cop Outs.
I was lucky enough to attend the screening of the first episode. Prepare to be shocked. It's laugh out loud, entertaining and jaw-dropping. Certainly not for the faint hearted, it hits our screens on MTV at the end of the month.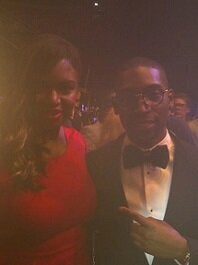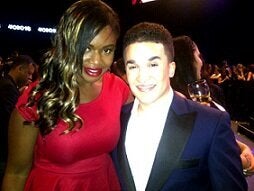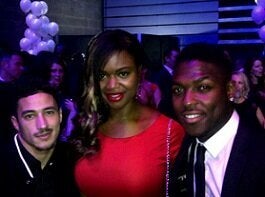 Talent: Olympic Judo champ Ashley McKenzie and The Risk star Derry Mensah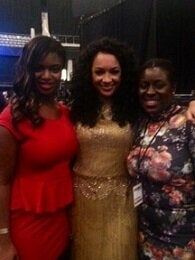 MOBO Founder Kanya King (centre), I'mPossible's Simone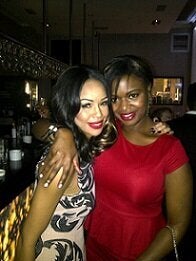 Hostess with the mostess: Sarah-Jane Crawford
Now for some Spooktacular Half-term and Halloween family fun!
If you're brave enough and are looking for a creepy haunted house and a hub of paranormal activity, look no further than the Isle of Wight and the ruined mansion Appuldurcombe House.
Who'd have thought the stunning grounds would house so many ghosts and goblins - and a host of spine-tingling activities are being held there from
If you're going, take the grandparents along too. Not just because they're old enough to communicate with the ghosts, but the sprawling grounds are so picturesque and look like a scene from Mr Darcy's pile in Pride and Prejudice.
A stone throw from the house there's a spooky owl sanctuary and children's soft play area - which was the highlight of my son's trip with a massive ball park to wriggle around in and as well as kiddie size tractors to wheel around in. As you leave, the goats grazing in the field outside scale the fence to greet you, endearing, if not a little spooktacular, for the kids and grandparents alike.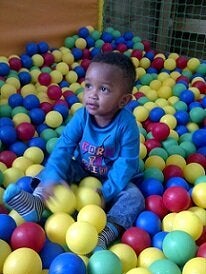 Balls of fun: Appuldurcombe kids centre rocking Mothercare Save The Children 'Born To' charity kids top.
The Last I heard dinosaurs were extinct.
So when I got the chance to go on a hunt for Tyrannosaurus Rex and his brethren I jumped at the chance with both paws in.
Now, I'm no Indiana Jones or Ross from Friends for that matter, having only been used to tackling the odd drunken celebrity at IOW's Bestival, so naturally I called for back up.
Loading up a sturdy Chevrolet Orlando for the countryside adventure, with 2 grandparents and my 18-month-old with his celeb favourite Yoomi bottles to keep milk warm for the duration of the five hour journey, we were soon on our way.
With minutes to go we boarded the Red Funnel crossing from Southampton to East Cowes, a smooth and easy journey. The vessel was packed wall to wall with pensioners on coach trips as well as young families taking their kids on adventures to the idyllic island - just 45minutes away from the mainland.
Navigating the country roads was no mean feat, an adventure in itself thanks to the ditch we narrowly avoided 'it's common, people often do take that wrong turn, it's only for use if you're on horseback,' I was later reassured by the lovely gift shop man.
But no amount of mud was going to stop us hunting down those dinosaurs.
The prehistoric animals have seemingly stepped foot again on earth for the first time in hundreds of millions of years thanks to the island's Walking With Dinosaurs Trail. In conjunction with the BBC show, it allows people to visit seven locations including Dinosaur Isle in Sandown, to bring dinosaurs to life for real.
And by downloading a free app, visitors can be photographed with an animated dinosaur.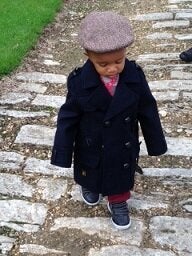 A little touch of Klass: Michael flees from Appuldurcombe castle's ghouls (and grown ups) to chase the dinosaurs, rocking my girl Myleene's Autumn13 Baby K range.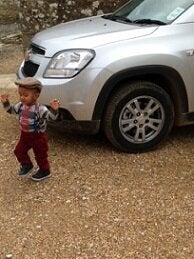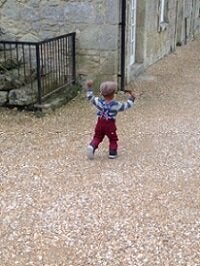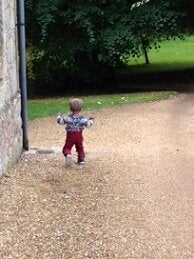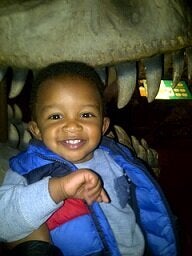 Feeding time: Little man narrowly avoids these gnashers after discovering his first dinosaur.
If warding off the vampires this All Hallow's Eve is on your agenda, then head to The Garlic Farm Cafe to refuel.
Everything, and I mean everything I'd fabulously garlicy, including Garlic beer! The mezze sharing platter, pastas, and salads are organically grown on the farm and make for a perfect Halloween feast.
And now for a very special treat...
Forget modern day vampires in Twilight, everyone knows where it all really started was with Bram Stoker's Dracula.
Keanu Reeves and his floppy 'curtain' hair do helped turn the dark and romantic film into a cult classic.
Now fans can head to the Bram Stoker Festival in Dublin
to celebrate the life and works of gothic literary hero. Taking the legacy of the Dublin horror novelist and his gothic novel Dracula as inspiration, the festival casts its shadow on Dublin City Centre; to the streets, to the hostelries, that highlight the story of his most loved and loathed character.
Sarah Tetteh travelled with Red Funnel Isle of Wight Ferries www.redfunnel.co.uk. Short break vehicle return crossings from £48 for a car and up to seven passengers.
Three nights' accommodation at Appuldurcombe Cottages on a self-catered basis costs from £300, for a cottage sleeping up to five people, including entrance to Appuldurcombe House, the Owl & Falconry Centre, and the play barn. See www.appuldurcombe.co.uk.
Other Isle of Wight attractions include The Garlic Farm Café www.thegarlicfarmcafe.co.uk and Isle of Wight Zoo. www.isleofwightzoo.com.
Popular in the Community