When they told me a giant grandmother was towering over the cobbled streets of Limerick in Ireland, I thought they were having me on.
As far as myths and legends go, this one was a humdinger - and I simply had to experience for myself what was going on.
I was overcome with a mixture of emotions upon spying the Granny as she took a giant step around a corner as the crowd gathered shoulder to shoulder beneath her. This magnificent structure was certainly something to behold, and a work of art that kids as young as two were marveling at, as well as OAPs who lined the streets just to watch the spectacle by Royal de Luxe.
I'll be honest my first response was to panic - Imagine the Marshmallow man in Ghostbusters coming towards you - all you wanna do is run. Was it me, or was it the Guinness, I don't know?
But this was a Grandma, and pity the fool who stands and gawps at her too long, you could get crushed by her giant wheelchair.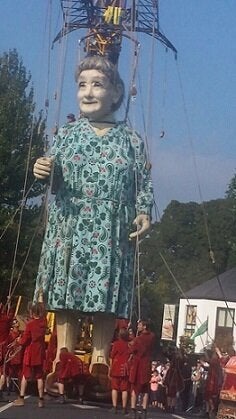 One mother of a spectacle - The giant Grandmother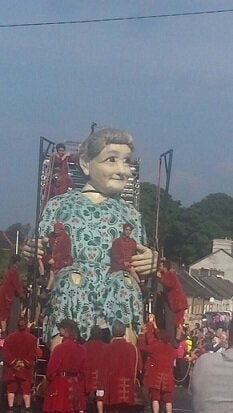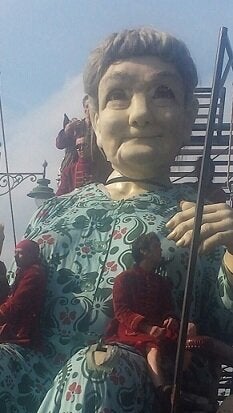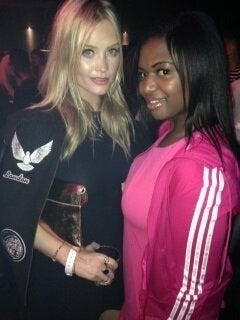 Even Irish TV presenter Laura Whitmore was excited about the Grandmother at the Adidas bash.
As I soaked up the incredible atmosphere, it was phenomenal to see that thousands of families came from all over the world to marvel at this magical character of the Granny, who had been dropped from outer space into the potato fields of Limerick.
The half-Gallic/half French Grandmother told a fantasy tale of Oliver Cromwell destroying Ireland; children and their parents in utter turmoil as Ireland's freedom was taken from them.
She is by far the most pampered Gran with over 30 henchmen in red coats preening her mountain of grey wispy hair if one fell out of place.The comical helpers were like the size of Oompa Loompas compared to the giant. They would even put on her reading glasses and help her do the moonwalk backwards.
The Grandma, who has even been known to fart, and take a wee, has been all over the world and the next stop is Australia.
Limerick got the visit as part of its City of Culture program with www.ireland.com.
Steeped in history, this fishing city did not disappoint as I learned about the incredible history between the Catholics and Protestants, from St Mary's church to the enchanting King John's Castle.
Another highlight was visiting the place where the chart-topping band the Cranberries were from.
As we parted with our tour guide there was only one question that remained a mystery.
Why had he not taken us to see a Leprechaun?
'Ah', he replied: 'Leprechaun's only tend to come out when the pubs have closed.'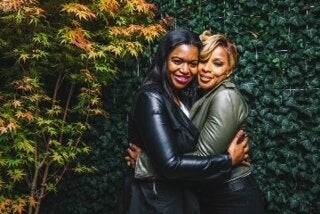 Sarah gets the 411 from Mary J Blige
PARTY time - why go outdoors - bring the party to you.
All hail queen of HipHop/soul Mary J Blige who she did not disappoint with her sell-out set at the iTunes festival last week.
She may be rock'n'roll royalty - but all she wanted to do was meet our royalty - Prince Wills and K-Midd.
And lucky Prince George - he can thank me later for the hook up...
She told me backstage: 'It's an honour to be here. I love London, and I can't wait to meet Prince William and Kate. I wanna sing to that baby.'
Well, he'd be in for treat.
Mary brought the house down with a throwback to her hits from her 'history' from the 90s onwards including Real Love, Be Happy , Be Without You and Just Fine, that had the audience on its feet at the Roundhouse in Camden instantly.
Then she took us through her evolution with the haunting Therapy tune, and duet with Sam Smith, Stay With Me.
But it was No More Drama that brought fans to tears with her emotive performance and flawless vocals, that left her so exhausted that her fans filled in most of the lyrics for her next track, her powerful U2 duet One.
In a time when so many legends are letting their fans down vocally; Lauren Hill's show was met with mixed reviews just days earlier, it's great to see Mary is still on point.
If you missed it, don't worry. Families can stream the entire itunes festival including Blondie and Pharrell for free on iphones,and other devices for a short time afterwards - so go get your groove on!
Summer is officially over - but it doesn't mean we still can't have fun with summer fruits to spruce up our kid's dull lunch boxes.
New term equals new snacks! I got this recipe from Netflix which has just introduced kid's faves The Adventures of Tintin and The Magic Roundabout. Enjoy!
Ingredients needed: 1 watermelon (you can use a pineapple, kiwi or any other fruit you like)1 star shaped cutter
Cut off the skin of the watermelon then divide it into slices
Step Two:Select the cutter and cut out the star shape. Simples!
WITH Halloween around the corner I'm already thinking of crazy costumes to keep the little ones entertained.
I discovered Gambado the other day - which is fun option for kids to burn energy while checking out the indoor ball park and slides while it's getting cold outside.
All their branches from Beckenham to Glasgow are hosting Halloween parties too - so get ready for walking pumpkins and terrifying vampires wall to wall.
Ooh, sends a shiver down my spine already.