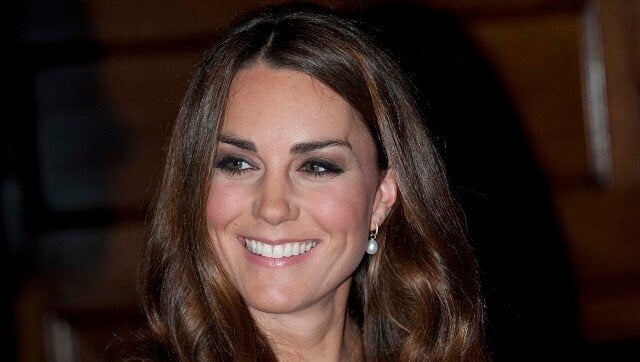 The modern mother is expected to be perfect - taking care of her brood, while looking hot in the latest trends, and bringing in a share of the household income. And there's never a dull moment in our quest to 'have it all,' and strive for that next big achievement.
So this Mother's Day and International Women's Day, it's time to celebrate real mums and women's individuality. Whether you're like me, one minute wearing two odd socks at a kid's birthday party - the next minute reporting from VIP at the BRITs, let's hear it for each woman who is balancing it all.
One person whose pregnancy journey is inspiring to watch is Kate Middleton's. The Duchess has kept a low profile during her pregnancy where she had a rocky start suffering from acute morning sickness.
But kudos to her for making every effort to dress her bump in style. Take note Kim Kardashian.
Kate, who keeps it real even shopping for maternity wear at high street brand
Topshop, is not the only celeb mum trying to balance work and family life while still looking good.
The Saturdays star Una Healy uprooted her life and baby Aoife Belle to the States, as the band try to break America. Her heart-breaking separation from her husband Ben Foden, and at one point her daughter, is documented on her E! Show Chasing the Saturdays.
Yet it's good to see Una is still keeping that flame alive with sexy yet comfortable maternity underwear brand Lorna Drew Astrid collection at Harrods, which I'm sure Ben won't complain about during their Skyping sessions.
Heading down to the Baby Show at The Excel Centre, Docklands was certainly an eye opener (not just for the experience of relaxing in a giant adult baby bouncer) but for all the products out there for the modern mum, like the pushchair that folds at the touch of a single button.
The Childcare Clinic offers a fantastic emergency nanny service, which I'm told many a WAG is a fan of, as well as the everyday mum. Mumazine is a fantastic forum for parenting advice, fashion, and nutrition from showbiz parents too.
Brands including Mothercare displayed their modern mum's Myleene Klass and Jools Oliver's super trendy take on mother and baby fashion. Also this week sassy women (and a few fellas too) flocked to the I'Mpossible Conversation that encourages women to be successful, and this week celebrated International Women's Day on 8 March.
The Inspirational Mother Awards is launched this weekend at the Mayfair hotel. Created by businessman and agent Sky Andrews, it celebrates everyday women as well as household names who have overcome personal turmoil, and have become role models. National treasure Gloria Hunniford, whose personal tragedy when her daughter Caron Keating died of breast cancer has been well documented over the years, is supporting the awards which also raise awareness of the importance of grandparents in one of its categories.
Speaking of motivational women, how cool is Kylie Minogue reinventing herself by signing up with Jay-Z's label Roc Nation? This is a 44-year-old woman, who has survived cancer. She has spoken out about her own personal struggle, her dream of becoming a mother one day. Yet she still keeps the youngsters on their toes with her fashion forward and innovative music moves which always keep us guessing what she'll do next.
Here she is celebrating with a glass of Armand de Brignac sent over by her new boss Jay-Z.
So Iet's raise a glass to all those inspirational women out there, spoil them rotten with my gift guide below.
Cheers! And Happy Mother's Day.
My Top 10 Mother's Day gifts
A must have for the 21st century mum - just ask Jessica Simpson who already has one in her collection.
They are classy handbags in a variety of styles, but who'd ever guess they are multi-purpose changing bags with a bottle holder, dummy safe and changing mat? Not too shabby! www.vanchi.co.uk
2) iPad Mini- engraved with Mum's name of course!
Perfect to slip into her handbag, and keep in touch with all her mummy chums sending pictures of their adorable tots.
It's great for the new mum to download apps to arrange family activities, loose weight, and even choose baby names with apps such as Names4kids, Pregnancy and New Parenthood, and Toca Kitchen. Grab one from the Apple Online Store with a free engraving at store.apple.com/uk
3) Cussons Mum & Me's Bump Gift Pack
If you can't pamper her on Mother's Day, than when can you? This is the ultimate treat for the mum-to-be to spoil themselves before their little'un arrives.
So many massages are off limits as they are rumoured to trigger early labour. So pamper yourselves at home with Soothe & Nourish baby lotion and Relax & Unwind Sleep Mist, with lavender and camomile to have you drifting off in no time. www.mumandme.com
Pack her bags and indulge in a little luxury jet-setting thanks to last minute deals with British Airways.
Instead of buying her flowers, take a trip to the Flower Market in Amsterdam - one way flights from £39.
For the mum on the go, try one of Prince Will's fave holiday destinations for skiing - Val D'Isere in France. Flights from London City Airport start at £155 return. See www.ba.com
5) Shea Mooti natural skincare range
Designed for the earth mother and her baby, these all natural pure shea butter products hand-picked by Shea Mooti founder, nurse and mum-of-three Violet Reid, are such an indulgence.
My faves are the Mama's Everything Body Balm, great for the busy mum to slap it on before rushing out of the door. But for a special Mother's Day treat, why not upgrade to the Mama's New Beginnings Gift Set, including Mama's Belly Rub Stretch Mark oil, foot cream and shower gel. www.sheamooti.com
6) Dolce and Gabbana Pony leopard print bag
For the hot mama who wants to look like she's just stepped off a catwalk.
It's a perfect gift for the sassy fashion lover, and just like Pixie Geldof, you can never get enough wears out of it.
Good job given the £895 price-tag. Lush!
Stir up the ghetto romance this Mother's Day with this scent from Nicki Minaj. Just like Nicki, it's powerful, brazen and indulgent. It's the first scent from the American Idol Judge - and will make a colourful gift from the bottle alone with her trademark pink locks. Visit www.theperfumeshop.com
8) Beaverbrooks jewellery
Diamonds are a girl's best friend, so look to the stunning collection of delicate bracelets, earrings and some good old fashioned ring bling from Beaverbrooks. I'm loving the Silver Cubic Zironcia Heart earring - at £50, and the Silver Simulated Pearl pendant and earrings set would look fab on anyone from fashionista Alexa Chung to your grandma. Visit www.beaverbrooks.co.uk
Nothing like a well deserved glass of vino when you've been hosting playdates and preparing pack-lunches all year.
So on Mother's Day celebrate the special woman in your life with a bottle of I Heart Wine for real mums - perfect if you're on a tight budget.
There's the I Heart Pinot Grigio and I Heart Rose, Shiraz and Chardonnay, to suit every personality - available at Sainsbury's and most supermarkets from £5.99
Celebrate a marvellous mum with the Hummingbird bakery, who do gorgeous hand decorated cupcake and mini cupcake boxes. Alternatively go for the Mother's Day Red Velvet, Vanilla, or Chocolate cake at £30 with her name on the frosting, invite friends over and let her party like a rock star for the day.