Butts and bumps ruled the MTV EMAs - with curvy host Nicki Minaj having the last laugh as she's in talks to have her own show.
Who'd have thought it that Nicki - who turned the air blue with her expletives at the 20th anniversary show- would be such a hit that she is being lined up to host her own Nicki Show - dubbed as the new Oprah meets Ricki Lake.
It comes after the Ghetto queen took Glasgow by storm, dazzling them with eight mega costume changes, including the first skirt that had a 14ft train which fell around her while she was suspended from the air.
Sources say offers from internet channels as well as mainstream US networks have started to come in to snap up the charismatic star after her killer curves got everyone talking on one of the biggest nights in the music calendar.
One thing's for sure, Nicki's come a long way since launching onto the scene nearly five years ago as rapper Drake's 'ride or die' chick.
The winning formula, witt and ability to laugh at herself was the key to hooking the audience - not to mention her impromptu rendition of Proclaimer's hit 'I'm Gonna Be.' Many were expecting her to be wooden, but who knew she was such a comedienne and had us hanging off her every word, facial gestures and her wobbly British accent as she ramped up her persona at the SSE Hydro.
Compared to many years before, the MTV production was relatively drama free.
There was no Lady Gaga meat dress like at the VMAs - which would have been a relief for the crew doing the cleaning up afterwards. But instead the show a clever mix of old legends - Slash was on fire with his set that closed the show, as well as the hot young things, with the likes of big winner Ariana Grande flying through the sky in a Perspex bubble to open the show.
Instead of raving at the Arches afterparty - the big names including host Nicki were back in their 5 star hotel rooms catching up on their netflix Breaking Bad with a cup of cocoa and slippers.
Staying in is the new going out....afterall. And don't get me started on our boy Ed Sheeran. The cheeky crooner was so hung over from the night before jamming in a random Scottish pub till 7am, he was in no mood for round two at the Arches on Sunday night, and left the likes of Geordie Shore's Vicky Pattison propping up the bar.
Next year the magic will be in Milan - bring on more madness, please!
Something for the Mamas...
It was great to see expectant mama Alicia Keys in the house at the awards -showing working mothers everywhere how it's really done.
She tinkled the ivories on the night and gave a show stopping performance after flying across the Atlantic to be there for the night.
But she jetted back the next day to be with her adorable toddler Egypt.
It's refreshing to see she's a mama who loves to eat too as she's been a regular at Planet Hollywood filling up on chicken crunch and their famous giant cheeseburgers.
It was only right that I checked out what all the fuss was about for their Halloween kids adventures with free face-painting too.
It was Goul-icious, and kept the kids entertained for hours. Let's see what their Christmas timetable has in store for festive entertainment for the whole fam!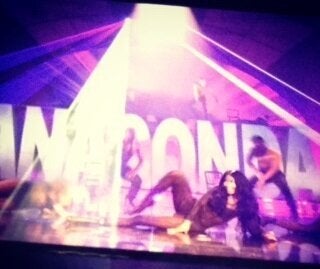 Oh my God - Look at her butt. Nicki Minaj writhes on the stage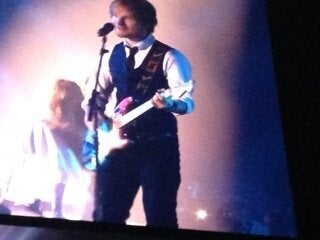 Ed Sheeran: Fragile as a lego house after a few Irn Bru's and vodka.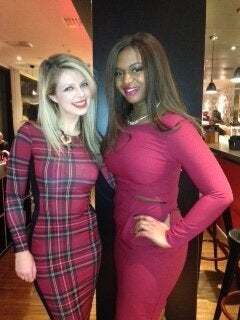 Mini Nickis: Fresh from the Lipsy sports range launch this week, My Nicki Minaj make-over includes their bootylicious Kardashian Kollection dress and freedom from topshop bling.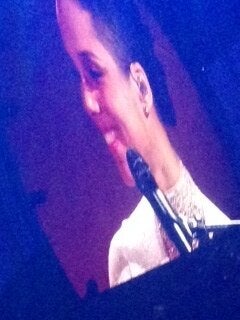 Glowing: Preggers Alicia Keys does it for the mamas at the awards show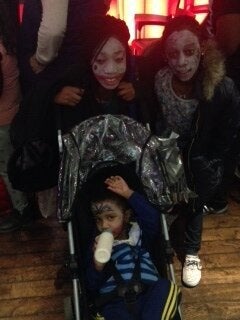 ...But not before popping to Planet Hollywood for some nosh - kids face painting was the bomb!