As I woke up at 4am to do a nappy change last night, grappling with the darn thing half asleep myself and trying not to wake the sleeping baby, it suddenly dawned on me...
Who would be doing this for Peaches Geldof's two boys now she has gone, and how on earth was their father Tom Cohen going to cope?
Peaches passed away suddenly at her home in Wrotham Kent at the tender age of just 25 - leaving behind her boys she doted on Astala, 20 months and Phaedra, ten months.
Love her or loathe her, she was first and foremost a mother - and her passing has left a massive whole in the hearts of her family, and of the showbiz world.
For me Peaches has always been a showbiz staple on the circuit since I first started out as a rookie reporter a tabloid back in the day. She was the original London It Girl - feisty and remarkably honest to the core - paving the way for the likes of Lily Allen, who is also the daughter of a celebrity so knows the score about growing up in the limelight.
I remember my first meeting with Peaches vividly - she was doing a catwalk with kids and siblings of other celebrities like Mica Paris daughter and Shola Ama's sister in central London. This aught to be easy, I thought as I saddled up to her, complimented her on her turn on the catwalk, before handing out one of my crisp and newly printed out very first business cards.
Peaches took one look and tore it up in front of my face. ' Euh, 3am Girls' she scoffed. Before turning on her heels. It was of course the start of a beautiful relationship.
Although I was stunned, I kind of admired her balls. This gutsy chick, who was just 16 at the time, and who I would meet several more times in her career, really left an impression.
At first she was unapologetic for her actions, she fell down a rocky path as she dabbled with Scientology hanging out with Tom Cruise's kids in LA, drinking and lapping up the party scene.
But after confiding in close pals the reason that she had fallen off the rails was because she was still grieving for her mum Paula Yates, who died of a heroine overdose when she was just 11 years old, she finally pulled it together when she had her first baby Astala. Her children had saved her life after a rocky childhood - but she never got over the loss of her mother, who she was so much like both in looks and character and love of designer shops like Dolce and Gabbana. In a tribute to Paula and her father Sir Bob Geldof, Peaches even got married in the church where they wed too, on a stunning family estate in Kent where her mother's belongings are still kept.
It was poignant then that her final tweet would be one of Peaches and her mother, an angelic picture of the pair from her childhood- a time that was pure bliss for her, before her life was suddenly cut short.
I only pray her family led by Sir Bob Geldof can rally around and help raise those boys the way Peaches would have wanted, that her memory will be kept alive, and that a new breed of feisty IT Girls will carry on the torch.
RIP Peaches Geldof - gone but certainly not forgotten.
Janelle Monae - The new IT Girl on the block
AS the debate rages on as to whether women can still be sexy and relevant without taking their clothes off - Miley, I mean you! I've caught up with one megastar who got to the top without having to bare all or compromise herself.
Her peers before her Beyonce, Britney and Pink, are known for stripping down to their smalls - it's all part of their act as the trendsetting divas of today.
The trio also famously starred in the Pepsi commercial showing off their toned, tanned torsos as they celebrated their own sexuality and freedom as artists.
Now, their predecessor is a much less 'in your face' when it comes to her equally banging bod - but her opinions are as feisty as Peaches. Step forward Janelle Monae.
The Kansas babe, with the cute quiff and trademark uniform of black and white, inspired by her parent's working class background, defends her choice to cover up.
'My tuxedo is raunchy.' She tells me, proud as ever.
'I want to inspire young women of today and be a good role model.'
'I totally respect Beyonce and the decisions women make as artists', she says when I quiz her on the Independent Woman singer recently performing in a thong on stage.
But Janelle, who does an ace cover of David Bowie's Heroes during the soundtrack for the star- studded new Pepsi Max advert featuring footie ace Jack Wilshere, is all about the music.
She's been working with Prince, don't cha know.
The 28-year-old chart-topper said: "I had the honour of working with Prince on my album, he is so down to earth and was giving me advice on my music. I'm doing shows in London this summer, who knows, he could come on stage.'
Speaking of her new ad, she gasped: 'I couldn't believe it when I heard David Bowie said he liked my version. He's a legend.'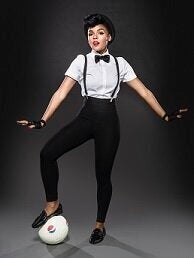 Janelle Monae Copyright: PepsiCo
Related