Squeezing the last Peppa Pig puzzle and trusty bottle of Calpol into my carry on luggage, I get a last minute phone call from Mum: 'Make sure you don't take my Grandson to any of those cafes.' He's only three mum, steady on.
Could Amsterdam, the city famed for its hedonistic nightlife, red light district and its 258 cafes were you can legally smoke Bob Marley style, be a family destination too?
I was about to find out - and fast during a whistle-stop visit to the culturally rich capital - that's just an hour flight away from London. The short, jet-lag free journey is handy when you have a tot who wants to run up the aisle and high -five all the passengers - even the pilot.
After touching down in Schiphol, transitioning to the city is straight-forward, you can take a 40minute taxi ride - or hop on the train, which will get you to the centre in under 20 minutes.
Stepping inside the striking piece of architecture that looks like a sunken ship, the Nemo Science museum was an unexpected delight.
The incredibly interactive space included a lab where you throw on a white coat and do an experiment, or get absolutely soaked in the giant bubble-maker. It's the first major attraction you see, so is pretty hard to prize your kids away for a live science demonstration afterwards. The view from the roof-top is a moment that should not be missed. Watching the purple-filled skies at sunset while taking in the sumptuous skyline of the historic city and famous canal is pretty special.
A traditional boat ride along the medieval canal will give you a general overview of the city - taking you from the south of Amsterdam, the oldest part of town - to the northern part, river Amstel, where city got its name. In the 1600's it was the most powerful trading port in Europe with cocoa shipped from west Africa to be made into chocolate and cocoa butter. More poignantly you sail by the Anne Frank museum where a two hour queue snakes along the canal. Booking online is recommended to avoid the wait.
Blink and you would miss the red light district - in the daytime it sleeps and is a far cry from its hedonistic reputation, so you don't have to worry about your child catching something untoward.
'Sex and drugs - they are not important to us,' says our originals tour guide. 'There's much more to Amsterdam.'Indeed there is...
Night is falling and we head to our airport hotel for convenience of flying back the next day, instead of an inner-city hotel for the first time. The all-white-everything atrium at the hilton Amsterdam Schiphol airport had a futuristic vibe with its cubic shape. 'It's the starship enterprise' gasped my little boy, pointing up. The architecture had strong elements of the Dutch touch too taking in the history of the people. It was home to a Van Gogh exhibition with dainty statuettes in a myriad of colours which were pretty mesmerizing. On my travels I discovered despite there being a strong Indonesian vibe due to colonial connections, Dutch traditions were also so important when it came to food.
But when the only thing your 3-year-old says when it comes to diner-time is 'pizzaaaa', then you are quite frankly left scratching your head. The delicately made bitter-ballen - deep fried meat stew and vegetables - are a national dish. It's an acquired taste and certainly does melt in your mouth. But traveling with kids it's the little things that matter and I was touched by the family friendly vibe at The Bowery where the chef literally made a delicious and simple pizza that wasn't even on the menu just to keep the little man smiling. After a busy day we unwind in the lobby with a cocktail at axis bar, before going up to bed where the rain beats down on the diamond shaped window pane overlooking the runway.
Amsterdam has been an unexpected experience traveling with a family - don't let its stereotypes fool you. It's jam-packed with family-friendly activities that make it one of Europe's best cities for kids. And parents too!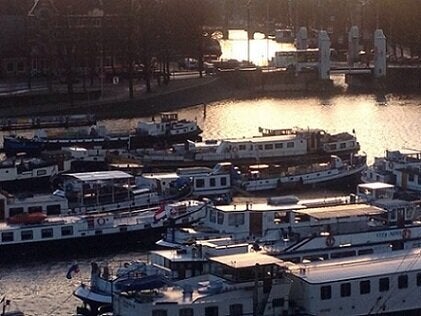 View from Nemo museum: Copyright Sarah Tetteh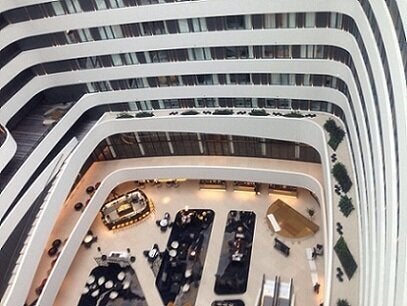 Amsterdam's 'Starship enterprise': Copyright Sarah Tetteh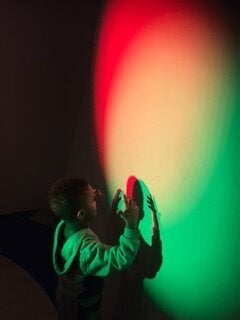 Museum madness at the light show: Copyright Sarah Tetteh