WILL Michael Douglas get to enjoy a hall pass before he returns to fix his marriage?
Barely five minutes after separating from his wife Catherine Zeta Jones - the Basic Instinct star was leading the pack of eligible fellas at the GQ Men of The Year Awards.
I watched as the silver fox even left the likes of Pharrell Williams and Russell Brand in his dust, after women flocked to him at the Remy Martin after-party.
All Michael had to do was literally stand there (and pout) and fans as passionate as One Directioners bombarded him for cuddles and pictures. Meanwhile poor Russ was almost out of breath from all the skirt he was chasing up and down the balcony of the Royal Opera House.
It was so full on for Douglas that after just TWO minutes of walking up the escalator to the aftershow, he motioned to a flunky to do an about turn back downstairs after seeing all the commotion he was causing.
Guests including Rita Ora and Ellie Goulding couldn't get enough of the pensioner - especially after all those classic Remy and Ginger cocktails and R&GQs that the mixologists developed for the night by adding ale to the R&G, and serving it in a traditional half pint tankard.
The Wall Street star has said publically all is fine between him and Welsh beauty Catherine, saying the split is just temporary.
But he shouldn't leave it too long before some young twenty-something totters along and changes his mind.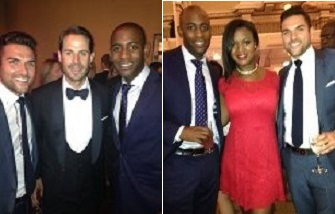 Copyright Sarah Tetteh
Jamie Redknapp and models couldn't stand a chance alongside golden oldie Michael Douglas.
IN the run up to fashion week, it's only right that the A-listers have their pick of London's hottest restaurants.
As it approaches it's first birthday, STK is booming with celebrities wall to wall. It was the go to restaurant for the stars in town for GQ awards and Apple Itunes festival including JT, as well as X Factor judge Nicole Scherzinger, and winner Alexandra Burke, who booked out an entire room to dine with her family for her birthday, while I was there.
And its secret...simplicity. They take a great burger, and do it well.
Very well - that's why I had it three times...
*See my picture below: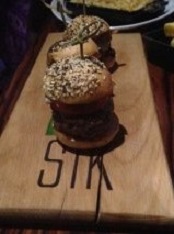 Copyright Sarah Tetteh
STK signature mini burgers
Don't get me started on that rooftop bar - where JLS star Aston Merrygold loves to party thanks to the fab DJ.
Good to hear he's in good company as new mum Kim Kardashian can't get enough of the one in LA, which you'll no doubt see in the next season of Keeping Up With The Kardashians.
THE Kardashian dolls will be in London this Autumn for the launch of their exciting new Lipsy range.
It promises to be sexy, blinging and vampy, with pieces much like this cheeky Lipsy diamond embelished number I selected for their Glam fragrance launch with 90210 beauty Jessica Lowndes.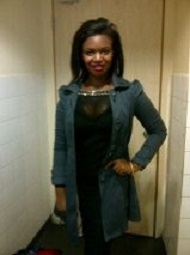 Copyright Sarah Tetteh
Lipsy Glam Fragrance Launch
WHILE a host of US stars have been dining out at STK while in London - Ibiza favourite Beyonce, to be fair , prefers a Nandos - just look at her massive £1500 order at the V Festival. I'm hooked on their new Nando's Grills, a fresh interview series that brings two of the hottest celebrity friends together over a Nando's meal and lets viewers listen in as they fire questions at each other. The first episode features Example and comedian Chris Ramsey.
Check out the videos here http://bit.ly/1ftWTW3
Talking of Sasha Fierce, I'm kind of gutted she only managed to keep her natural hair out for ONE week, before getting her extensions back in.
Rita Ora and I have agreed to ditch ours (well at least until after fashion week).
Mrs Calvin Harris told me at GQ awards: "I've been wearing a weave since I was 15. Never again. It's all about having it natural. Or I'll wear a wig."
Wise words from a girl whose so Hot Right Now.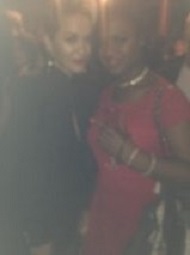 -
Copyright Sarah Tetteh
Girlie chat with Rita Ora (honest)
Getting GQ ready
HERE'S how I achieved my glam make-over, thanks to Delita at Fashion Fair who gave me a dash of Dynasty Red Sam Fine lippy from the collection used for Miss Universe, channelling 1920s glam for both the Mobos 18th birthday nominations bash at London's plush Connaught Rooms, and GQ.
With London Fashion Week approaching Fashion Fair has announced the launch of their short film, "Say Yes"! Directed by Sundance award-winning filmmaker Ava DuVernay - basically encouraging women to be fabulous in their skin.
Get a sneak peak at the fresh new looks featuring their 40th anniversary Capsule Collection here - Fabulous!
http://shop.fashionfair.com/v/pxd/say_yes.html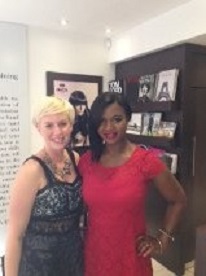 Copyright Sarah Tetteh
Electric's Freya brings the sexyback to my mane.
Hairdresser to the stars ITV's Mark Wooley's salon Electric gave me an Autumn/Winter 13 hairdo - that even had Russell Brand asking for a referral.
Top stylist Freya worked her magic on my locks - and this is how you can recreate the "Super sleek and sexy by Electric" at home:
Preparation is key to this look and all evolves around one of Electric's key products - smoothing cream. After washing the hair with the award winning hydrate Shampoo treat the hair using Oliver Palermo's favourite intensive treatment masque for soft sumptuous locks.
Apply a walnut sized amount of smoothing cream to the mid lengths and ends of your hair, spending time to work the product into the hair until it's completely absorbed.
Partings are a BIG trend this AW13 so get yours in place and make it the feature, central or to the side.
Throughout the blowdry keep the roots flat and a tight tension on your brush to make the hair shine to the max. Softly round the ends off with your brush and redefine them using a straightening iron. Blow dry the fringe forward and curve the ends to emphasise the shape.
Finish by using a pump of electric serum throughout the hair to add the final shot of shine and pin to one side.
The look is finished with Freedom from Topshop clustered pearl earrings.
Tadaa! You're ready for GQ.
Or the school run, even :)
BACK TO SCHOOL
WITH school bags packed and uniforms ironed, children across the UK were back to school last week.
Here's what's been on my radar.
STORY ON A PLATE
ONE of Britain's most renowned children's authors has written his latest book directly onto plates to encourage kids to eat their food. In a publishing first, Roger McGough CBE has penned a series of teatime tales for 3-10 year olds as part of a nationwide campaign by Birds Eye to make teatimes more enjoyable for families.
Roger, who famously helped write The Beatles' hit movie Yellow Submarine, was commissioned to create seven short stories - one teatime tale for each day of the week - and Birds Eye is giving away more than 250,000 plates for free through Sainsbury's and Morrisons stores nationwide over the next three months.
SIMON Pegg should play Captain Cook, sorry Kirk, in the sequel of Star Trek instead of Scotty.
The Hollywood actor has teamed up with posh chef Raymond Blanc to be the voice of an exciting new cookery app to encourage kids to eat well with games and music too called Henri Le Worm: The Missing Cookbook.
I caught up with the British funnyman to see what made him switch from Mission Impossible alongside Tom Cruise - to Star Trek - to, well, Henri Le Worm.
"I like to keep you guessing," he laughed. "Well I have a child and it's nice for her to see what dad does. Also doing the cookery app is something I've always wanted to do because when we were kids we used to eat a lot of rubbish, not intentionally, but we weren't educated as to the right food we should be eating. Now the Henri Le Worm app is great because kids are learning to cook and eat the right things and can have fun at the same time."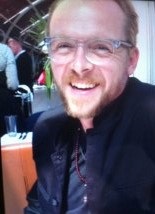 Copyright Sarah Tetteh
Simon Pegg talks daddy duty at Henri Le Worm launch . . .and James Bond dreams .
Talking of fun, Simon certainly had plenty of that filming Star Trek and is gearing up for the next one.
"Oh yes, I can't wait to start filming that. The team was great we had such a laugh," adding, "I'd love to play James Bond too. That's the dream. But I'd have to incorporate James Bond into our Shaun of the Dead movies, but then Nick Frost might fight me for the role."
WHO knew vitamins could be such fun?
You can get free soft and play sessions with Bassetts Soft & Chewy vitamins.
Bassett's have launched an on-pack promotion with nearly 200 great soft play centres around the UK taking part. Get bouncing, Tiggers.
NOW let's get down to the nitty gritty.
Sorry, I, couldn't help it.
Vosene Kids have just launched the first ever #Nitwatch Heat Map - an online interactive map that tracks head lice outbreaks as they happen, allowing parents to find out instantly if an infestation hits their area.
Their survey says that 50% of parents do not tell friends when their child has head lice, because they are too embarrassed.
So keeping a bottle of the
Vosene Kids 3in1 Conditioning Shampoo & leave in Defence Spray in the back of your cupboard is not a bad idea at all then...
Mums the word!
*Ones to watch -
MOVE over One Direction, because X Factor boyband The Risk are back with a brand new single that was approved by megastar P Diddy himself.
The lads are hosting a launch party at Rihanna's fave club DSTRKT on September 18.
I'm told: "The Risk are actually taking a risk by covering P Diddy produced track called Peaches and Cream which has been cleared by the man himself. Looks like they are fighting back. Girls be ready!"
Check out their new video below:
http://www.mtv.co.uk/music/urban/11312-the-risk-reveal-peaches-and-cream-video
PRE-ORDER ON ITUNES https://itunes.apple.com/gb/album/peaches-cream-single/id692710915
Let's go!