With just weeks to go before the birth of the most anticipated baby on the planet since... Blue Ivy, I've discovered how Kate Middleton has been keeping her pregnancy curves in check, and had the nation swooning.
I've only tracked down the lady who makes the royal undies for the lowdown, as I zipped around with my tot in a snazzy Quinny Moodd buggy fit for a king, or a Duchess for that matter at The Baby Show.
You'd never guess, but the Duchess of Cambridge is a fan of the £39 Alexa Blue Satin bra, and matching £19 briefs.
She was sent the classy outfit - aimed at the "savvy yummy mummy" - by British celebrity designer Lorna Drew.
And eight-months pregnant Kate's decision to ditch a 'frump-bump' look for a flirty satin number is set to spark a fashion storm.
Lorna, who has kitted out Jessica Simpson, TV presenter Fearne Cotton and Saturday's
singer Una Healy too, revealed: "I couldn't believe the response we got when we sent Kate the underwear.
"We actually received an email back from Kate's office saying she was 'delighted' with it.
"It's fantastic as the style is elegant and so perfect for Kate.
"Maternity underwear doesn't have to be frumpy."
Love how throughout her pregnancy Kate has ditched boutique and expensive luxury in favour of high street trends. She is the most influential on the nation's beauty purchases: as third of ladies admit to copying the Duchess' look, a survey by top online beauty retailer feelunique.com says.
The royal couple's first child is due in July.
If the baby arrives on July 1 he or she will share a birthday with Prince William's late mother Princess Diana!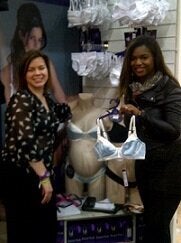 The undies that got the royal seal of approval - Sarah Tetteh chats to designer Lorna Drew.
And down at the Baby Show NEC exhibitors were all going, well, potty for the new royal arrival.
The Fisher Price Royal Potty has been rebranded especially for the arrival of the royal baby in pink and blue.
Get this, it makes a trumpet sound as a reward for when the baby makes a special deposit.
When it comes to a head turning buggy, Kate wouldn't do too badly with this ride fit for a king, the limited edition Quinny Moodd.
My one-year-old certainly enjoyed whizzing around in it and holding onto the front bars pretending to steer himself (in the direction of the pretty ladies I might add) as he got stopped every few minutes by mums curious to know about the one-off design.
It was spruced up for a limited edition collection by Brazilian pop artist Romero Britto.
It's so lightweight yet sturdy, really easy to assemble, folds at a push of a button and I'd certainly recommend it to fashion forward mamas out there.
Also handy for parents, British Red Cross has launched The Baby and Child First Aid app meaning mums are just a few clicks away from learning essential first aid, including a 'how to' video section.
Lock up your daughters. (Just kidding)
Tweens are buzzing about new Disney sensation Ross Lynch - this blonde haired cutie is the new Zac Efron, so I'm told.
"He stars in the biggest show to hit our screens since High School Musical - Teen Beach Movie.
And he happens to be Derek Hough's cousin," whispers my Disney man in the know.
That'll be worth a look then...
Now for something showbiz for the mamas...
How does Leonardo DiCaprio sound?
Well, my sources at the Monaco Grand Prix tell me he might be a bachelor for a little while longer.
No thanks to Gangnam Style singer Psy.
The pair were both guests at the lavish Armand de Brignac party, and while Leo was holding court with a bevy of ladies trying to get close to him, Psy was stealing his thunder with a queue of female fans waiting to join his table and learn his trademark dance.
I'm told: "It kind of killed Leo's flow. He never has a shortage of female fans, but when Psy stepped in the room, there was a slight babe drought on Leo's table. "
It was at the same party that a British millionaire spent £330,000 on the biggest ever bottle of Armand - the midas bottle is the equivalent of 40 regular bottles and looks like a gold rocket ship.
Entrepreneur Charles Shaker treated guests to the rare Brut Gold 'Dynastie' champers at the Billionaire Club, Monaco.
Psy was offered a glass or three.
And he kept the buzz going last weekend at the brilliant Capital FM Summertime Ball where he stole the show getting thousands of fans up doing his moves. I hear Even Taylor Swift and Robbie headlining at Wembley got in on the act.
Well, who can resist a Gentleman?
The Tia Maria Music Room event was also a highlight of the week.
Not just thanks to the soulful set from Laura Mvula, but there was a little flirting going on between
Zoe Hardman and rugby star Ollie Phillips at London's Century Club.
I'm told: "They were inseparable all night and getting cosy with compliments being thrown back and forth between one another."
So Hollywood's hitting our shores!
I've been gearing up for this weekend's Not On Our Watch Charity Race Day with George Clooney and his Oceans' click.
So obviously I jumped at the chance of catching up with Hollywood legendary producer of the Oceans 11, 12, and 13 Jerry Weintraub, who is one of the charity founders alongside Brad Pitt, Matt Damon, Don Cheadle, David Pressman and Clooney.
Jerry tells me: "when George, Don and Brad and I get together to make a movie we have a lot of fun.
"And now we want to raise awareness of the mass atrocities and violations of human rights across the world. We want to broadcast our message to world leaders, as we don't want this to happen on our watch."
"We're going to have a lot of fun on Saturday getting the message across."
It's a great cause - for tickets to the Sandown Racecourse event visit here