With Breaking Bad sweeping the board at the Emmys, it's amazing to see how the once little known lead actors have been propelled to stardom thanks to the cult show about a chemistry teacher turned drugs lord that has everyone glued to their seats.
So when I got the chance to fly to Hollywood in the world's largest ever super jumbo commercial jet the BA#A380 to LA to meet the 10 most hotly tipped new British stars of tomorrow it was a no brainer - I had to see what was going down in Tinsletown.
It's easy to turn your nose up at stars who aren't already storming the charts with their third consecutive number one hit. We've all done it. I remember when One Direction first came into my old office, after being booted out of the X Factor into what seemed like an exile.
The nervous lads sheepishly played us the first listen of their debut record Beautiful. How easy it would have been to dismiss them, but we cheered them on from the sidelines and just six months on they became worldwide phenomenons - with A list girlfriends in the form of Taylor Swift to boot.
Now I'm sitting in the seatsthe boys regularly take on my long weekend to LA to experience first hand the hottest trends the likes of Harry Styles, Gemma Arterton, Victoria Beckham and the Kardashian's are used to.
As we arrive at Terminal 5, we're greeted with our own names is Hollywood Walk of Fame stars, plus a rock n roll performance by Spice Girl Mel C and X Factor winner Matt Cardle.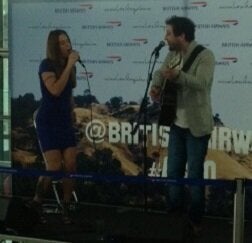 Mel C and Matt Cardle Copyright Sarah Tetteh
Matt is another young star hoping to make some waves in this notoriously hard to crack industry.
Just like the people I'm about to encounter during my stay at the plush celeb fave Andaz West Hollywood hotel.
The new generation of faces couldn't have come at a better time as America loves it's daily dose of Brit wit, style and sensibility. The up and coming talent includes Welsh and Egyptian filmaker Sally El Hosani, whose involved in gritty dramas including drugs,violence and 'inside Saddam's Iraq.' She's in good company with other filmaker's being celebrated including Harry Treadaway, Georgia King, Alexandra McGuiness, and actors Sam Claflin, Gugu Mbatha-Raw, Tuppence Middleton, George Blagden- whose been in Les Mis, and screenwriter Ed Whitworth.
Intriguingly, Vatiety magazine's 10 Brits to watch includes Lauren Harris, who comes from rock n roll royalty - her dad being Iron Maiden bassist Steven Harris.
While many would think that she would have fame and success instantly handed to her on a plate, it can also be a stumbling block for a young musician getting type cast.
After all, not everyone can be as lucky as Miley Cyrus, her dad Billy Ray paving the way first for his daughter to proudly poke out her tongue and Twerk the world by storm.
Drum roll please for the new generation...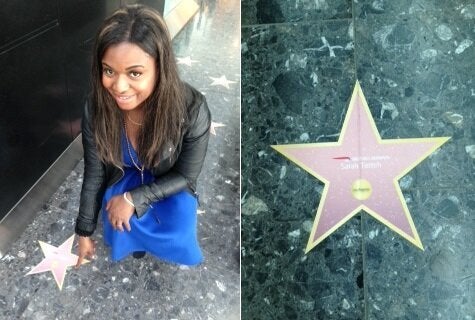 BA Hall of Fame Copyright Sarah Tetteh
Related