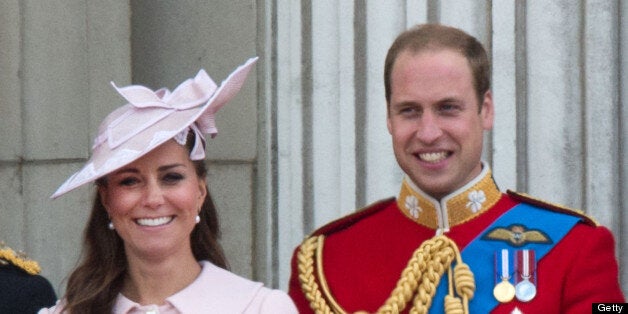 There's something different about Jay- Z as he takes the stage positively beaming at the Yahoo! Wireless Festival.
Rewind a decade, and it was a very different man than the one you see today. For one, he's got a lot leaner. No doubt largely down to a Beyonce inspired seafood rich, low fried chicken, low nonsense diet.
His style has changed too from rough cut gangster rapper in baggy black t-shirt and jeans hanging off his bum, to a pristine white freshly pressed shirt, and a mayor like chain as he rattles off his refined rap hits.
Not one to cut corners, he celebrated his new album Magna Carta... Holy Grail going platinum with £500 a pop bottles of actual platinum blanc de blancs edition Armand de Brignac champers alongside Hollywood star Jessica Biel, Justin Timberlake and Rihanna backstage.
So what's the reason for the new found spring in step? A happy wife, no doubt...
And some would say, the extravagant "push present" for Beyonce when she gave birth to his first daughter Blue Ivy has made him flavour of the month... for life.
Jay is believed to have dropped a tidy sum on a whopping blue diamond ring, in honour of their daughter's name.
It's a new trend that celebs are adopting, so when I suggested I needed a "push present", after the whole nursery had been kitted out, it was another celeb trend come to bite guys in the bum.
Kanye West is said to have presented Kim Kardashian with a push present - a £500,000 rare black and tiger stripe diamond ring.
It's a growing phenomenon in the US, and with the birth of Prince Wills and Kate's first baby imminent, I'm left to wonder whether she will get one too.
She's topped the best dressed lists both before and during pregnancy, so she'll certainly be expected to, erm, rock a new look when she emerges for the first time since being a mum.
If there's one thing she will get, that's well wishes from the sea of celebrity pals and admirers.
Even Uncle Snoop Lion is leading the celebrations for the royal baby.
After his stellar performance at Yahoo! Wireless, Snoop, who famously penned number one hit Sweat for Prince Will's stag do, hit up the Prince's favourite club Boujis on Friday night.
While the Prince was by Kate's side waiting for the arrival of their tot, it was Snoop that was already wetting the baby's head saying, "Shout out to my nephew Prince Will," as he passed around Prince Will's and Harry's fave tipple the 'crackbaby' shot to all the ladies in the club.
Snoop DJ'ed and entertained the crowd for over two hours, his longest DJ set ever in the UK. He caused a frenzy as he was leaving when he was mobbed by fans outside trying to stroke his new dreadlocks hairdo.
Certainly made for a hair-raising night.
SUMMER FESTIVAL FUN FOR THE FAMILY
Even the kids got down with the festival action at the family friendly Barclaycard British Summertime Festival.
With the best wrinkly rockers in town to provide the entertainment, young and old rocked out to timeless hits from The Rolling Stones, The Beach Boys, Lionel Ritchie, J-Lo and The Gruffalo at the AEG event.
One of my highlights (not just thanks to the rose wine and picnic hamper, honest!) during the week long festivities at London's Hyde Park, was the fantastic Disney open cinema.
The Jungle Book was played across a gigantic cinema screen in the park in the blazing summer heat, as families sang along to the songs.
Even celeb daddy Robbie Williams was gushing and said of the film: "I think it was the first film that I ever went to see. It was and still is an amazing film, with amazing songs and amazing characters. I've loved Disney from a very young age, but The Jungle Book was probably my first true Disney experience."
I was gutted when I thought it was a one off - but then I found out they are touring with it.
Catch the show around the country at:
. Larmer Tree Festival - 17-21 July - Larmer Tree Gardens, near Salisbury
. Lounge on The Farm - 26-28 July - Near Canterbury
. Carfest North - 2-4 August - Oulton Park Race Circuit in Cheshire
. Just So Festival - 16 -18 August - Rode Hall Parkland in Cheshire
. Carfest North - 23-25 August - Laverstoke Park
There's nothing like getting kids into fun music early, and the first Big Fish Little Fish event got off to a tremendous start.
If you're a party animal like myself, and have kids too, there's a fab new series of family events you can take your sprogs to.
Big Fish Little Fish is effectively a club night, in the afternoon, with music to get both you and kids under eight years old, up and dancing.
Free cake, healthy snacks, a bubble machine, and fab DJs JC (Queen of Hoxton) DJ Chef, and Joe Muggs spin a selection of tunes spanning the 20s and 30s Speakeasy to 90s rave and current chart classics all afternoon.
For more information on the Big Fish Little Fish family rave on September 21, visit http://www.bigfishlittlefishevents.co.uk
In this hot weather what better way to chill out than with a game of beach volleyball.
Lads form an orderly queue because on Saturday July 27, a year to the day since the battle for gold began on Horse Guard's Parade, Corona Extra will be bringing Beach Volleyball back to Covent Garden. Team GB star and Olympian Zara Dampney and teammate Lucy Boulton will host a day of sandy spikes and smashes in Covent Garden Piazza where men's and women's teams will compete at #coronalondon to win a Corona Beach Break to Mexico.
To get courtside visit www.facebook.com/CoronaUk