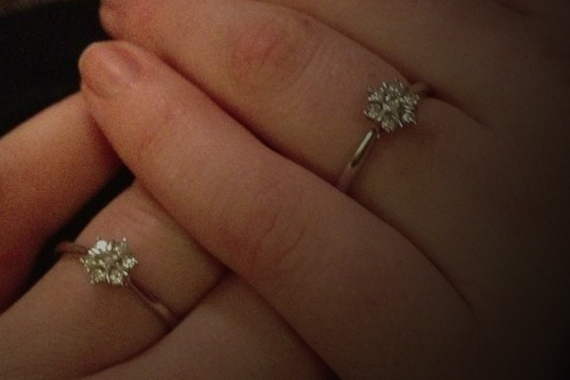 For months I sat and planned the perfect proposal to ask my girlfriend to marry me. I'm talking about flash mobs, kittens, brass bands - the whole bloody shebang. However, the fiancée had other ideas, and after a drunken night out, I found her on one knee, asking me to be her wife. Forget being over the top, it was the perfect engagement, and I was thrilled to say yes.
With our matching engagement rings we're now in the planning stage, and our engagement party takes place next month - but we've already been asked a lot of thought provoking - and often insulting - questions. "Who will wear the dress" they cry, "Which one of you will walk down the aisle" and "Can you really have TWO mothers of the bride?".
The thing is, there's nothing really out there helping us, marriage equality is new. Yes, the debate has been around for a long time, but we're only just starting to see the results of years of hard work. I've seen a few stills from lesbian weddings via Tumblr, and sobbed over Ellen DeGeneres and Portia de Rossi's wedding video, but all I can think is how? HOW DID THEY PLAN THIS WONDERFUL WEDDING WITHOUT GOING INSANE?
We're already on a bridal party of 17. Without the "traditional" structure of bridesmaids and groomsmen, we've almost seen it as a free for all. We're already looking into first and second tier bridal parties in fear of offending someone now the initial glee is beginning to fade and the fear of expense is kicking in. Where can we find help in planning what is meant to be the happiest day of our lives?
Don't get me wrong; I've come home a few times to the fiancée flicking through wedding magazines and pointing kitsch things out to me, neat little tricks for wedding favours for guests and I've procrastinated many an hour away looking at Pinterest and stealing the best parts of people's weddings - these are all great but where are the gay orientated magazines out there giving us advice on things such as venues that are LGBT friendly, how to deal with homophobic relatives and friends of family and how exactly, do we go about buying two dresses, keeping them a secret from one another AND making sure that one of us doesn't go for a massive gypsy wedding style design?
Too many questions and not enough advice or, at least, not enough accounts out there of planning a lesbian wedding. So, here goes - I promise to keep account of my Big, Hopefully-Not-As-Fat-By-The-Time-It-Comes-Round, Lesbian Wedding. The highs, the lows, the "why am I with you when you won't let me walk down the aisle to a beautiful string quartet version of 'We Are Young' by Fun." moments, ugly and all.
If anyone knows of any lesbian weddings that are going on at the moment that I can crash, then please do get in touch. Especially, if there is an open bar.