You're about to be launched headlong in to a new adventure accompanied by a feeling of trepidation and general anxiety. I've been there and know those feelings only too well, I've recently moved from the UK to Switzerland with my family in tow (change not being my biggest forte, I'm still harking back to a time of Grange Hill and a regular helping of Dynasty). I've put together some thoughts on a few of the things that I found useful prior to and following the move.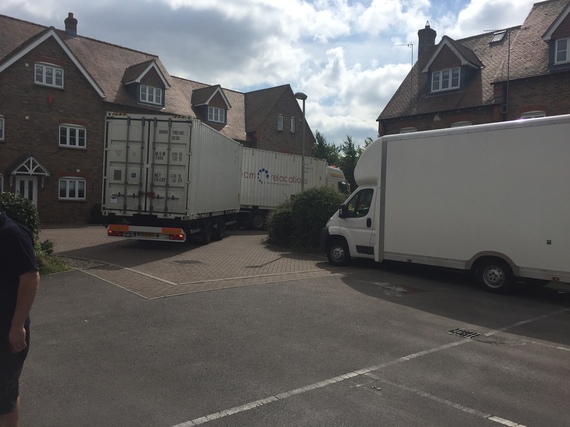 Moving day dawns - image author's own
Become a Lurker
Social media, use it! Chances are if you have a question it has been asked before. Let's face it there are pages and forums for everything these days (what does Limahl from Kajagoogoo look like 30 years on, yep 30 years older, who'd thought). These are great places to just lurk, you can glean masses of useful info and it's also a good way of getting to know your local community. I'd put money on there being an English Forum for your area, these are usually set up by ex-pats and give insights in how to register with the authorities when you arrive, driving permits, recycling, health insurance, local school reviews (remember they are only from individual experiences so don't take everything that is written on these forums as gospel).
The Kids are Alright
One of the most important aspects of our move was selecting the right school for the younger members of our gang. There is a lot of research that you can do online yourself, but it is well worth trying to get a tour of the school if you can. We saw two schools and the experiences couldn't have been any more different, they were poles apart in their approach and what had looked like a possibility on the website became glaringly obvious when we visited that it wasn't (they suggested that we left them in boarding school in England). If you're not able to visit, how about a Skype call so you can try and get a feel for the place and who you are talking to? Find out what sort of orientation days they offer for settling in new students and if there's any type of counselling service set up that checks up on how the newbies are getting on in the early days.
Slow and Steady Wins the Race
It's so important not to rush the settling in process, every child is different and they all go at their own pace. There are no rules for how fast you should settle in, especially if they are missing their old school and friends. Make sure that they are able to keep in regular touch with old friends via social media and also try not to let your anxiety for the situation show, they will feed off that. It is difficult to keep your emotions in check, but try and stay positive, it can be an overwhelming time for all of you, but you will get there together. Don't be afraid to ask the school for help. They will have dealt with this situation countless times before.
And then there is you
So everyone is settled at work and school, what are you going to do? When I first moved abroad it was definitely tempting to sit in my PJs watching old episodes of Heartbeat on Drama with a regular episode of Birds of a Feather in the afternoon; if you want to become a packed lunch making 80s sitcom aficionado recluse then fine, but do you really? It is important that you get out there too. I found the thought 'starting again' terrifying, I'd already got friends, did I really want to get out there and make new ones, could I be bothered blah, blah, blah? Get out, meet new people, have new experiences and make the most of being in a new country and have some adventures. There'll be Parent's Association groups at school; these are good for coffee mornings and finding likeminded mums who you can talk to. Getting out there on your own can be intimidating, when I attended my first PA coffee morning I stood next to a water cooler on my own on the verge of going home until I had a word with myself and went over and spoke to someone, after that it was fine and it won't be long before you start recognising faces.
When I first moved I started writing a blog, something I had always wanted to do and a cathartic release during the early days after we'd moved, it's also a great way of family and friends keeping up to date on your news.
So get out there and make the most of your new opportunities!
Listen to more of my nostalgic ramblings and hear about my new adventures settling in to life after a move from the UK to Switzerland, all with an 80s soundtrack at sarahjanesadventures.com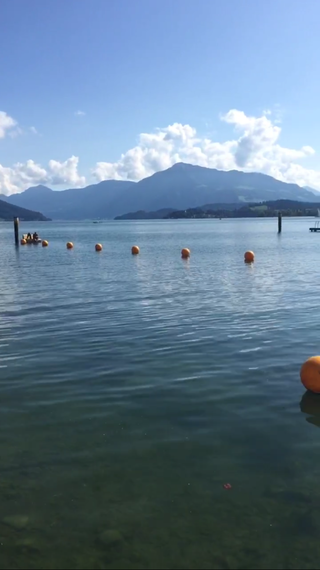 Our adventure begins in the land of Lakes and Mountains - image author's own