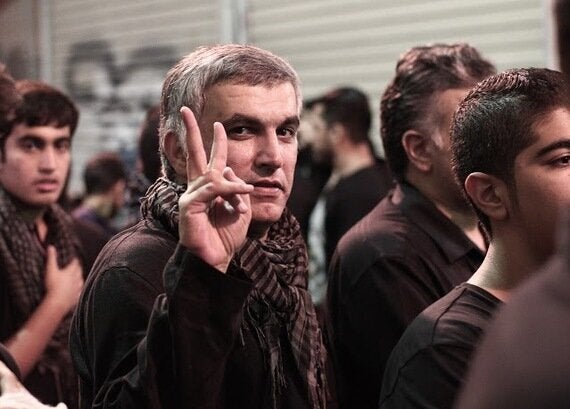 Nabeel Rajab in Manama after his release on 2 November, Courtesy of Ahmed Alfardan
Sweden sent shockwaves when they ripped apart their lucrative arms deal with Saudi Arabia earlier this week, in response to the Saudis blocking the Swedish foreign minister from speaking about human rights at the Arab League summit in Cairo. Sweden's landmark move shames all states, Britain included, which continue to deal with Gulf countries, ignoring pervasive abuses.
The Foreign Office has once again defied the recommendations of human rights experts and refused to list Bahrain as a human rights country of concern in its annual Human Rights and Democracy Report, released earlier this week. Bahrain continues to hold pride of place as a 'case study' of 'reform implementation', a bizarre choice given the annual reports of Human Rights Watch, Amnesty International, Freedom House and others which have all marked deteriorations in the country.
The UK has already faced criticism for this categorisation in the past. The Foreign Affairs Committee outright stated that this case study category, introduced after the events of the Arab Spring in 2011, "is misleadingly soft on countries that would benefit from a more critical assessment by the FCO."
Misleadingly soft indeed. The current case study makes some frankly bizarre statements. On Bahrain's elections, it states that "Turnout for the first round on 22 November was 52.5%, although no figures were publicly released for the second round on 29 November." Somehow this leads to the conclusion that "overall, we judge the process to have been transparent." Never mind that other, unofficial figures estimate much lower numbers, or that allegations of bribery surrounded some candidates, or that the person who accused bribery of taking place was later charged with attempting to disrupt the elections!
Further down in the case study, the Foreign Office writes "We encourage the government to ensure that due legal process is followed in all cases, and that sentencing is proportionate. In addition, Nabeel Rajab, President of the Bahrain Centre for Human Rights, was arrested on charges of insulting the Ministry of Interior and the Bahrain Defence Force."
Here the Foreign Office has conveniently left out any judgement on whether Rajab's trial constitutes a rights violation. They've also failed to address the major failures of the courts to follow due legal process, without improvement. Human Rights Watch's Deputy Middle East Director Joe Stork said last year said that "Bahrain's problem is not a dysfunctional justice system, but rather a highly functional injustice system." But such criticism is brushed over by the Foreign Office, despite them apparently taking an "evidence-based approach" to their human rights monitoring.
The evidence simply does not show improvements in Bahrain. But the Foreign Office's reasoning is laid bare in the opening paragraph of the case study, which states "The UK continued to provide a package of technical assistance focused on strengthening human rights and the rule of law."
The UK has spent in excess of a million pounds on these reform packages. Some of Bahrain's limited reforms, particularly the new Ombudsman Office, the National Institute for Human Rights and the Prisoners' and Detainees' Rights Commission, have relied heavily on British assistance. No wonder the UK is so keen to make Bahrain appear progressive - they have a stake in doing so. Yet these programmes have shown very limited impact. Abuses continue to occur - notably in the last week, prisoners at Jaw Prison began protesting when a family was barred from visiting, and in response squadrons of security officials stormed the prison, shooting bird pellets and tear gas into the buildings and at prisoners. The practical effect of the UK's technical assistance does not seem evident in such cases.
The UK goes above and beyond technical assistance. It has sold £88 million in arms to Bahrain since 2008, with £71 million of that coming since 2011's uprising. The figures speak for themselves. It has continued to host Bahraini royalty in its territory, including Prince Nasser, head of Bahrain's Olympic Committee and who faces credible allegations of torturing political prisoners in 2011. In December, Philip Hammond announced a new naval base - located in Bahrain, with the Bahraini government fronting £15 million towards the costs.
Four years on from the uprising which shook Bahrain in 2011, the UK's choice to support 'stability' and British arms over Bahraini freedoms is obvious and disappointing. But it is the wrong choice. Ultimately, long-term stability can only be achieved through democratisation. Britain's support for an absolute monarchy, with arms and personnel and its fleets, will only make the region more unstable in the long run, as Britain shoots itself in the foot.
Related