You only have to ask one simple question about the rejection of Kevin Pietersen for this summer's Ashes series - if he was an Aussie, would they pick him? The answer is an emphatic yes.
The Australians pick the best players for their team. They have had their mavericks in the past, the difference between them and the England and Wales Cricket Board (ECB) is they know how to mould them into their side. They don't leave them at home.
Pietersen is back on form and is mentally and physically ready for the test, his massive 355 not out against Leicestershire showed that. Admittedly one game does not make a season but all the signs are there that he has got over his injury niggles and he's got the appetite for winning. And there's a real sense that the fans will really get behind England if he's picked - if the tweets on this blog are anything to go by.

So far KP has done everything right for a return to England cricket. He was told back in March by ECB Chairman Colin Graves that the England door was left open for him, but that first he would need to show form at first class county level. So he left his lucrative contract with the Indian Premier League, signed up for Surrey, scored 170 on his first innings, and then a triple century yesterday.

Pietersen has done everything asked of him but last night the open door for an England return was unceremoniously slammed shut. He was called for a private 40-minute meeting with ECB Director of Cricket Andrew Strauss and was told he would definitely not play for England this summer.

Today Andrew Stauss told the BBC it was: "not in the short-term interests of the team" for KP to be selected for England, and that "trust has been eroded between Kevin Pietersen and the ECB".
Strauss said he has discussed the matter with ECB Chairman Colin Graves and ECB CEO Tom Harrison and they, "all think this is the best thing for English cricket"
They must be the only three people in the country who actually agree with that. The response from the fans on social media has been deafening. They have been led by several vociferous tweets from @PiersMorgan (see below) and @shanewarne, as a result the #BringBackKP has trended No1 in the UK.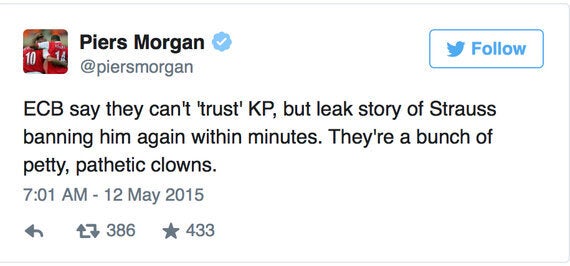 Yet again the England selectors have let down the team and the fans. This is certainly not about ability, and I'm not sure this is about trust either, this is about old scores being settled and personality clashes.
KP is currently one of the world's top batsmen and if the England team was selected on merit he would be in it. The Aussies will be rubbing their hands with glee that they are not going to have to face him this summer.
Popular in the Community