Got Cornish Genealogy? HUGE news today!
For all of us who work on our Cornish genealogy, family history, and roots today is a huge day! A 15 years plus effort culminated, in part, today with the announcement today by Chief Secretary, Danny Alexander, saying the Cornish are to be recognized as a national minority group for the first time!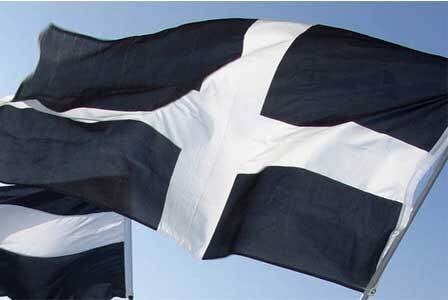 Mr. Alexander said "Cornish people have a proud history and a distinct identity." He went on to also say "I am delighted that we have been able to officially recognize this and afford the Cornish people the same status as other minorities in the UK."
Wonderful, welcome, and very overdue news, but as it is so often said 'better late than never'! Congratulations to everyone who toiled all these past years to see this fight through!
All of us who have toiled over our Cornish genealogy and history know, the Cornish have always been a unique, culturally rich, and strong people. In my Phillips (actually Phillipps) family our Cornish roots go back at least to the middle 1400s in the parish of St. Teath and it is very evident to me, as my grandfather used to say to me "Remember we are Cornish, not English!". Today's announcement certainly is a step along an important path. The Cornish now join the Irish, Scottish, and Welsh as a recognized national minority under the European Framework Convention for the Protection of National Minorities.
As Mike Chappell, the Convener of the Cornish Branch of The Celtic League said today in an exclusive for Huffington Post UK: "This is a very, very good day for the Cornish. The feelings of pride are incredible! I have been up all night, speaking with Cornishmen and women in the U.S., Australia, and all over the UK in celebration of this decision. Not only are we recognized as equals in the UK, but across Europe as well!" He concluded with saying congratulations were due to a vast team of Cornish folks, but especially John Angarrack!
This recognition should also help everyone with their Cornish genealogy efforts and mean not only more attention will be paid to the Cornish language and culture, but also that we, as family historians, need to be certain to do the same. We must now be more careful to include the Cornish names, spellings, etc. for our surnames, place names, parishes, and other titbits we find for our family trees.
Communities Minister, Stephen Williams made the point this way: "The Cornish and Welsh are the oldest peoples on this island and as a proud Welshman I look forward to seeing Saint Piran's Flag flying with extra Celtic pride on March 5 next year." Notably, Deputy Prime Minister, Nick Clegg announced an additional £120,000 would be invested to promote, protect, and develop the Cornish language under the Cornish Language Partnership. These are all good signs for the protection and preservation of the wonderful heritage of the Cornish.
This exciting decision, while still leaving work to be done to fully recognize the Cornish, is an important step in the proper direction and should be hailed and celebrated by all of us who love, cherish and celebrate our Cornish heritage, roots, ancestry, and genealogy.
I think I can hear my 'Gramps' up in heaven clapping, cheering, and wiping a tear from his eye in celebration and can hear his voice once again saying 'See....WE ARE CORNISH!'