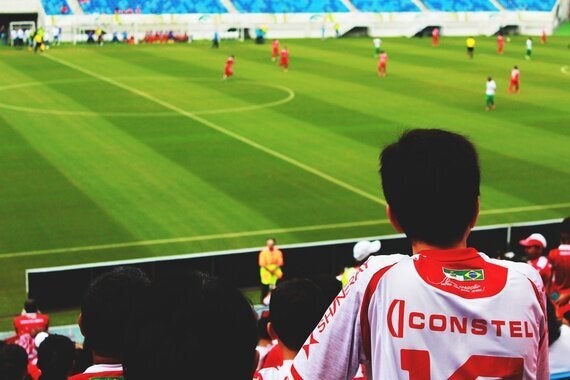 Image courtesy of stockimages at Unsplash.com
Football is the beautiful game, but sometimes even beautiful things can turn ugly. From racism, to fighting, hooliganism and poor behaviour, many aspects of the beautiful game seem to be bordering on the ugly game.
One of the most prominent ugly aspects is a lack of respect towards referees and other match officials; a problem that is becoming more and more evident from the top of the game down to grass roots football. I'll admit that I sometimes give referees a bit of stick during a game; it's hard not to. The passions of football often over boil and when a decision does not go your way you feel hard done by. I'll hold my hands up; I got a talking to from the referee on Saturday for giving the linesman stick for a god awful offside decision (I'm totally over it, as you can tell). In the heat of the moment, it came out. Was it right? Of course not.
The beautiful game needs to take a long, hard look at itself and reassess the way that it treats and responds to match officials. Everyone involved in the game, including professionals, need to teach the youth of today that are learning the game to respect those officiating.
Over the weekend, social media was full of abuse for referee Jon Moss - who sent Jamie Vardy off for simulation, producing a second yellow card. If that wasn't unpopular enough, Moss then gave West Ham a penalty, before giving Leicester an extremely soft one.
Let's just say that Moss didn't have many fans on social media over the weekend - understandable for those who feel that their team was hard done by during the match.
What isn't understandable, though, is the abuse Moss received, both on social media and from the players themselves. Jamie Vardy got up and hurled abuse at Moss after he'd been shown a second yellow card - which was deserved while we're on the subject.
What sort of example does that set for young footballers who look up to this season's unlikely hero? It's an age old cliché, but children really do emulate what they see on the pitch; be it a skill, a set-piece routine or abuse thrown at a match official.
If football is to show any signs of progression, we need to teach the young players of the game the art of respect. As I said earlier on in this post, I hold my hands up that I've been guilty of it way too often, so maybe this sounds hypocritical of me. I do, however, think that all involved in the game need to take a hard, long look at themselves and reassess what is really important - including me.
Being a match official is one of the hardest jobs in the game, especially at professional level. The eyes of the world are on you and football takes no prisoners when it comes to apparent injustice or an honest mistake.
I've seen a lot on social media following the Leicester game criticising officials for giving a penalty against Wes Morgan and not for other similar incidents of holding or shirt pulling in the box. Michael Cox (@zonalmarking on twitter) summed the argument against this perfectly for me.
When it comes to grassroots football, the game needs demonstrations of respect from the idols at professional leve, as well as the coaches teaching them the ways of the beautiful game. They must demonstrate the art of respect, both for match officials and for players themselves. Fun and respect must come before winning, especially at a young age.
I'm all for winning, it's one of the best feelings in the game, but when it comes to young children we must instil the importance of other aspects in the game first.
On Twitter over the weekend, there was a Dad who was upset because his young son had been left on the bench for 38 and a half minutes of a 40 minute game; all because the coach wanted to win.
These sorts of incidents have no place in our game and that coach should be ashamed. There is a great need to teach young children the joys of football - not placing the emphasis on winning - if we are to teach the future of our game the art of respect.