A couple of weeks ago, style maven Bay Garnett and some of her very fashionable friends, such as Jasmine and Rebecca Guinness, Jade Parfitt and Camilla Rutherford gathered to celebrate that fact that Bay joined pre-owned fashion marketplace Vestiaire Collective as Style Advisor (where I am the UK Managing Director).
No strangers to luxury handbags, we thought it would be fun (and illustrative) to challenge everyone to a game of 'Real or Fake.' Could these well-heeled women tell the difference between a fake Louis Vuitton, Prada or Balenciaga?
Well, results were mixed. And it's no surprise. The world of counterfeit goods has grown more sophisticated and our ability to weed out fakes has become strained over the years. The luxury industry spend millions in the war against counterfeits. And frankly, I can't see the point in getting something less than authentic? The value of a brand lies in its craftsmanship and quality, so there is no reason to seek anything but an original, if you are going to make any investment at all.
Of course many of us wait all year to indulge in a luxury handbag or pair of shoes. Either for ourselves or as a gift. And depending on budget there is nothing wrong with seeking out a good deal. The key is to know what is a 'deal' and what is a 'dud'.
Deal? Look at reputable sites - all of your well-known favourites - for straight discounts. Dud? Don't be tempted to shop sites you are unfamiliar with, especially those with 'discount' or 'cheap' in the URL. These are guaranteed to disappoint.
Pre-owned is another way to go. The discounts can be 50-70% of Recommended Retail Price. And you can have access to an interesting range that runs from vintage to in-season.
Our team in Paris review every product sold through Vestiaire Collective's platform. I asked them for a few tips on identifying a fake. Here's what Saloua (pictured below, right) said: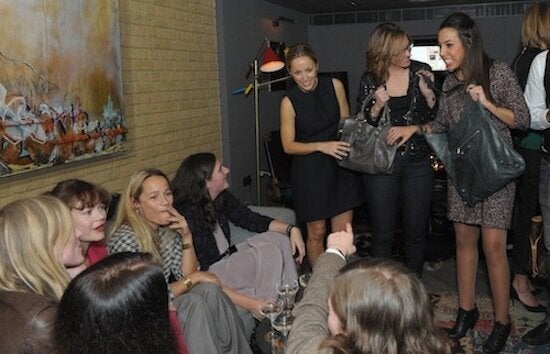 Familiarise yourself with your favourite brands. Don't be shy to check out items at a brand's shop or concession in a department store. Inspect the item carefully and you'll have better instincts as to what may not be right with a product.
Look at the hardware. The zipper of your handbag should move smoothly and the pull should be heavy in feel. All other hardware should be similarly heavy and not hollow. There shouldn't be any discolouring or signs of the metal flaking off.
Check the handles and look inside. The stitching should be in a straight line and the thread should be strong and not frayed or pulled. The leather should be smooth and match the bag in the way it does on the product you saw in the store. The same is true inside; if the fabric looks strange or exceedingly cheap, it's likely a fake.
Logo. If the logo is upside down, sideways, cutoff or somehow not right, again, you are likely looking at a fradulent product.
And lastly, don't be afraid to ask in store or call your favourite luxury brand. The fight against counterfeits is one brands take seriously, so give them a call or stop into a shop if you have any doubts. You can take solace in knowing that even some of the most well-known fashionistas struggle with identifying a true Chanel. But it was a great reminder to them and to us of the value of buying the real deal.