Our journey started last October when, my then 10-year-old daughter Naomi had been unwell for around three weeks with cold-like symptoms. At first laryngitis was suspected which then developed into a persistent cough.
One Thursday afternoon, after a normal day at school, a massive lump suddenly appeared in her throat so we took her to the GP that evening. He immediately referred her to our local hospital.
Everything in our lives then abruptly changed. After a quick physical check, the paediatrician at the hospital took my husband and me into a side room away from Naomi and told us that she suspected the lump was a form of lymphatic cancer.
An x-ray then showed that a huge mass was filling most of Naomi's chest cavity and was pushing her windpipe to one side, which is why she could not by then breathe properly. The team at our local hospital were ashen faced and simply told us that they did not have the facilities there to be able to either treat or resuscitate Naomi if her windpipe collapsed.
She was then blue-lighted by ambulance to the paediatric intensive care unit in St George's hospital in London. The following morning she was diagnosed with T-cell Acute Lymphoblastic Leukaemia (T-ALL).
It's hard to describe the absolute terror and helplessness you feel as a parent when your child is diagnosed with something as horrendous as cancer. You receive the cancer diagnosis and in the same meeting, before you even have time to process the reality of the situation, you are being asked to sign consent forms that list an array of dreadful side effects (including death!) for horrible and potentially disabling treatments. But time is really of the essence when dealing with aggressive cancers and treatment has to start as soon as possible.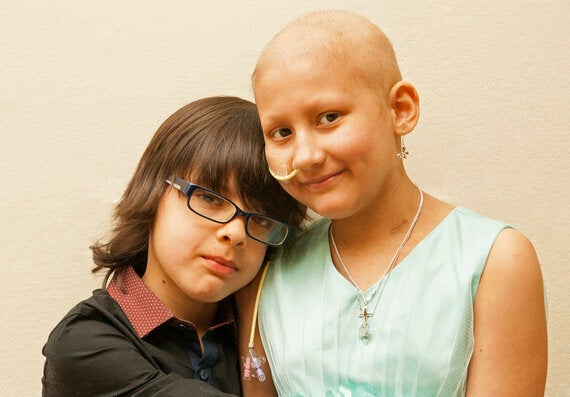 The initial chemotherapy destroyed the tumour but it did not take her into remission, and her prognosis at the end of last November was appalling. We started this year knowing Naomi could have less than six months left to live. She was started on a more powerful chemotherapy treatment, and it was a huge relief to find out at the end of January that this had worked and she was in a complete remission.
But, although it was the news we had hoped to receive, it wasn't over. Naomi's type of leukaemia has a horrendous rate of relapse so she had to have a bone marrow transplant to increase her odds of survival.
When Naomi failed her first month of chemotherapy, we were told that she would have to proceed to transplant if they could get her into remission. They then asked if Naomi's brother, Oscar, could be tested to see if he was a match. Only one in four siblings will be a match, so you can imagine our joy when Oscar proved to be a perfect match to be her donor. Oscar, of course, was delighted to help his big sister and he bravely underwent an operation to harvest 400ml of his bone marrow from his hip bones the day before the transplant.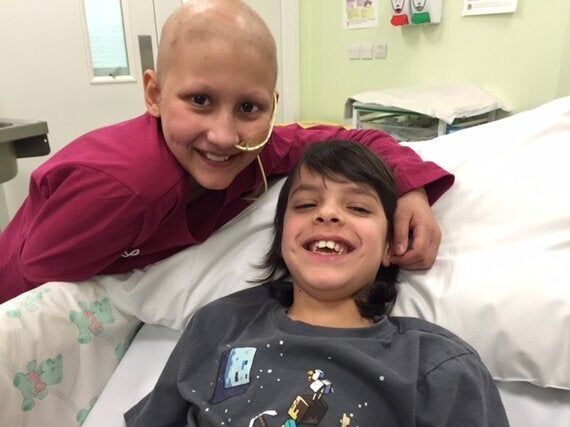 In March, Naomi underwent high dose chemotherapy and eight sessions of total body irradiation to destroy her bone marrow and her ability to produce blood. Oscar's bone marrow was then transplanted into Naomi on the 20th March.
After two weeks in isolation, Oscar's stem cells started growing and producing new blood in Naomi's bones and she came home a month later. Aside from a couple of short stays in our local hospital, has been home ever since.
We have met some amazing people this last year - the wonderful teams at the Royal Surrey County Hospital, St Georges in Tooting and at The Royal Marsden Hospital. We are so fortunate in this country to be able to access this astonishing level of care for free at point of use.
Of course our wonderful family and friends have made this dark road so much more bearable. We have also made friends with other oncology parents - you suddenly get thrown in on what is the most bizarre house share for a few months and I have been fortunate with the people I ended up living with for four months at the Royal Marsden Hospital. And then, of course, there are the children I have met.
How can I even begin to explain how utterly awe-inspiring and brave these children are? Some haven't survived or won't survive and nothing prepares you to experience the reality of living with childhood mortality or with the absolute suffering and pain that the treatments for cancer cause, but they still smile through it all and give us so much love in return.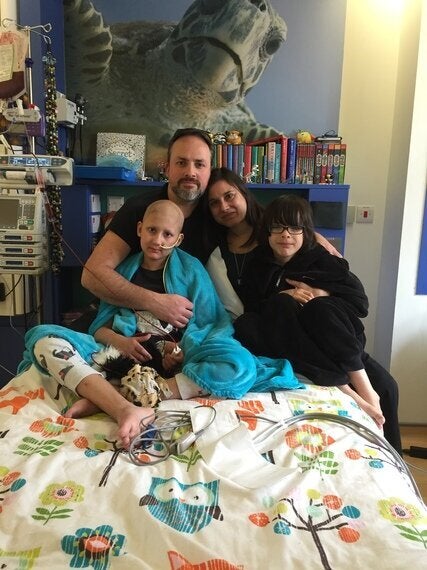 At time of writing, Naomi has been in remission for ten months and is eight months post-transplant. Her leukaemia was so aggressive that it is classed as an 'early relapser', so each day that passes without relapse increases Naomi's odds of survival.
She started secondary school in September and has astonishingly been pretty much full-time. She missed her last year of primary school but even after being away for so long, she has just passed her new school tests with a set of fantastic results.
She will struggle with the on going fatigue from her treatment for the foreseeable future, but she is able to do more things as each day passes. The experience of the last year has certainly not put her off her dream of becoming a doctor when she grows up.
I don't know what will happen with Naomi in the future, but right now she is as happy and healthy as can be expected from anyone having been through the intensity of treatment she has endured this year.
She is an inspiration - she is defying terrible odds to survive and still smiling that beautiful cheeky smile. And Oscar is a star too for saving her life. I could not be a prouder parent - my children are amazing!
Sharon is supporting the Cancer Research UK Kids & Teens Star Awards, in partnership with TK Maxx, which celebrate the bravery of children in the UK who have been diagnosed with cancer. To nominate someone to receive an award or to find out more about the campaign, visit: www.cruk.org/kidsandteens
Help beat children's cancers sooner by supporting Cancer Research UK Kids & Teens, in partnership with TK Maxx.
There are a number of ways to show your support:
1. You can donate at cruk.org/kidsandteens
2. Fundraise by downloading a fundraising pack from our website
3. Donate a bag of unwanted clothes, accessories and quality homeware to your local TK Maxx shop as part of their Give Up Clothes For Good campaign
4. Buy a pin badge from the CRUK online shop