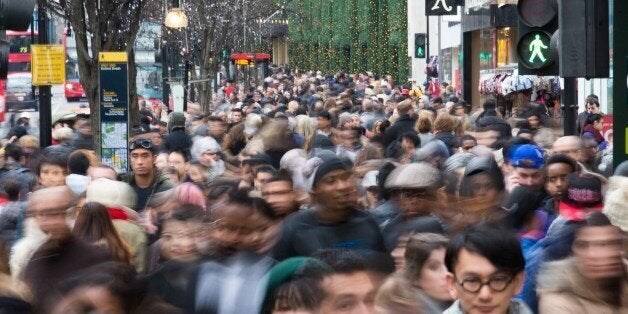 There is a subtle expectation placed on men in Britain today. The expectation is encapsulated in the following phrases: 'Stiff upper lip', 'be a good lad', 'boys don't cry'. It is not considered manly to open up about your worries and emotions. For many, the idea of confiding in a friend about the troubles one may be experiencing has been, for too long, considered the antithesis of masculinity.
It was recently reported that the London Ambulance Service deals with an average of 56 suicide attempts or drug overdoses per day - double the amount of cardiac arrests.
The reasons are complex. The Campaign Against Living Miserably's (CALM's) latest audit showed that men are far less likely to tell anyone they are feeling "very depressed", as well as being more likely to feel more frustrated at life's challenges.
The combination is a toxic one and is a major contributor to a fact I was surprised to learn. Suicides are the leading cause of death for men under the age of 45 in Britain.
Suicides have been considered a taboo topic for too long. That is why it is so important that the London Assembly's Health Committee is going to examine this topic and see what steps we can take to reduce suicide rates in the capital.
Research shows inner London boroughs are more likely to have a higher suicide rate than outer boroughs, with Haringey having the highest suicide rate in London.
The reasons people commit suicide are numerous and complex. There is little evidence to point to one particular factor being the main culprit. However, it has been estimated that around 90 per cent of victims of suicide have a diagnosed or undiagnosed mental health issue at the time of death.
Additional contributing factors include a person having a traumatic childhood experience, history of physical or sexual abuse, or general life circumstances such as poor job insecurity and unemployment.
The complex and interlocking factors which play a role in suicides means that a holistic, joined-up approach to tackling the issue is needed.
I favour taking the prevention approach to this issue. We need a greater focus on protecting our mental health and one organisation which helps to that end is the TASHA Foundation.
They provide easily accessible mental health provision online to anyone who needs it. Their service is open to anyone and their online platform ensures total privacy for the user. They provide an online self-diagnostic service free at the point of use through their website, Have I got a problem.com.
Given that people, particularly men, find it difficult to tell others about their problems, services like the TASHA foundation, which offers a private solution to the important first step of diagnosing the problem, should be promoted.
I recently met with Professor David Mosse, who is the trustee of the leading mental health charity Mind. He leads on Mind's Haringey Suicide Prevention Group.
According to Professor Mosse, many local authorities across the country have failed to develop suicide prevention plans. In his experience of dealing with the families of people who were at-risk of committing suicide, they told him that while they were worried about their loved one, they did not know where to go for help.
According to the All Party Parliamentary Group's (APPG) investigation into Suicide and Self-harm Prevention, just seven local authorities had a suicide prevention plan.
Another point raised by Professor Mosse was the importance of coroners. It has been suggested that some coroners choose to be ambiguous over the cause of an individual's death in order to protect the family.
While the instinct to protect a family who has just lost a loved one is understandable, the result is that we miss out on the information necessary to stop it happening again.
The APPG on Suicide and Self-harm Prevention also noted that coroners' offices "often failed to provide local authorities with detailed information on suicide".
While the complexities and problems surrounding suicide prevention are numerous, it is also important to note the number of solutions that have been proposed to tackle them.
The APPG recommended carrying out a "suicide audit" which would involve the collection of data from sources such as coroners and health records. This would enable us to build a proper picture of the problem, including particular high-risk demographic groups and potential hot-spot locations for suicides.
We should also look abroad for examples of best-practice in tackling suicides to inform our efforts locally.
For example, in Detroit, the 'zero suicide' initiative aims to create a more open environment for people to talk about their troubles and potentially suicidal thoughts.
The programme specifically targets those who may have been missed through previous initiatives.
Following my written question to the Mayor, he told me he intends to work with local areas and agencies to support suicide reduction across London. In addition, the Mayor pledged to undertake targeted work with communities that are at higher risk of suicide.
While the pledge is commendable, it is still unclear how the Mayor plans to tackle suicides in London. Moreover, it is unclear as to how the Mayor intends to measure his performance in this field.
Without a clear framework in place to measure progress, along with a strategy to inform how it will be implemented, we will not be able to effectively reduce suicide rates in London.
Suicides are a complicated and personal issue. Every families' experience of it is unique. While there is always more to learn, I will continue to hold the Mayor to account on his campaign pledge to help ensure we tackle this problem and save lives.
Useful websites and helplines: