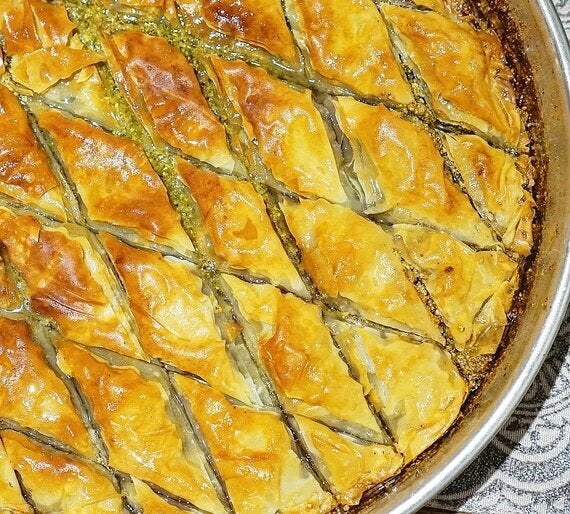 So the New Year has arrived and everyone is on a new fad diet it seems, no sugar, no alcohol, no meat, no dairy, no nuts... you get the drift right? I get so frustrated by this because the problem with this mentality is what I used to call "funding to fail" when I used to work in the third sector, fundraising for money for good causes but not getting quite enough to truly meet the needs of the issue you have been fundraising for... I feel the same way about Fads! It's like dieting to fail.
So this recipe is in spite of everything I've been seeing on my Instagram feed recently of spicing up kale crisps as a treat! This is a treat. A real, pure, unadulterated treat which should be treated with care in the administering and devouring of this delicious baklava (or baklava) recipe.
I was actually mid way though making a lovely fresh Moroccan mint tea, with fresh mint leaves I picked up from the market and gunpowder tea leaves (the type of rolled green tea leaves used in the perfect Moroccan tea - I'll do a recipe on this soon!) and stopped in my tracks and thought to myself, i'd murder a pistachio baklava right now to have with this tea! Even though a good baklava should steep and cool down before eating, I really am an impatient soul, when faced with the dilemma of should I shouldn't I? I almost always choose YES!
Eat what you like and enjoy it.
Besides, everything in moderation right. So this recipe will keep your spirits up in these bitterly cold winter days. It'll make approximately 40 pieces and will keep for a month if stored in an airtight container for at least a month.
300g shelled and ground pistachio (I grind this myself in a mini chopper to a coarse/fine green powder)
250g slightly salted butter, melted
x2 packs of phyllo/filo pastry (around 12 sheets)
1 baking tray - I used a large baklava tray but you can prepare in any non stick baking dish.
For the sugar syrup ( I used american "cups" to measure my syrup as I find it easier)
3tbsp orange blossom water
1. Pre heat your oven to 180 fan assisted.
2. Using some butter, brush the baking dish to ensure the tray is thoroughly greased - making sure to butter the sides of the dish too.
3. Lay 2 sheets of filo and then brush generously with butter. Lay another 2 sheets of filo, brush with butter, then on layer 6 sprinkle over most of the pistachios reserving a small handful to garnish later. Then layer with 2 sheets of filo, then brush with butter and continue using up all the filo and butter.
4. When you have used all the filo, score the baklava into diagonal pieces (or into any shape you like) and bake in the oven for 30 minutes, turning the baklava once halfway through cooking to ensure an even colour on top of the baklava.
5. Whilst the baklava is cooking, make the syrup by adding water and sugar to a medium pan and boiling on a high heat for 5 minutes. Remove from the heat and pour in 2-3tbsp orange blossom depending on how much flavour you want. I use 3 tbsp, and then a pinch of salt and allow to cool slightly.
6. When the baklava is cooked, using a ladle pour all the syrup carefully over the baklava ensuring it is evenly distributed.
7. Allow the baklava to sit for at least 24 hours to enable it to take in all the syrup. Sprinkle with some of the reserved pistachio and serve. Or transfer to a airtight container and this will last up to a month at room temperature.