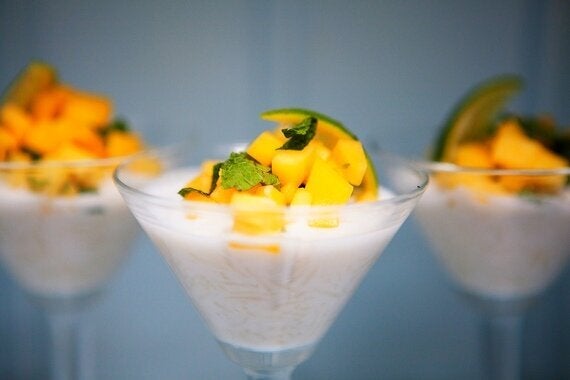 Rice pudding purists turn away now. In a break from tradition I like to use basmati rice in this recipe, now my logic for this is basmati rice is a tender long grain rice which has a delicate and almost perfumed taste to it. Coconut milk is fragrant, sweet and perfumed and I found that when I made this recipe using pudding rice it created a density which I didn't want and it didn't seem to conjure up tropical summers, palm trees and sand in between my toes! I wanted to create a light rice pudding perfect for summer but with a twist and this cold delicate rice covered in a sweet aroma of coconut and cardamon was just the combination I wanted.
This dessert is sweet and sharp because of the refreshing lime scented salsa which sits on top of it. You can make this early in the morning and set the puddings in the fridge. It's a no fuss summer pudding perfect for get togethers. I like to serve mine in stemmed glasses so you can see the delicate grains of rice through the milk, and the vivid orange from the mango set against the white rice pudding is a thing of beauty.
I hope you enjoy my rice pudding with a tropical twist.
One can light coconut milk
Two tbsp desiccated coconut
Two tbsp light unrefined muscavado sugar
One mango skinned, and chopped into small cubes Juice of one lime five mint leaves finely chopped.
Place the cooked rice, coconut milk, sugar, cardamon and dedicated coconut over a medium to low hear for 10 minutes stirring occasionally being careful not to break up the rice grains.
Remove from the heat and allow to cool. Place in glasses when cool and set in the fridge for a couple of hours.
In a small bowl mix together the mango, like juice and mint. Spoon over the cold coconut rice and serve.
I like to garnish with a wedge of lime and a scattering of fresh mint.