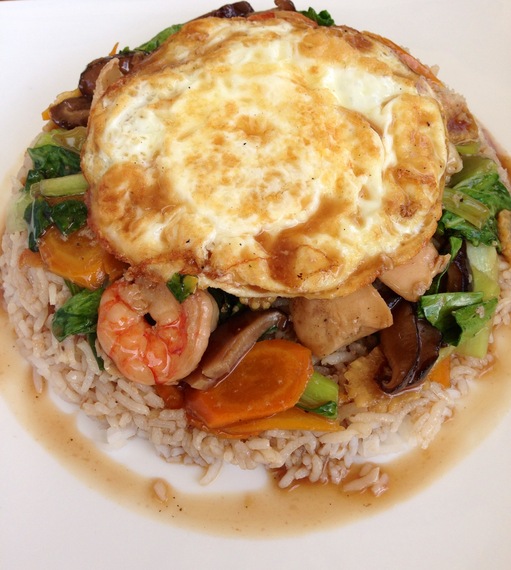 Image supplied by Shelina Permalloo
I've literally been back from Mauritius for one day and I already yearn for the smell and taste of the island. There is something about the Island that just memorises me - the sound of roosters crowing in the morning, the smell of gateaux piment (mauritian chilli cakes) cooking on the streets, the beeping of mopeds, the loud noises of busy markets, the hustle the bustle then you have the tranquility of the sea.
Now since I've only been back one day, my mind is still adjusting but I'm craving some Mauritian food to make me feel settled....It's always hard to recreate the perfect holiday dish, but this dish is a classic. The 'magic bowl' a typical Chinese Mauritian dish (Sino-Mauritian) which gets me every time. Why not, steamed rice, with a chop suey type sauce with a fried egg on top? What is it about a fried egg that makes everything seem better? Anyway, this dish is so typical of this island - where food influences stretches far and wide from Africa, Europe, India and China... This dish was brought to Mauritius through Chinese migration and is really unique to the Island. It's a great dish to serve at a party for a bit of a wow factor, but it's really easy to put together. For those Mauritians out there and for anyone who's holidayed on the island I'm sure this will bring back fond memories so bon appetit!
Chicken and Prawn Magic Bowl
Ingredients
• 125g basmati rice
• 1 tbsp cornflour mixed with 200ml water
• 2 cloves of garlic minced
• 1tbsp oil for frying
• 1 medium carrots, peeled and cut into matchsticks
• 50g mixed mushrooms sliced
• 4 spring onions finely sliced
• 100g king prawns
• 100g chopped chicken breast (1inch cubes)
• 2 tablespoons light soy sauce
• 1 tablespoons oyster sauce
• 1 tsp rice wine vinegar
• 1/2 tsp ground white pepper
• 2 medium eggs
Method
Pour the rice into a saucepan and cover with cold water to come 2cm above the rice. Bring to the boil, then reduce to a simmer for 10 minutes.
In a small bowl, mix together the cornflour and water and stir and set aside.
Heat oil in a wok add the chicken and cook for five minutes until browned.
Add the garlic, carrots, mushrooms, pak choi, soy sauce and three to four tbsp water and cook for a couple of minutes until the vegetables start to soften.
Add the prawns, oyster sauce, rice wine vinegar and white pepper. Add the cornflour with the water and allow to cook for around four to five minutes until all the vegetables are cooked through and the sauce has thickened.
Heat a little vegetable oil in a separate frying pan and fry the eggs, one at a time, for one to two minutes on both sides until the yolks are semi soft.
Now for the 'Magic' - get two bowls and place the fried egg on the base, add the chicken and prawn mixture and then top with the rice and press firmly to make sure its all packed into the bowl. In order to get the perfect 'wow' from guest, take the bowl the table un-turned, then turn the bowl upside down onto a plate and serve immediately.