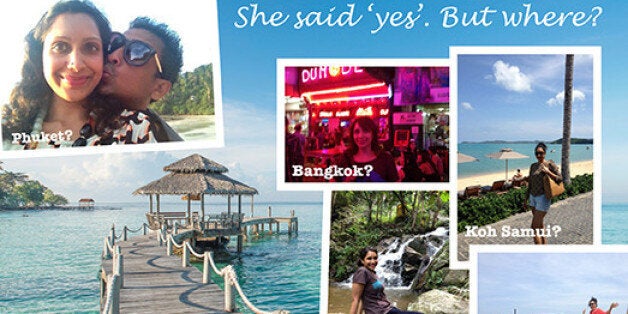 Right girl. Ideal time. Breathtaking backdrops galore. Question is: where exactly in Thailand would be the perfect place to pop the question?
It's no overstatement to say I was spoilt for choice. I was the editor-in-chief of the bestselling Asian wedding magazine of the time and, a few sponsored deals and some damn fine blagging later, I'd lined up for us a month-long itinerary staying at some of the top five-star boutique hotels across the country's most desirable locations, during peak season, in suites that would've cost for one night what I'd paid for my entire trip last time I was in Thailand. Even if she weren't in love with me already, she'd have probably said yes.
The plan was simple: get a ring from Bangkok's infamous gem market, then, pledge my eternal love in any of the five places ahead of us - right here in the City of Angels itself, Hua Hin, Chiang Mai, Koh Samui, or Phuket.
What could go wrong? In a word: me. After years of talking to newly-marrieds for our popular Real Brides section, I'd grown increasingly weary of the proposal tale - cliché-ridden, twee and downright annoying - the mission I'd set myself was to make mine heartfelt yet special, without the sensationalism of the media that absorbed the rest of my life.
Which meant Phuket was already out the moment I thought of the headline 'Ah, Phuket - Why Not?' It's a wonder she agreed to marry me at all, now I think back on it.
There were more realistic obstacles. Asking your girlfriend to go back to your luxury hotel alone so you can pop down the back roads of Soi Mahesak for some unexplained reason does not look good. So on the third day, I made sure we loaded up on oyster omelettes and boat noodles to bring on the afternoon nap, allowing me to shuffle away under the pretence of needing more Singhas.
I wasn't going to buy an actual gem, of course. I could barely pick out a scarf she'd want to try on for a second, so was hardly qualified to get a ring she's meant to wear for life. The places that do cheap little silver rings are wholesalers and only sell in bulk, most of them shut in the afternoon, and banging on the windows begging the women to let me wasn't my proudest hour.
Finally, I got one that would have to do, assuming the heavy lunch had somehow transformed her ring finger into the size of a sai ua sausage. It wasn't going to happen in Bangkok. The city is amazing in so many ways, I wouldn't use 'romantic' as the best way to describe it. Headline: Bangkoked It Up.
At Hua Hin, we were staying at Kate Moss' favourite spa hotel, and the wealth surrounding us was suffocating. The idea of whipping out my little trinket, which came in a pink velvet turtle box, somehow didn't appeal. And to be honest, with its giant billboards, fast-food joints and retired old Europeans everywhere, it's not a place that would make any self-respecting Best Beaches of Thailand list. Headline: Anywhere But Hua.
The kind of paradise setting I was after could be found in Koh Samui but the problem there is the travel snobs have ruined it. Announce your intentions of visiting the island and there's bound to be someone on Facebook sneering over how it's not what it used to be. It's true. In the same way Glastonbury isn't what it used to be. Yes, there are more first-timers, yes it's bang-on the beaten path, but there are better facilities than before and the place is still out of this world. And to be honest, I'd rather be in the company of wide-eyed newbies cooing 'wow' than jaded old-timers moaning about back in the day. Nevertheless, this all niggled at my cliché radar, and I buckled, fearful of What Samui Might Say.
It had to be Chiang Mai. Down-to-earth, laid back, cultured, fun and filled with hidden beauty - it's basically everything I want to be. We were spending six days there - three nights each in the city's two most glamorous hotels, but proposing over dinner or by the moonlit sea were out for the not wanting to seem obvious reasons.
I liked the spiritual feel and golden surroundings of Doi Suthep temple, but it was way too crowded, and my next plan to fall at her feet by the nearby Monthathan waterfall was scuppered when she complained of those very feet becoming sore by the time we got there.
The next day, I was determined. We were going to Baanchang Elephant Camp, where rescued circus elephants play with you, happily let you ride them bareback, and take you into the river to bathe with them - I'm thinking Make My Big Day, Trunk, praying a better headline came to me. Then that morning, the hotel concierge told us another couple had cancelled their Flight of the Gibbon tour, which wasn't far from the elephant sanctuary. Would we like to take their place?
So there we were, zip-lining over terrifying treetops, when we were invited to zip down a wire together. As we began our descent, I stuffed the velvet turtle in her hand. Halfway down she opened it. It made her let go of my hand and go spinning forward. There followed a blood-curling scream that drowned out the shrieking cicadas and the whooping gibbons. I decided to take that as a yes.
Later she asked, 'Did you choose this place for the Take The Plunge headline?'
I swear the thought hadn't crossed my mind.