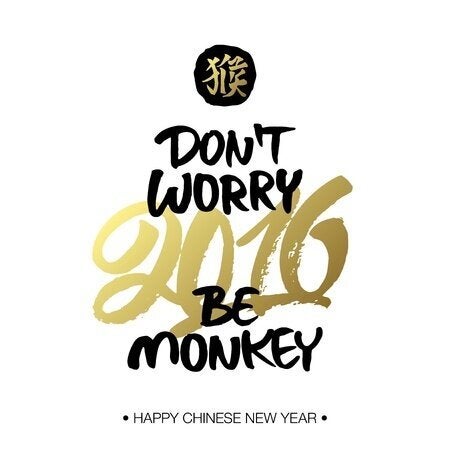 This year Monday 8 February 2016 marked the beginning of the Chinese New Year of the Monkey. They say that those born in the Year of the Monkey are said to be clever, innovative, energetic, enthusiastic and lively. They are also good problem solvers, quick-witted, and versatile but could be mischievous, impatient and impetuous. We are however reminded that of course the monkey likes to play, to have fun even to tease other members of it's tribe and bring about a feeling of joy and happiness. So what can we learn from this?
We can learn that we must be in charge of our own lives... to be decisive, confident, to act not just think and talk about it, to be responsible for our actions and get on with living the life of our dreams - irrespective of what the naysayers (or our own little monkey mind) says. With that understanding and awareness I wanted to get some fire back in your belly, to share some advice and guidance on setting clear goals and creating a new mantra for your life as the year of the red fire monkey begins and allow you to create a new amazing, beautiful and fun-loving YOU.
Let's make this a year for:
• Creating actionable results
• Allowing expansion in all areas of life
• Having fun - no matter what
Let yourself bring some of these ideas from my ThinkIt - FeelIt - DoIt process into your life on a daily, weekly and monthly basis and you will have your BEST YEAR EVER.
1. Rewire your brain with mantras, affirmations, inspirational reading and videos or Vlogs.
2. Change your perspective and make old negative habits new and inspiring routines.
3. Pay attention to your self-talk - don't criticise. Love yourself.
4. Have faith in yourself, and know that things will work out.
5. Keep a loving, positive mindset and attitude.
6. Trust your intuition, your gut feeling. Practice it daily. It will serve you well.
7. Pay attention to your thoughts and emotions.
8. Treat your body as a temple, healthy and good food, good emotions and exercise.
9. Help others, focus on positives, and be kind. Be happy for no reason.
10. Stop comparing yourself to others.
11. Always love yourself (mind, body and spirit). Give and share love.
12. Find your passion and purpose.
13. Create a great vision of yourself. Use a vision board.
14. Never assume a NO - always ask.
15. Understand and live your values.
16. Get yourself into a feeling of alignment with achievement and success.
17. Start small, think big but start somewhere. Set small goals in order to make change manageable and enjoyable. Be flexible.
18. Always be grateful. Keep a daily gratitude journal.
Focus on the joys in life, live each day as if it were your last. Allow yourself to reach for your dreams today rather than putting them off till tomorrow one step at a time. Monkey around, have fun, enjoy! What are you waiting for? Embrace your inner Pharrell and be 'Happy'.