I am standing at my kitchen window watching my son practising his football. His dad set up a goalpost for him in my back garden.
Yes, I have a football goal post in my garden (I wonder what my poor neighbours think!).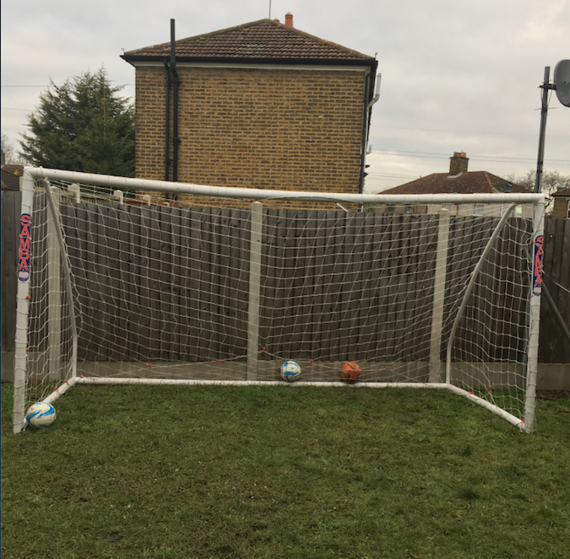 I shake my head at the determination on my boy's face and marvel at how he can keep going in this cold weather.
I won't complain. I tell myself that I got myself into this. When my son came to me to say he wanted to make the 'A-team' in school, I told him we would have to sit down and set it as a goal so that he could start working towards it. So who am I to say no when hubby and my son go ahead to put up a goalpost in the back garden.
I have set goals with my children for a number of years now. We do it every term and this has worked really well for them. I first shared my goal setting tips on a Facebook live video to get my fans into the habit of setting goals together with their children. This has been my most popular post by far.
Goal setting with the kids can be a lot of fun and the same process that works for us adults are just as powerful for children of all ages.
- They give your child a clear sense of direction.
- They let you know what actions to take and what needs to be achieved.
- There is a great sense of achievement when your kids achieve their goals.
I normally set goals in three categories, which I will share with you in a moment, but these are the basic guidelines for goal setting.
This may be hard at first but if you keep it simple it becomes a part of your routine.
2. Get the children involved
It doesn't matter how old or young they are, you can set goals that match each age level
This is roughly a three month period and this works very well because the goals are short enough to see the end in sight but long enough to get some real results.
4. Review your goals regularly
We do this every half term so it keeps the goals fresh and we can make adjustments and get back on track if things are not going according to plan
5. Make the goals very specific
Be as specific as possible with the goals. You can do this by using action words in the present tense. Give each goal a time limit or deadline.
6. Write it down and use pictures
My kids love this part of the goal setting. They go crazy with creating their vision boards. (My teenage daughter has a BMW on her board this year - help!)
You need just one or two goals in each of the three categories
The three categories we set goals in are:
This season, my son set a goal to drink a bottle of water every day. My daughter set a goal to visit the gym once every week.
b. ATTITUDE AND BEHAVIOUR
This depends on the age of the child but it could be as simple as, "I will always say my please and thank yous" or, "I will walk away when I feel angry or frustrated"
I left this as the last because the first two goals would make these goals easier to achieve. Academic goals could be subject specific or goals around their homework and study habits.
Example: I will complete my homework on the night I get it. or I will score 90% in my maths test at the end of the month.
I know I said three categories, but if this applies to you then definitely set goals in this category as well. For instance, this year my son set a goal to memorise one Bible scripture every month while my daughter set a goal to pray for 10 minutes every day.
A final word: accountability
I know goal setting - even for adults can be challenging to set and achieve but I find it works well for the kids because they have that inbuilt support and accountability from us their parents. As many of us adults know, accountability can be a great help in keeping us on track.
So I encourage you to go ahead and grab the paper, crayons, scissors and magazines and sit down with the kids to set some goals today. Good luck!
And oh yes, my son made the A-team!
Maybe now I can have my garden back...