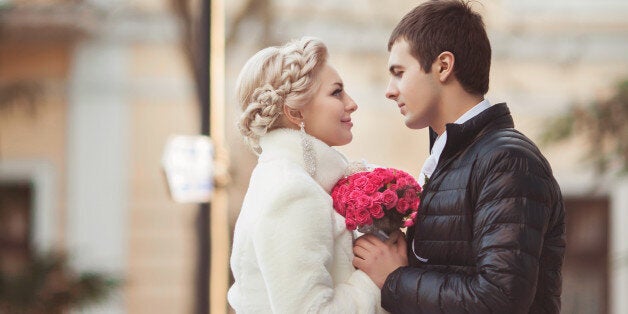 The weather has gotten colder, a lot colder, and we are all gearing up for that lovely, festive time of year. Tinsel and baubles are being hauled out of cupboards, Christmas trees are being bought and mince pies are getting baked.
But for those choosing to get hitched during the next couple of months, it is probably all hands on deck with last minute planning.
And for the guests, it's planning what to wear for possible freezing temperatures. It's always a tricky thing, dressing for winter weddings, you never know how many layers to actually throw on, but it's definitely time to have a bit of fun too.
Here are some top tips for dressing for a wedding in the cold:
- If in doubt, add another layer. You don't want to upstage the bride and freeze to death on her big day, so put on that extra layer. Remember you can always take them off. You can buy chic cardigans now that sit well over dresses, faux fur shrugs are always a good option, and why not try a tailored blazer over the top of your frock? Very fashion-y!
- Keep your feet and hands warm. Heeled sandals and foot-baring heels are a good idea in principal, but when you're walking from the ceremony to the party, you might regret it. Teaming your dress (long or short) with ankle boots will 'rock up' your look and keep your feet from turning blue. Equally, thanks to Karl Lagerfeld and Madonna, leather finger-less gloves are now a 'thing'. If there's lots of outdoor time at the wedding, pop them in your bag.
- Don't be afraid to wear white. I know, it's a risk that some people are scared of taking, but when the weather is cold, and it's snowing, white is perfect. Lots of designers do the whole 'winter whites' thing, and in fact there's lots of it for this year, so now is the time. Besides, most brides don't wear pure white, and you can dress it 'down' by a coloured shoe and bag.
- Be prepared for some summer sun. If you, and the happy couple, are really lucky, there might be a glimmer of sun. Make sure you check the weather and dress accordingly - maybe choose a lighter colour and fabric coat and don't forget your sunnies!
- Grab your coat! You girls are very lucky at the moment with the choice of coats available, and for a wedding there are loads of options. A duster (not feather, but a long, loose coat) in a light colour would be a great choice for a winter wedding, as would anything belted and black. And if you wanted to add something to your look, try a floral print coat.
- You don't have to go long. A floor-length gown will always make you feel fabulous, but a shorter, sexier number can also work for a winter wedding. An A-line, 50's style dress would be perfect, or a wiggle, or pencil dress that hits just below your knee would look super chic too.
- Go embellished. If there's anything that makes a set of wedding pictures pop, it's gorgeous embellishment on your clothes. A dress with a jewelled neck line, for instance, or maybe a designer piece with crystals or sequins somewhere on it. Imagine sparkling in the snow!