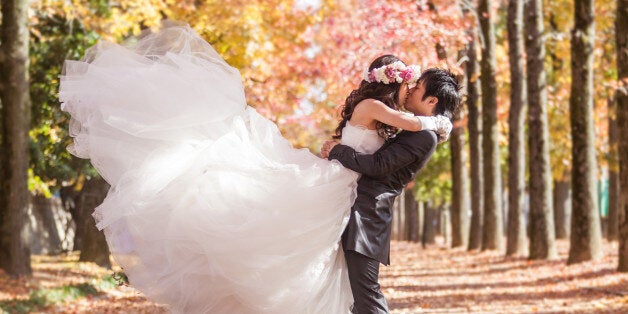 Organising a wedding is no easy task. No matter how many people you are inviting - be it 50 or 350 - you're guaranteed a certain level of stressful situations. Have you ordered the flowers for your bridesmaids? Have you sorted the table centres? Will your mother-in-law like your colour scheme?
But there's help to be found out there. Remember Jennifer Lopez in The Wedding Planner? Flitting around the venue, holding her earpiece in with one finger, communicating to her assistant in the kitchen, whilst simultaneously re-arranging the flowers. People like her actually exist. Someone to organise everything, down to where to place that couple that you didn't really want to invite but had to. Someone with a bag of tricks should your dress become unhooked or if the cake isn't delivered on time.
To hire a wedding planner might just make organising your special day that much less hectic. Katy Cresner, one of London's top wedding planners, has done it all: from gorgeous barns outside the M25, to huge productions in some of the Capital's most prestigious hotels. She offered up some useful tips for those in need of some wedding planning help...
• 'Nine times out of 10 everyone will want a say as to what colour scheme you go for, but my advice is to decide between you and your other half, no one else. People go all out with the colour: table cloths, seat covers, napkins and even matching the ushers' cravats, but you don't have to do all this. Choosing one is much more modern and minimal, like the flowers for instance.'
• 'To make the biggest impact, it's the smallest details that matter. I've recently sourced small square cushions with the couples' initials on for the seating areas, or what about customizing M&Ms with your wedding date on as favours. Guests like to keep their name places as momentums, so how about spelling their names out in Scrabble letters on a holder? Small, but clever!'
• 'When it comes to wedding jewellery for the bride, you should wear pieces that won't distract from the dress. If your hair is up, then drop earrings are always lovely, and if down, then little diamond studs will show up great in the pictures. Tiaras are still a big talking point. Lots of brides are torn whether to wear one, but I tell them even though they are quite traditional, you'll feel like an absolute princess in one. You can find ones now that intertwine in the hair, which are really gorgeous. Usually you don't wear your engagement ring down the aisle, so that the wedding ring can be put on that finger, but a small diamond ring on the other hand is always a lovely touch.'
• Dressing your bridesmaids is never going to be easy, everyone has opinions on the dresses that make the shortlist, but fashion and times have changed from just putting them in long taffeta gowns. Obviously you don't want to be upstaged by your bridesmaids, but don't worry, that will never happen. I've seen a lot of people use the same colour for all, but different cuts of dresses to suit individual bodies. You want your bridesmaids to be happy too, so often I hear them complain about the dress. Why not experiment a few months before the wedding, go dress shopping on the high street and see what you find!'
• 'If there's one piece of advice that I wish all brides and grooms will listen to, is to always have a thorough timeline, printed out and given to multiple people (if you aren't using a wedding planner). List everything: from the minute you walk down the aisle to when the cake is to be cut. It probably won't run as smoothly as that, but having everything listed will help so much.'
It's always good to have subjective advice from someone not in your direct family when planning, just to get new and fresh ideas, and as you can see, a wedding planner like Katy can offer that and more. It doesn't have to be as stressful as some of us make it!