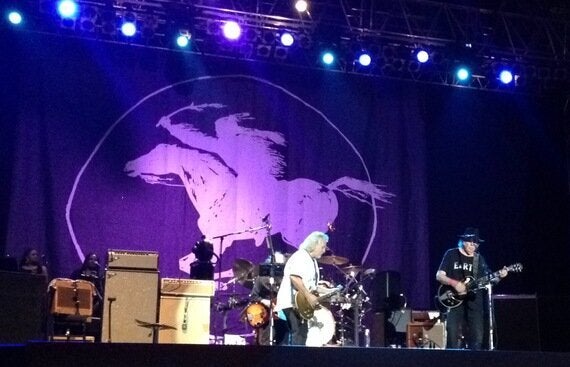 Neil Young chose mostly songs of love and conciliation at his first-ever concert this week in Istanbul. Like the rare July rain that fell, the sentiment was a relief from the violence that smoulders throughout the region.
Backed by his long-serving band Crazy Horse, Young spent an hour on languorous workouts largely culled from later albums, with "Love and Only Love", "Love to Burn" and "Days That Used to Be" among them. Each song was punctuated by Young's signature crashing guitar solos.
Over his five-decade career, Young has often confounded critics and confused fans. Despite his summer of love roots, he is, at his core, an old-fashioned rock and roller playing in a raucous guitar band and not a torchbearer for the oppressed.
Yet in a nod to his 60s protest-singer image, he played a solo acoustic version of Bob Dylan's "Blowin' in the Wind" and the main set closer "Keep on Rockin' in the Free World" at the show put on by the Istanbul Arts and Culture Foundation.
Signs of protest from the crowd were muted too. One fan in the front row unfurled a sign that read "Four Dead in Ohio, eight in Turkey" in reference to the 1970 Kent State massacre immortalised in Young's "Ohio" and the eight protesters killed by Turkish police during anti-government protests in 2013.
Another crowd member started to chant "Everywhere is Taksim" - the popular slogan heard in the central Istanbul space occupied for two weeks by anti-government protesters last year - but fell silent before even finishing the chant with "Everywhere is resistance."
The well-heeled Istanbul audience's reception was largely cool, dampened by the drizzle but also, perhaps, by fatigue from more than a year of civil unrest, political scandals, industrial disasters and war on two of its southern borders. When rhythm guitar player Frank "Poncho" Sampedro came back on stage for the encore, he threw water on the crowd as if to wake them up.
Turkish social media lit up after the cancellation was announced, believing it was Young's decision and a political statement against Israel. Many in Muslim Turkey are sympathetic to the Palestinians' plight. But it was the Tel Aviv police who pulled the plug, citing safety concerns for the band and fans as Hamas rockets stream overhead.
Meanwhile, ahead of the Istanbul performance, Young's detractors included Pink Floyd's Roger Waters, who publicly criticised him for including Israel on the tour at all. (Similar criticism could be levelled at Waters himself, who came to Istanbul in August 2013 at a time when the government was brutally suppressing protests.)
"It is with heavy hearts and deep sadness that we must cancel our one and only Israeli concert due to tensions which have rendered the event unsafe at this time. We'll miss the opportunity to play for our fans and look forward to playing in Israel and Palestine in peace," according to a statement by Young's spokesman.
Young said in the statement that he will give money to two organisations that teach music to Palestinian and Israeli youth by helping them to play together. With tickets to the Istanbul gig ranging between £50 and £130, there should be plenty of money to donate.