Last Saturday was the 32nd Anniversary of the Mary Rose's raising from the Solent seabed, which took place on the 11 October 1982 and was broadcast live across the world. We asked the Mary Rose Museum's Conservation Manager Dr Eleanor Schofield the question - what has science got to do with the Mary Rose?
This is a question I often get asked when I mention that I work as a scientist at the Mary Rose Trust. It's understandable really given the immediate association people have with history and archaeology. However for me, working as the Conservation Manager at the Trust, it is at the heart of pretty much everything we do. Whether it is relating to developing treatments, analysing materials, or investigating stable storage and display conditions for the many and varied artefacts, science plays a crucial role in the success of our museum.
I did not set out to work in a museum or in fact in conservation, and it is by happy coincidence that I find myself working here. After training as a Material Scientist, I specialised in a technique using x-rays to characterise material properties. It turns out this is the very technique widely used to quantify problematic compounds of waterlogged archaeological wood. So, after working on treatments for archaeological wood at the University of Kent, I secured my permanent position at the Trust in 2012.
'So what do you do?' You might ask. 'If the new museum is open doesn't that mean the conservation is finished?' Actually this is a common misconception, one that I am happy to clarify as I would need to do some job hunting if that was the case! In reality, there is still lots of work to be done. After being sprayed with a polymer to reinforce the wood since excavation in 1982, just before the museum opened, the hull entered the critical phase of controlled air drying. Since joining the Trust, I have been tasked with preparing the ship for this phase, and establishing suitable monitoring methods for the ship as it dries. These methods vary from measuring the moisture and movement, to monitoring chemical variability across the ship as it dries. The latter takes me to Diamond Light Source in Oxfordshire.
Diamond Light Source is a large doughnut-shaped building not far from Didcot, Oxfordshire. Within this 'doughnut' is a synchrotron capable of producing high intensity x-rays which can be used to carry out very sophisticated material characterisation. The range of experiments going on at any one time is staggering. There can be anything from DNA analysis, to cancer treatment investigation, to corrosion analysis, to conservation projects like ours and many others. Experimental time at this facility is allocated after proposals are peer-reviewed, and time is extremely competitive so you need to be able to put a very good case to win time there. We use our time to see what sulfur is in the wood, and determine whether, over time, it will become problematic.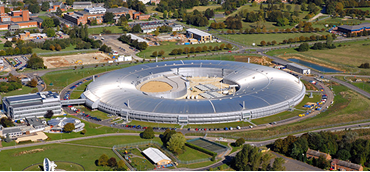 So why is there sulfur in our wood and what is the problem with that? Whilst on the seabed, sulfur compounds were incorporated into the Mary Rose hull. This can become problematic when the wood is exposed to oxygen as the sulfur can be oxidised and may form acid within the wood (not good news!). The trouble is oxygen is the very thing we need to get to the timbers to ensure that they dry - a slight catch 22! To try to mitigate this we keep very close controls on the humidity and temperature of the hot box where the Mary Rose is drying and we periodically monitor what has changed by analysing samples at Diamond.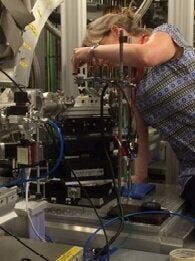 As I said earlier, time at Diamond is precious and, once you get some, every second counts. Leading up to experiments is always a bit manic as you want to make sure you have everything you need with you. Once you arrive, there is little time to escape, as the machine runs 24 hours a day and due to the limited time you are allocated, you want to use as many of those x-rays as possible. On site there is a guesthouse, canteen and most importantly many vending machines for midnight snacks - essential when working ridiculously long shifts to get as much data as you can.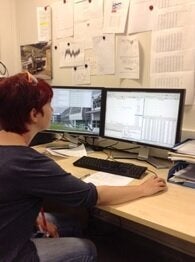 The last time I went to Diamond was part of a project I am currently running with Imperial College London. Our group consisted of Prof Mary Ryan and PhD student, Stephen Tay, both from Imperial, our Science Learning Officer, Amy Seadon, and Nora Piva, a new PhD student (working with us?) in collaboration with the University of Portsmouth. It's good to have many hands with you as typically everything will happen at once! Education is a really important part of our work at the Trust and by coming along Amy is able to weave the science of what we do at Diamond into our educational programme.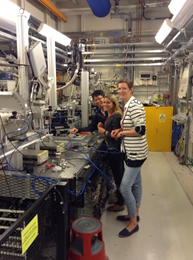 It is hard to say what a typical day consists of during beamtime (what we call the run of experiments when at the synchrotron), as it really depends whether your experiments work the way you expect them too (they usually don't!). In this run we would typically get up early and go to the beamline, run experiments, nip out for lunch, run more, nip out for dinner and then run until after midnight before setting something up overnight and finally sloping off for some well needed sleep. I can't lie, it is exhausting! The experiments on my last visit overall went well, and I am currently ploughing through the data we collected. The next step is to analyse all this and plan the next experiment ... the science goes on!