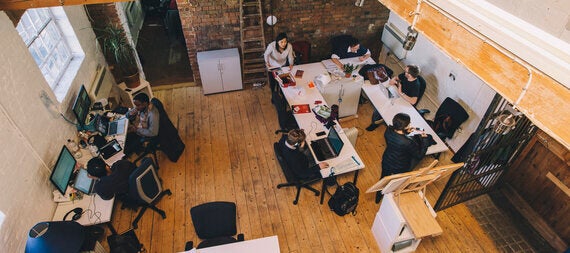 Next week MPs will vote on legislation which could make it easier to convert offices into residential properties. The Government is hoping that its Bill will effectively make permanent what was previously a temporary measure introduced in 2013 that effectively waives the requirement for planning permission on these properties. At Camden Town Unlimited we have seen first-hand how London and its small business economy has been damaged during the trial period. We're now urging the Government to think again before writing this into the statute books.
Limited space for commerce is a particularly acute problem in the capital and this policy threatens to exacerbate it. London is losing its best office space in well-connected places with low crime rates and good amenities. 100,000 square meters of fully occupied office space was lost in the capital as a direct result of the Government's decision to extend permitted development rights back in 2013. The British Council for Offices have suggested that 966,000 square feet of office space could be lost in London alone by 2016.
Quite simply, a good place to live is often an even better place to do business. In pursuing a misguided initiative aimed at alleviating high UK-wide housing prices, the Government is allowing companies to be turfed out of efficient office space by landlords who make a killing converting the space for luxury flats and apartments. Far from affordable housing, these developments don't even need to meet minimum local authority-set stipulations on affordability or disability standards.
This has had a profound impact on areas of the capital that are not protected by the 'Central Activities Zone' (CAZ) covering certain Boroughs that can apply for an exemption. Barnet, for example has had to approve more office-to-residential conversions than any other Borough since 2013. Of the 100 certified applications, 40 of these were fully occupied offices. In one particular case, 100 local businesses were turfed out of a single office block to accommodate 112 flats. In West London, Richmond has lost 24% of its office space since the temporary extension. These are extraordinary figures that are testament to a real ham-fisted approach at planning reforms.
The situation in Camden is a useful case in point in this debate. The Borough actually overlaps with the exempted CAZ, but our main business hub in Camden Town isn't covered. According to the British Council for Offices, the protected areas of Camden have seen only 1.1% of the office space converted into homes since 2013, yet the areas of the Borough where the extension doesn't apply have seen offices converted at a rate of 3.5%. Carlow House, one of CTU's Collective business initiatives, was one of the commercial casualties. This space used to be the shared workplace for 500 of London's most talented creative entrepreneurs.
It is often more lucrative for a private landlord to convert creative workspace in London's key business clusters into high-value flats. Affordable, cost-effective workspace for the capital's leading-edge, start-up clusters - such as that of Camden - is increasingly at risk. The creative industries alone contribute approximately £77 billion to the UK economy and provide work for 1.8 million people. We think there is - at the very least - a case for business hubs like Camden Town to be exempted from the reforms.
The Government is wrong to spin this policy as a means of increasing the supply of affordable housing and getting more people onto the property ladder. Creating more luxury properties does not alleviate the capital's housing crisis, with average rent rising by 10% each year - renters and homebuyers continue to pay over the odds. Private landlords will be the winners, while entrepreneurs and their employees lose out.
Popular in the Community