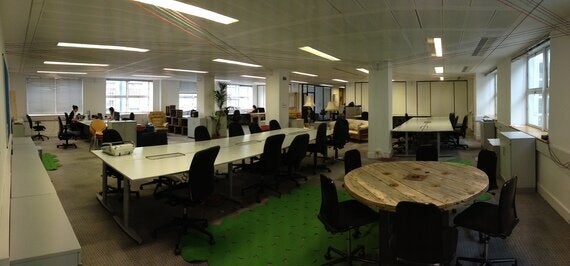 A piece recently written in City AM by Ben Habib, Chief Executive of First Property Group, has perfectly expressed a property developer's perspective of permitted development rights. Converting property from office to residential is an attractive prospect to landlords and developers; they are in a position to make significant profit, particularly in prosperous city areas.
Camden Town Unlimited has been deeply concerned over the introduction of permitted development rights. The policy allows for the instant conversion of office space in to residential, without the need for prior planning permission. All office space outside of the designated Central Activities Zone of London is potentially under threat from this type of conversion, and whilst the policy is in place, there are no laws to protect these valuable spaces.
Habib's argument claims that converting redundant offices in to residential homes goes some way to alleviating the housing crisis, without spoiling green land. Defending the consequential loss of office space, Habib very vaguely asserts that offices have to be 'more or less vacant' before conversion.
Unfortunately, this simply isn't true, and Camden Town Unlimited has seen first-hand the effects permitted development rights have had on businesses and the local economy. Whilst offices should be vacant in order to be converted, small businesses have been prematurely forced out of spaces by landlords chasing profits. SMEs that desperately need reasonably priced premises are therefore finding them more and more difficult to come across.
The targeted spaces are very often extremely well-placed commercial offices, with good transport links and amenities. This hugely increases the potential financial profits they could accrue once converted to residential properties. A telling example of this is Carlow House in Camden, which once housed 500 employees, including 100 young entrepreneurs from Camden Collective. This building has now been emptied of all businesses, along with the 500 individuals who were each estimated to spend £70-£80 per week on the high street. Surrounding businesses such as restaurants, cafes and bars have suffered from the significant loss of footfall from such conversions.
Business rate revenue inevitably falls, reducing the funds available for imperative local improvements. Ed Watson of Camden Council estimates the council loses around £2.2 million in this way. Business Improvement Districts (BIDs) collecting levies from local business also suffer, showing how this policy directly contradicts the GLA and government's commitment to an increase in the number of BIDs in the UK. Led by CTU, 38 London BIDs signed a letter of petition against the policy, which was sent to George Osborne and Eric Pickles.
Finally, the argument that office to residential conversions is a solution to the UK's evident housing shortage is certainly a persuasive one. Unfortunately, it is also deeply flawed. There is absolutely no obligation for developers converting offices to provide any affordable housing. We are delighted to hear that of the 665 flats built by Mr Habib's company, one third were affordable housing. Unfortunately, enormous financial incentives mean that all too often conversions have resulted in nothing but plush, expensive housing in highly sought-after areas. The high street is suffering from this policy; small, local businesses are the first to take the hit. Once converted to residential, these spaces will not be returned to offices.
We must petition strongly to prevent this policy becoming permanent, in order to protect our towns and high streets.
Follow us @CamdenTownUnltd to keep updated on issues affecting small, local business.