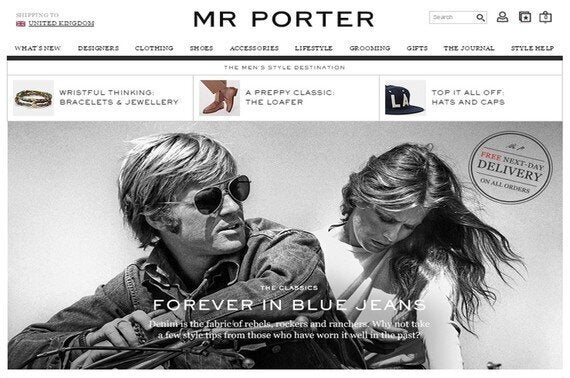 (Picture: Mr Porter homepage)
The meeting point of RETAIL and EDITORIAL was traditionally 'THE MAGAZINE'. A style bible like Vogue or Harper's, for example, would carry glossy colour ads of beautiful things, commercial messages betwixt a sacrosanct and inviolable editorial. I say 'would carry' when, of course, this practice still exists. Yet while it remains a present tense model, it is now so very far from being the only model.
Mr Porter, Net-a-Porter, Matchesfashion.com, ASOS: these are retail businesses. They may have physical form, a flagship store here, an occasional pop-up there, but they are ostensibly online retail businesses, a digital shop front to the world, looking to build fame and finger-clicking footfall. And what is so fascinating and instructive is how they approach their fame-building and business of selling.
Their approach is to not behave like a yesteryear retail business.
To sustain their business model, they seldom (if ever) resort to buying media to showcase and pump out their sales messages. To sell as loudly as possible, the aforementioned online businesses sell, by appearing not to sell.
Net-a-Porter single-mindedly describes itself as "The world's premier online luxury fashion destination." No mention of retail or buying. Net-a-Porter wish to be the embodiment of 'fashion'. Vogue.com rather modestly by comparison headlines itself as simply offering "The latest fashion news, beauty coverage, celebrity style, fashion week updates, culture reviews, and videos".
Figuratively, that once very clear and paginated line between full page glossy ad and editorial is today considerably more opaque. And the consequence is no longer, mercifully, some transparently disgraceful and badly merged ugly duckling 'advertorial'. The consequence is that online retailers in particular consider themselves bona fide editorial engines. And in considering themselves as such, they are very legitimately becoming so. In written word and filmed footage, the growing multitude of Mr Porter's are a fascinating hybrid of retail business AND editorial brand. Where the role of the latter is to suggestively, sexily, shrewdly sell us the former.
Where Revlon founder Charles Revson "sold hope" and not cosmetics, Mr Porter and its kind sell style and swagger, not merely shoes and belts and scarves. Which is why Mr Porter's You Tube brand channel has 69k subscribers, and makes short videos of how people pack and get dressed that generate views in the hundreds of thousands.
This digitally empowering and line blurring world of ours is why Net-a-Porter is a weekly magazine (The Edit), a monthly magazine (Porter), an online TV channel (Edit TV/#NAPTV), and yes, "The world's premier online luxury fashion destination"... where you can also buy shoes and belts and scarves.
Net-a-Porter is becoming a media empire. Net-a-Porter is becoming Vogue quicker than Vogue can become Net-a-Porter. And I applaud the fact that pioneering retail brands are no longer beholden to traditional media brands and channels to feature their "ads".
I toast the fact that retail brands have their own voice, a seemingly bottomless well of opinions and advice, and are digitally creating their own communication channels through which to draw us in.
What is perhaps most insightful of all is how we - 'The Once Distrusting Consumer' - now show willingness to embrace (retail) brands as trusted and legitimate style aficionado's and commentators. Retail is expertly and swiftly recreating itself in the image of media, while so much traditional media still struggles and scratches around for ways to evolve and monetise.
Once upon a time, we simply expected retailers to try and sell to us, and for editorial to be published and printed in a manner little different to when Johannes (Gensfleisch zur Laden zum) Gutenberg first introduced the benefits of movable type to the world, back in 1450.
"Once upon" is now starting to feel like "long, long ago", because online retailers refuse to be limited by former definitions of what retail is and does.
Being progressive is about progressing into uncharted waters, driven by self-definition rather than the constraints of existing definitions.
Progressive is a small independent fashion label in LA making one of the most popular YouTube films of all time (Wren Studio's; First Kiss for Fall 14; more than 90 million views).
Progressive is a coffee capsule company publishing 'collectible' lifestyle quarterlies and making consumption feel like elite club membership (Nespresso).
Progressive is a men's retail website writing branded style guides that sit proudly on the most prominent shelves of Foyles and (almost) feel like a mere snip at £50 (The Mr Porter Paperback Slipcased edition).
Karl Lagerfeld once advised, "Buy only because something excites you". It is clear that online retail is innovating hard to excite and encourage us like never before.
Related