I recently visited the Salone di Mobile exhibition in Milan and was full of excitement for the beautiful furniture, fittings and fabrics I engaged. Interior design is an important aspect of the work we do as architects, and has its own department in our business. The reasons why is because interior design, in our opinion, is an extension of its architecture. The architectural proposition sets a tone for space, style, and manifests itself as a still image in time, which could represent our current philosophies and the spirit of the project. The interiors are then set within this space through time, reflecting a characteristic of its inhabitants. Who stays here, works here, lives here? What do they do with their time, what activities, and comforts, embody this architectural connotation of expression?
My visit to the show provided a wide range of new products, and opened my awareness to international artisans and suppliers. I am so excited to have discovered them, as we can now get their products into our projects, and ensure our client is at the forefront of industry.
My best pick from the show is the Provasi furniture exhibit - A family run business which was set up over 40 years ago, providing a most gorgeous furniture and fabric. The company is based in Seregno, Italy, and proclaim their, "high quality materials and exquisite fabrics, seal the union of noble hardwoods". I found their exhibit intriguing, as the style had a foundation of hardwood sculpturing and traditional heritage design, which is elegantly and creatively articulated through an intricate detailing of finest veneers, finishes, and marbles in a contemporary fashion, combining innovative materials, art deco styled geometric patterns, and an infusion of colour palette to delight the observer.
I found out their furniture has been made for presidential palaces across the world, including the White House in Washington, Abu Dhabi, and Thailand. They have a low profile in the UK, but a small outfit in the Design Centre Chelsea Harbour, displays a few of their items, and each is made to order.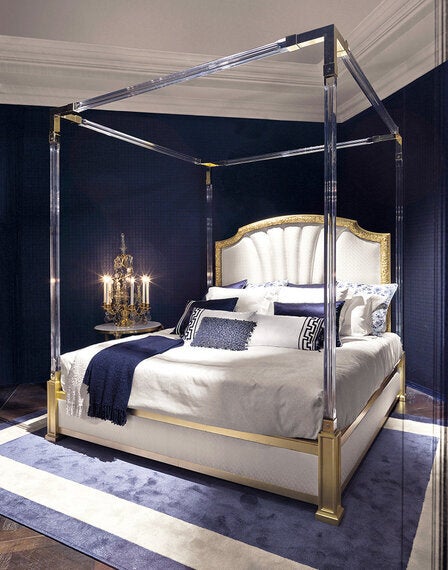 The Letto KS Con Baldacc bedImage Courtesy Provasi
The 'Letto KS Con Baldacc' bed is a divine extrusion of skill and beauty. The headboard is elegantly constructed, informing a classical style with a clean modern expression. The frame is firm and contemporary in its appearance, the gold leaf can be changed for another finish, meaning the bed could suit a variety of properties and interior styles.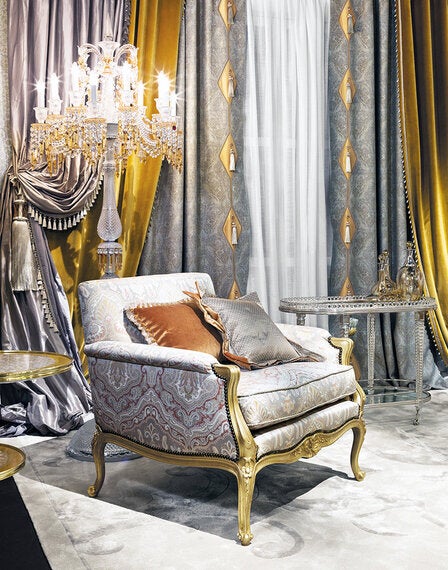 The Isabel ArmchairImage Courtesy Provasi
The 'Isabel' armchair, a true beauty. Heritage design to the carcass of the chair, the wide seat and height of the back rest provides a modern take on traditional fundamentals and works well. This specific fabric, not to my taking, but then, I could select any fabric I wanted, and have the seat made to suit my project.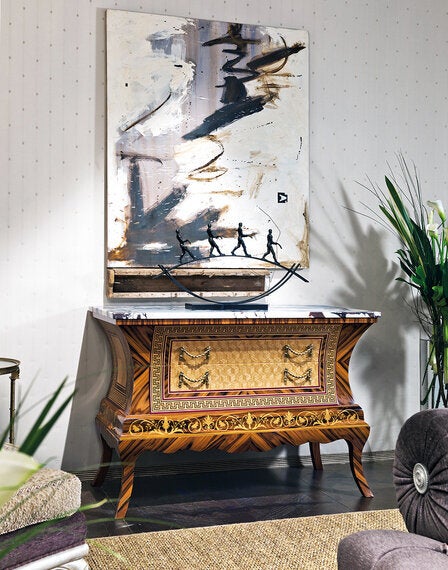 The Como Milano sideboardImage Courtesy Provasi
The 'Como Milano' sideboard, with its beautiful detailing of Zebrawood veneer geometric patterns, integrated with a traditional swirl decoration, exudes luxury, etiquette and fanciful indulgence. One of my favourites.
If there is a furniture manufacturer to acknowledge this year, it should be Provasi, for their exquisite interpretation of the heritage furniture collection.
Related