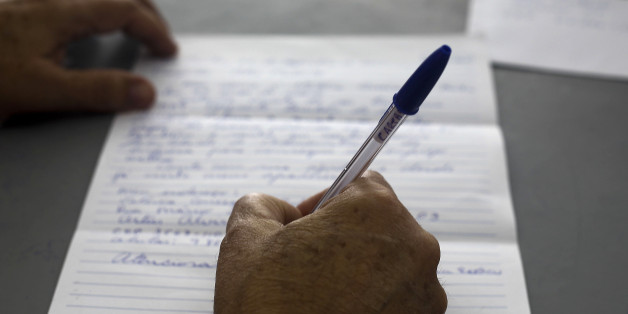 MIGUEL SCHINCARIOL via Getty Images
My wife Kate was absolutely awesome. When she lay dying she used her very last reserves of energy to do something life-changing for our boys and me.
She wrote a list, giving me instructions on how to bring up our sons Reef and Finn, then aged five and four. In her final weeks she had started jotting down notes on Post-its and in text messages, and in her last few hours Kate kept scribbling away, even though she could barely lift the pencil.
Some things were practical, like 'go to as many school assemblies as possible'. Kate was a brilliant mum, and she wanted me to do the things she would have done herself, had she lived. She also knew I was really scared of how I would cope on my own, and she wanted to give me as much guidance as she possibly could.
Kate put lots of wishes on the list, like 'would love the boys to find their own four-leaf clovers' and 'would like to go on top of the wardrobe, with the cuddly toys, to be with the boys a bit longer'. By that she meant her ashes, of course. Kate had all her funeral plans worked out, which was a massive help to me, knowing how to arrange exactly the send off she wanted.
Scattered throughout Kate's list were memories she wanted to share, to help the boys remember her, like 'Mummy loved how sparkly Reef and Finn's eyes were in Lapland' and 'Loved guinea pigs and butterflies, Walnut Whips, strawberry cheesecake.'
Crucially, the list contained items from Kate's own bucket list. Her thinking was that if she couldn't do the things we had planned to do together, such as dive the Blue Hole in Belize, then at least I could do it with 'bits of her', meaning our boys.
Spurred on by the list I took the boys snorkelling in the Red Sea after Kate died. I bought a new boat. We grew sunflowers every now and again, and found four leaf clovers. I picked up Kate's favourite orange Club biscuits whenever I wanted to give the boys a treat and a smile, and I still do, six years on.
Kate was my soul mate. We had been together for more than twenty years, since meeting as teenagers in the eighties. She was 38 when she died, from an incurable breast cancer, which was diagnosed just weeks after our son Reef recovered from cancer himself.
Kate told me to 'find a woman to settle down with so the boys can have a female influence and stability in their lives'. This was the hardest instruction of all by an absolute mile but I did it, eventually. It has not been easy but thanks to Kate I have never felt guilty for living life to the full again.
I believe everyone should write a list, for themselves and for their loved ones, whether they are in good health or not. It encourages you to do more with your life and inspires your loved ones to do the same, with or without you.
I have learned so much from Kate, before and after her death. If I had to pass on just five tips to help others, here they are:
1. Life is short and it is not a dress rehearsal, so buy the boat, or the sunflower seeds. Don't wait for a crisis to spur you into action or write a bucket list - do it today.
2. Never turn down an opportunity; you never know what it might lead to.
3. Be brave and do something that pushes or tests you every single day.
4. Allow yourself time to cry, but don't let your home become a sad place. My boys sing in the shower and the house is filled with laughter. I love it.
5. Surprise other people with your smile, your kindness and your generosity of spirit. You will all reap the rewards.
After I wrote Mum's List I received hundreds of messages from all over the globe, saying things like 'Thank you for sharing your story', 'Before I read Mum's List I felt guilty for moving on' and 'Your book has inspired me to live life again'.
I can't describe how humbling and also how motivating it was to read them. I wished I could bottle what Kate had and share it with everybody who had reached out to me. I couldn't do that, but I hope the book, which has now been made into a movie, will keep inspiring others by showing how Kate's positivity and zest for life has helped me find happiness again. There are Mum's List Legacy workshops in place around the world too now, to help anyone who has suffered a loss of any kind.
'I was worried Mum's List would be too sad,' one friend said. 'But after I watched the film I almost left the cinema running, because I wanted to go out and live!'
Kate would be so proud. So go and write your list now. And in the New Year and throughout 2017, do more, dream bigger and keep adding to your list, because you can.
You can follow Mum's List Film and Mum's List Legacy on Twitter and the updated movie tie-in book is available from all good bookshops and on Amazon - https://www.amazon.co.uk/Mums-List-St-John-Greene/dp/1405927127/ref=la_B009P75E0U_1_1?s=books&ie=UTF8&qid=1482430403&sr=1-1