Halloween maybe the second biggest cash-in event of the year after Christmas for retailers, but what price does that money come at?
Parents are claiming this is the worst year ever to be a kid at Halloween. Instead of cute costumes featuring pumpkins, witches, wizards and ghosts made from old sheets, retailers seem locked in a battle to the bottom to produce the most vile outfits and cash in.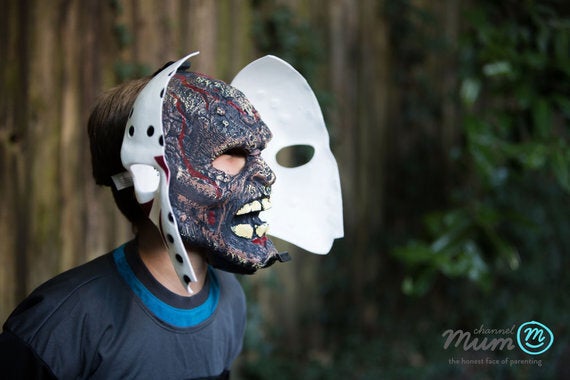 Among the Halloween offerings this year are sexualised costumes featuring mini skirts and stockings for FOUR year old girls, dress up based on real-life serial murderer Jack the Ripper, and a costume called 'Teen Hot Stuff' pushed for ten-year-olds in primary school.
Yes, it's horrifying - but in completely the wrong way.
The result? Half of children have been so terrified by another child's costume that they have left Halloween celebrations. And one in 11 parents admit their child had had a negative experience wearing a Halloween costume - with 13 per cent even targeted with sexual or inappropriate comments.
Another sickening trend emerging is retailers pushing costumes for junior school aged children straight out of 18-rated horror movies. Outfits on offer include Jason from Friday the 13th aimed at eight year olds, and Regan from 70s demonic possession chiller The Exorcist.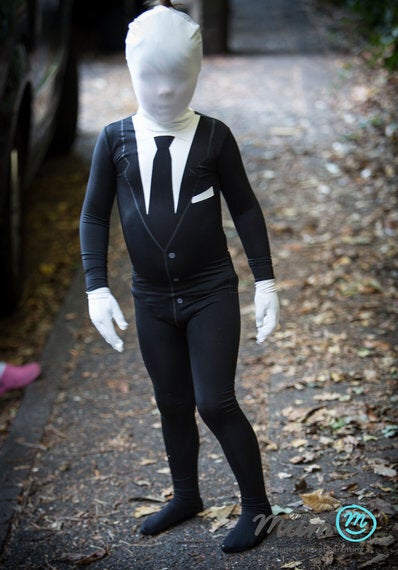 And amid police warnings for pranksters to avoid joining the Killer Clown craze, sinister clown outfits are being targeted at children as young as five - and have even been discounted to encourage more sales.
So who is buying these foul outfits - and more importantly, why?
Nine in ten wouldn't let their kids wear them - so who are the ten per cent that would? Our new Channelmum.com survey shows almost half of all parents feel outfits are becoming 'too sexualised for young children" and over two thirds back strict age-appropriate ratings on costumes.
A further three quarters want retailers to take more responsibility for the outfits they sell, with 68 per cent claiming stores only care about profit.
But the costume causing the biggest outcry? A gruesome 'Roadkill Pet' featuring a child's mutilated rabbit complete with tyre tracks and splattered blood. It's being sold by the Duchess of Cambridge's parents store Party Pieces and marketed as perfect for seven-year-olds.
There are already concerns it could spark a wave of accidents with children lying in darkened Halloween roads.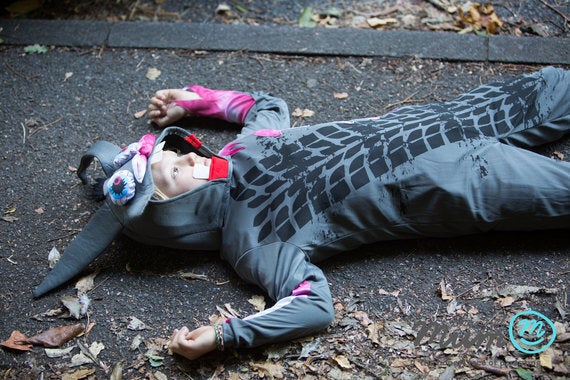 And as one mum said: "This outfit would give my child nightmares. And if your child had been killed or injured in a road accident, imagine how you'd feel forced to look at this?"
1) Jason from 18-certificate movie Friday the 13th. Sold on eBay for children aged 8.
91% of parents would not let their child wear it.
2) The Slender Man. Fictional web character linked to stabbings and an attempted murder of a child in the US. Sold in Argos for 8 year olds.
96% of parents would not let their child wear it.
3) Dead Pet Roadkill. Marketed by Kate Middleton's family firm Party Pieces as a costume for 7 year olds.
93% of parents would not let their child wear it.
4) Serial killer Jack The Ripper. Sold for kids aged from 8 on Ebay and Amazon.
91% of parents would not let their child wear it.
5) Possessed Girl. Based on 18 cert film The Exorcist, for 7 year old girls. Sold by online site Joke.co.uk
91% of parents would not let their child wear it.
6) Creepy Schoolgirl. Based on Wednesday Addams from the Addams Family. Sold for tots aged just 4 online.
90% of parents would not let their child wear it.
7) Killer Creepy Clown. Sold for 5 year olds at Joke.co.uk
81% of parents would not let their child wear it.
8) Miss Teen Hot Stuff. Sold by Fancy Dress Ball for 10-year-old girls.
94% of parents would not let their child wear it.