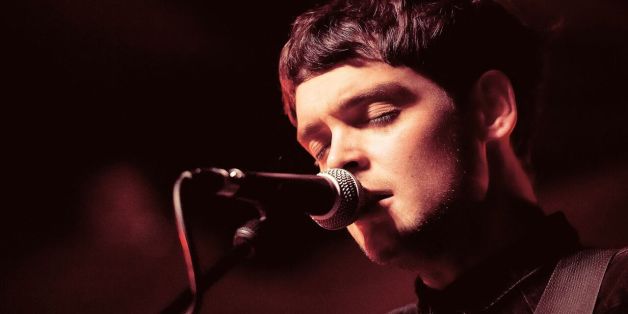 Sivu

Ever since I was little, I've been playing music. My parents loved it and my grandfather was a big Frank Sinatra fan, so it kind of rubbed off on me.
I've always dreamed of being a musician and have been so lucky to break into the business.
All the stars in my life were aligning... until I discovered my hearing was failing.
Growing up I always had problems with my ears. My earliest memory was perforating my ear drum at a Thin Lizzy concert with my dad. When I was performing in bands, and exposed to live music every week, I didn't look after my ears at all.
The first time I noticed something was seriously wrong was when I woke up one morning and couldn't walk straight, everything was spinning. I literally felt like I was drunk.
"You have Meniere's disease", the doctor said.
All I could remember at the time was the word disease! I had no idea what it meant, a condition which causes dizziness, nausea and, most terrifyingly for me, hearing loss.
Everything around me froze. Music was my life and I would be completely lost without it.
Music helped me come to terms with my hearing loss
Writing music has helped me come to terms with my hearing loss. When working on my latest album 'Sweet Sweet Silent', I was thinking about the emotions that were going through my head after my diagnosis. This has had a big influence on the tracks I've produced and the sense of uncertainly I felt at the time is reflected in the narrative of the album.
The title track I've chosen for the album refers to silence growing in my world and the complete hearing loss I may face with my condition. The scariest thing for me if I was to turn deaf would be not being able to play music anymore. Music is all I've ever wanted to do and is all I've ever done, so the prospect of losing all of that is unbearable.
I'm still learning how to cope with my condition. At times, playing guitar feels impossible, when I can't hear chords or someone plays a note on the piano and it just sounds like someone slamming their hand down on the keys.
When we were talking about signing my latest record deal I remember thinking I'm not even going to be able to see it through. I had the very scary realisation when recording the tracks that I might never be able to play these songs again.
As soon as I was told I'd have to wear a hearing aid, I was like "well that's it" - what musicians do you hear of that wear hearing aids? I would love to have conversations with other musicians in the same situation as me.
I've been very up and down coming to terms with having Meniere's disease. A big turning point for me was a conversation I had with Janine Roebuck, an amazing deaf opera singer, who wears hearing aids and can still perform beautiful concerts. She reassured me that having hearing loss doesn't spell the end to being a musician. I'm starting to get to grips with my impairment and remain positive about what the future holds.
Why I'm speaking out
I'm excited to be releasing my new album very soon, Sweet Sweet Silent, at the start of July. This album feels so relevant to me, it's more honest and I feel more comfortable singing about myself than ever before. It will also be the first time I've openly talked about my condition in my music too.
Research by the disability charity Scope shows that nine in ten disabled people believe that more disabled people in the media would improve attitudes to disability - highlighting the importance of increased exposure of disabled people in the creative industries, including the music business.
I really hope speaking out about my impairment will help increase the visibility of disabled musicians and encourage other disabled people not to let their impairment hold them back.
Right now, who knows what the future holds for me? There is a possibility that I could end up being completely deaf, unable to sing or play my guitar anymore but I try not to think about it and take each day as it comes.
Sivu supports the disability charity Scope. Find out more about how the charity drives everyday equality, so that disabled people have the same opportunities as everyone else.
For more info about Sivu visit www.facebook.com/sivusignals
HuffPost UK Lifestyle has launched EveryBody, a new section calling for better equality and inclusivity for people living with disability and invisible illness. The aim is to empower those whose voices are not always heard and redefine attitudes to identity, lifestyle and ability in 2017. We'll be covering all manner of lifestyle topics - from health and fitness to dating, sex and relationships.
We'd love to hear your stories. To blog for the section, please email ukblogteam@huffingtonpost.com with the subject line 'EveryBody'. To flag any issues that are close to your heart, please email natasha.hinde@huffingtonpost.com, again with the subject line 'EveryBody'.
Join in the conversation with #HPEveryBody on Twitter and Instagram.