Why Visit Leeds in December?
This month Leeds will provide its usual vibrant festive experience but there is an added bonus: an arts trail conceived to guide you around the city center's major spots. The trail features artworks by local artists. It's a journey of arts and magic reflecting on modern issues, ancient beliefs and .....lights.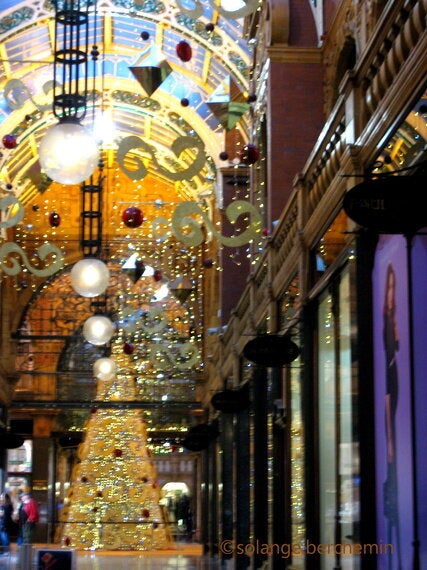 Leeds arcadesCopyright: Solange Berchemin
Here is a taster, you'll need to explore the rest for yourself. As the train pulls in the recently refurbished Leeds station, passengers are welcomed by "Spirit", a huge installation designed by Newsubstance. Spirit hovers above busy commuters as they progress through the railway station concourse beneath it. Internally lit by 3000 LEDs, the ethereal figure shines a calm, festive light as people rush and bustle beneath it.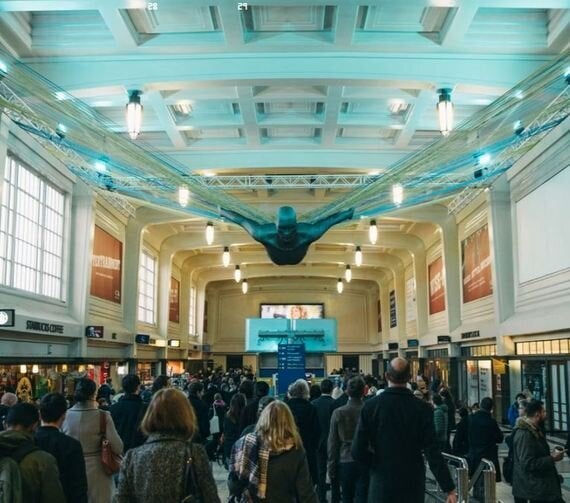 Spirit- an installationSourced with permission from LeedsBids
Leeds is best known for its shopping experience, John Lewis recently opened their new flagship shop in the center, it's the largest in the UK, following the footsteps of their illustrious competitor, Marks and Spencer which, two centuries ago, opened their very first shop. The tiny outlet is still opened for business in Kirgate Market, one of the largest markets in Europe.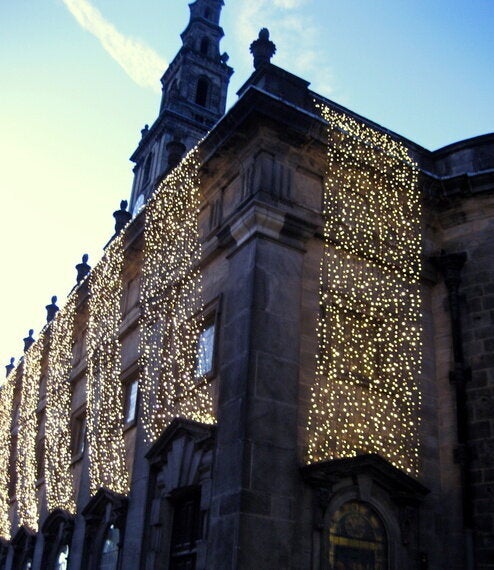 Trinity churchCopyright: Solange Berchemin
Undoubtedly, the shopping center which attracts the most punters is Trinity Leeds named after its neighbour, the Holy Trinity church, a Georgian church consecrated in 1727 and a key venue at Christmas. Trinity is part of the trail, illuminated by a cascading waterfall of lights, highlighting the unity of old and new in the city center.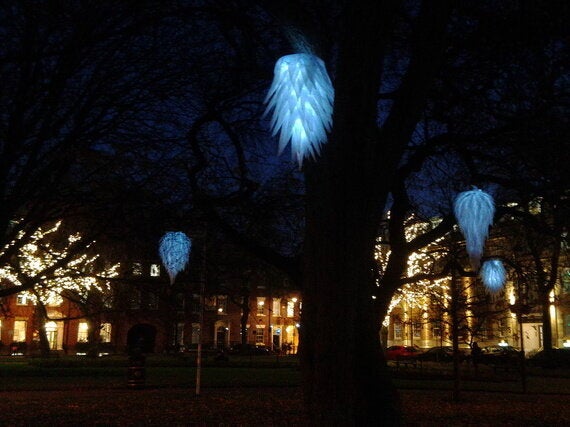 Texture of WinterCopyright: Solange Berchemin
My personal favourite piece of art is a series of sculptural lighting located in Park Square. An installation by Alison M Smith, entitled "Texture of Winter", reminiscent of the evolution of ice formations melting. Alison has gathered plastic from Leeds retailers which she recycled and shaped into organic forms.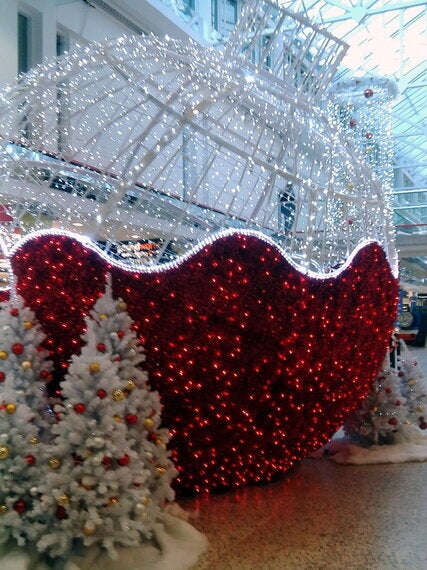 Santa's GrottoCopyright: Solange Berchemin
What better way to explore a place? Leeds center is compact, it takes only 20 minutes to walk from north to south so it's perfect for children too. Santa's Christmas Post Office, complete with giant bauble and live reindeer is part of the trail in the Merrion Centre.
The iconic Corn Exchange, an architectural masterpiece in itself is transformed by a creative exploration of Aurora Borealis designed by Dave Lynch and Glatherine Cross. The whole trail includes 15 pieces of work altogether and might find you parched and hungry by the end.
Good Places to Stop for Food and Drinks
Loiners know their town inside out and you can't go wrong following them to the nearest packed to the rafters restaurant. This cunning tactic led us to Bundobust and Friends of Ham.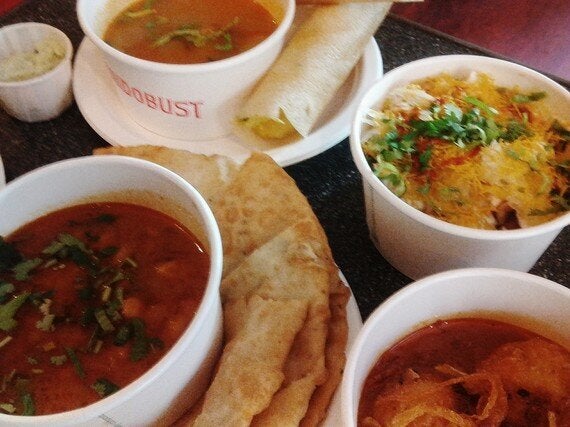 Indian Street Food at BundobustCopyright: Solange Berchemin
The former is an Indian street food cafe with doors on the walls which offers dozens of munchy dishes. A kind of Indian tapas with dishes such as Okra Fries cooked to perfection, mini Massala Dosa and I am told that the sprout bhaji are back due to popular demand. The lot washed down by a choice of 110 different beers.
For the time being, one of the most popular breweries to visit is the Northern Monk, on the outskirts, renowned for multi-award winning beer "Eternal", their "crazy beers" such as Rhubarb and Rosemary flowers flavoured beers and for their street art can. Because at the end of the day, Leeds is a city at the heart of arts.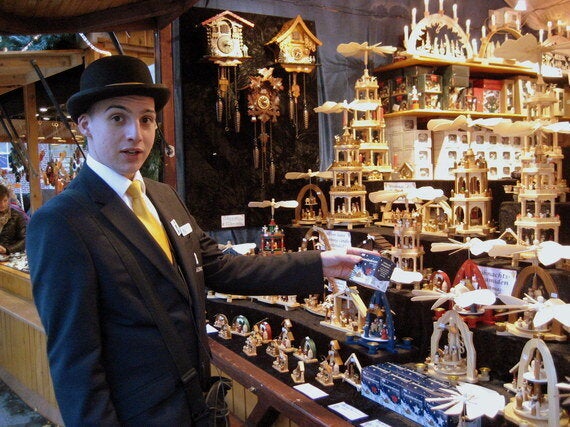 J. one of Leeds ambassadorCopyright: Solange Berchemin
For more information about Leeds check out Welcome to Leeds you will find details about the Christmas art trail and its 15 locations (1st December and 3rd January) #ChristmasinLeeds.
Yorkshire has been awarded the best place to stay in Europe by the World Travel Awards and this is reflected by its accommodation offer. Take a peek at Hotel in Leeds http://www.hotelsinleeds.org/
If you miss the arts trail look out for the Leeds Indie Food Festival which has talks, demonstrations, special dinners, markets, pop-ups, kids' events and films throughout the month of May
When in Leeds, don't miss The Brudenell Social Club, a great gig venue