I've been known to use unusual means of transport. I, once, "drove" a car which was perched on a trailer, through the Egyptian White Desert. Therefore, when I was asked if I would like to join fifty odd classic cars, for a Lancia rally, off the beaten tracks in Correze, I didn't bat an eyelid and jumped at the opportunity.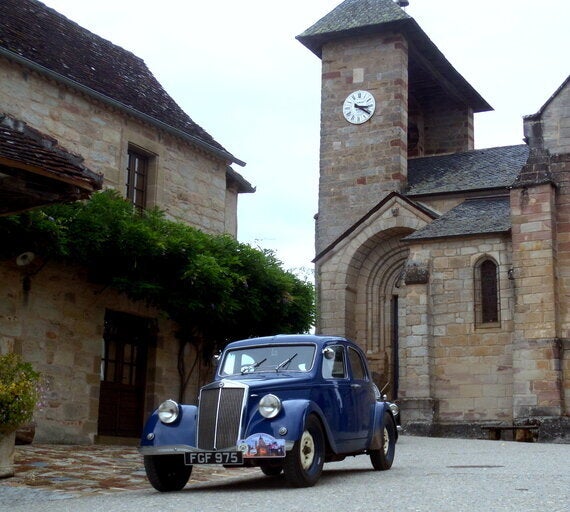 The pretty village of Curemonte has only one street. Copyright: Solange Berchemin
To tell you the truth, I didn't exactly know what a classic Lancia looked like. The best I could hope for was a bright shiny day to take some decent pictures and, to steer the conversation away from mechanics and bodywork repairs. Little did I know. This is a world of passionate experts. Some collect only but, for others it's their livelihood. One of the participants entertained me with tales of his craft: he manufactures exclusive driving wheels. A couple of pilots had shipped their cars from Australia for the event. As a rule, Lancia-owners participate to a couple of rallies a year, so the main focus is squarely where it should be, the Lancia.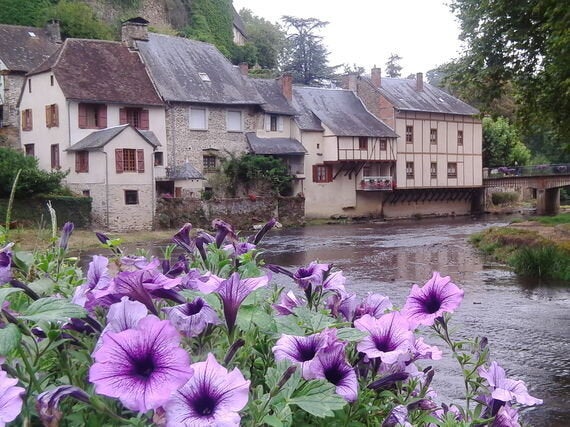 Pretty as a picture, the Corrèze, off the beaten tracks. Copyright: Solange Berchemin
Driving through Correze is a dream for anybody who likes winding little roads, varied scenery and beautiful villages. Though situated in the Dordogne Valley, La Correze, is relatively unknown, there is no mass tourism. The main industry is farm-based which makes it a paradise for foodies. Here, everything is low-key. A quiet happiness and well-being seem to float over a very French way of life.
Jean Paul Brunerie, organiser of car rallies in Correze and across France, had met me earlier on the steps of La Seniorie, Mercure Hotel where I stayed. The plan was to follow the vintage cars in his Rover and weather permitting I would join in a Lancia, a little later on. We'd shaken hands on the scheme and said our goodbyes until the next day.
The next morning, the sky was grey and stormy. It may have been horrible outside but the spirit in the Lancia caravan was buoyant and we were soon en route to our first stop: Aubazine. There is something to be said, for being in the warmth of a modern car which remains stable as it travels up and down and along the hairpin bends of the D150 - small road for you and me. It's with an inner little smile that I learnt that the Lancia Aurelia's front suspension was a sliding pillar design and you probably don't want to experience that -whatever it is- until the scrambled eggs have settled down a little.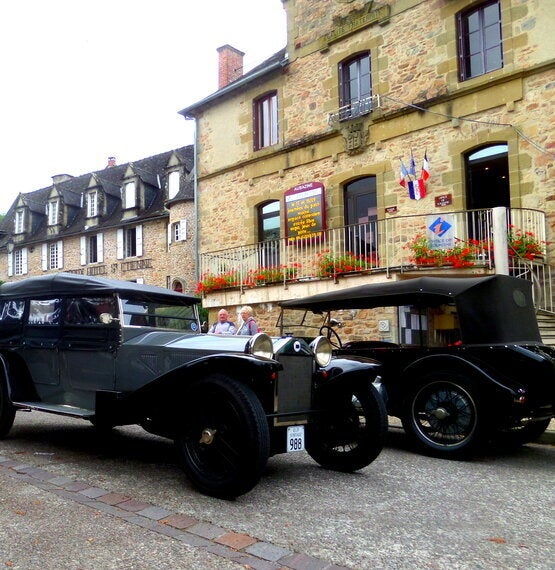 Aubazine where Coco Chanel grew up. Copyright: Solange Berchemin
From Aubazine to Collonges-la-Rouge
Aubazine is best known for its connection with Mademoiselle Gabrielle Chanel
who spent her teenage years in the austere orphanage of the local Cistercian abbey where she had a terrible time but also where she drew her inspiration for her stylish black and white signature designs. Even her famous logo of two intertwined Cs can be observed in the stained glass of the abbey.
As the single road got smaller and smaller the landscape became very scenic, with its woodlands and small fields, and I could detect a hint of film-star quality in the drivers as they approached the numerous pretty medieval villages where villagers lined the streets to take pictures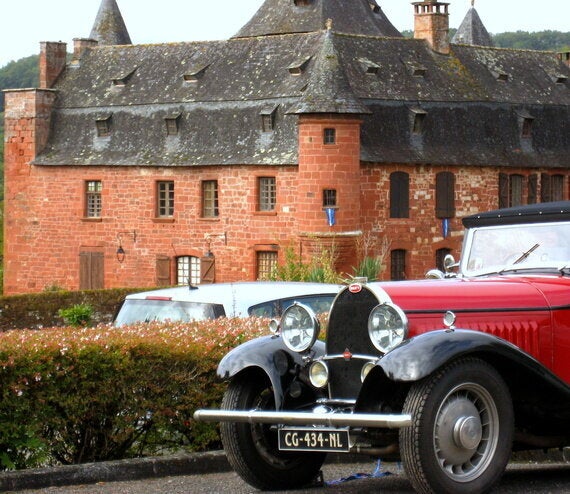 The stunning colours of Collonges-la-Rouge. Copyright: Solange Berchemin
Collonges-la-Rouge is definitely a star among the "Prettiest Villages of France". Startling flamboyant -red houses built with local sandstones are organised around a covered market still containing a working bread oven. Small streets and a perfectly preserved catholic church are a glorious spectacle. On the day, the Lancia parked at its medieval door, there was a Venetian Carnival.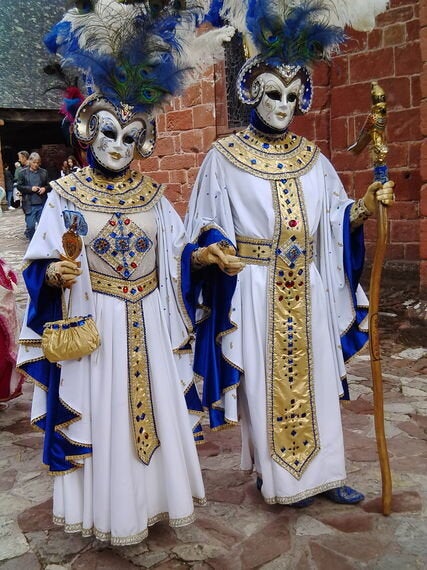 Venetian festival in Collonges-la-rouge. Copyright: Solange Berchemin
From Curemonte to Argentat.
By now, it had started to drizzle but the atmosphere among the classic cars drivers could not have been better. People who had come with their cars from several continents were exchanging stories, engines were admired, restoration praised and photos taken. On arrival in Curemonte, in my books the prettiest village of the circuit, the 57 equipages were getting on famously, comparing times and performance.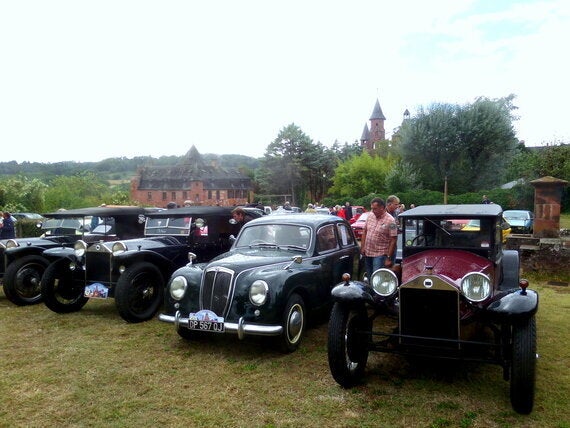 Lunch break for the Lancia teams. Copyright: Solange Berchemin
From the road to Branceilles on the height of Puy Turland, one gets the strategic importance of the village's position straight away. It may be for that reason that this small village of 200 inhabitants has three castles, delightful gardens and cobbled streets.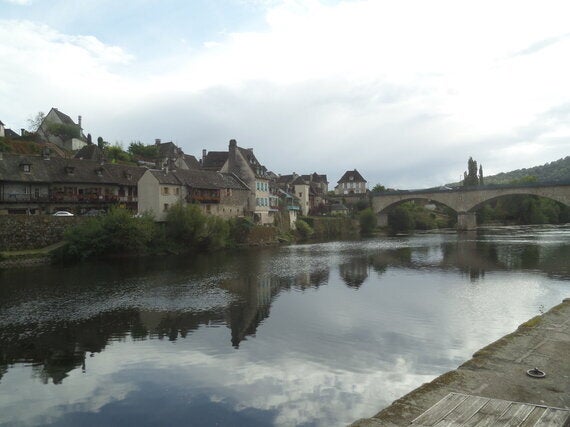 Argentat where the Dordogne flows peacefully. Copyright: Solange Berchemin
It had become obvious that today would not be my day for taking a spin in a Lancia but I got my turn in a vintage Triumph, the next day. Our last stop, Argentat deriving from the Latin Argentoratum or river-way. It could not have been a more peaceful town. Seating on the terrace of a cafe by the docks would have been a perfect if Jean-Paul didn't have a phone call: A car had broken down and needed assistance in the Lidl car park. Sometimes when you live a fairy-tale, you tend to forget the realities.