I have a confession to make: I'm slightly obsessed with Fearne Cotton.
Considering she's married to a rocker, stars in Celebrity Juice AND hosts a radio show that helps get me through the day, it's no wonder I harbour a teensy weensy girl crush.
Just don't tell my boyfriend...
However, when she's not being the butt of Keith Lemon's cruel jokes about her nostrils or spinning tunes on Radio 1, Fearne can be found making clothes, working her fingers to the bone and sweating over a sewing machine in a desperate effort to make ends meet.
I'm kidding, of course, but she does have a new fashion range due out at the beginning of next year.
As a designer for Very.co.uk since 2009, this will be her 16th collection for the online store, with the rock'n'roll chic range destined to offer a scorching addition to the typically soggy British spring/summer.
Recently, to showcase her upcoming SS15 collection, Fearne held an event dubbed the "Greatest Show on Earth", an impressive, Big Top inspired spectacle, which even featured live circus performers.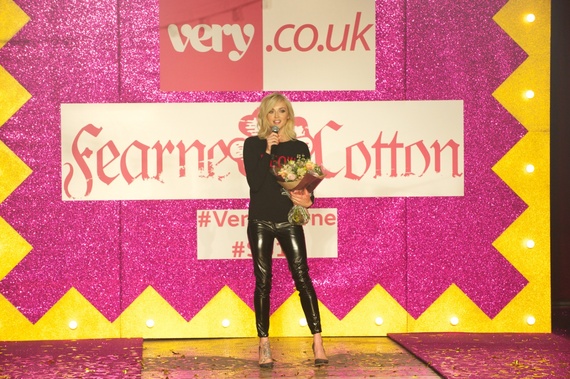 Unfortunately, I wasn't lucky enough to attend (always next year... ) but being the massive Fearne fan girl that I am, I watched the whole event on the live stream, stuffed my face with popcorn and wished I could get my hands on the new collection now rather than waiting until January.
Why this fashion induced impatience?
Because, unlike some fashion shows from Paris or Milan, where it seems the models are wearing a collection of eye wateringly expensive bin liners, Fearne's collection is incredibly wearable and moreish, drawing inspiration from some of the biggest female rock stars of the 70s.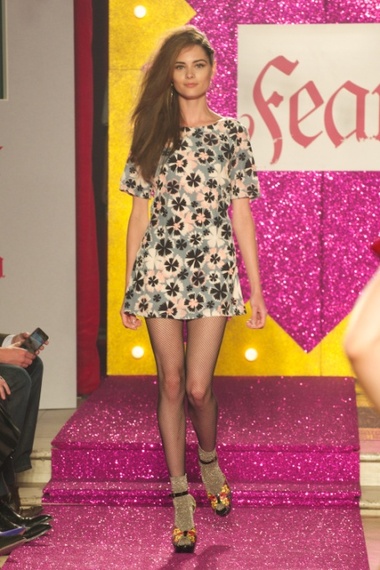 Building on her AW14 collection, the new range meshes metallic star prints, leather, optical stripes and faux fur and contrasts against delicate, traditional florals and babydoll shifts. Quite simply, the collection is a perfect reflection of the quirky style that's become Fearne's trademark.
What I love most about the collection is the way new cuts and fabrics can be coordinated with separates, including longer line midi skirts - perfect for date night or casual Friday's - and an alluring selection of box line tops.
You'll also find the cropped trousers are neatly tailored and the blouses are cut to precision, offering you a much sharper look for next summer. I also fell in love with the leather biker jacket (below) which retains the girly feel of this range thanks to the pretty adornment of floral blooms.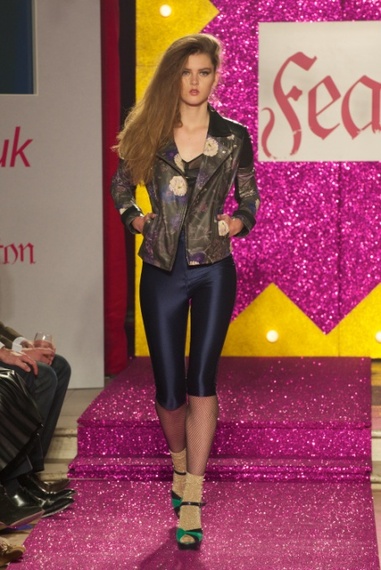 For something even more girly (and who doesn't love girly?!), the cute puffball babydoll dresses are just the thing, with Fearne attempting to celebrate all of her own fashion references, coupled with a sophisticated handwriting that reflects her evolving style.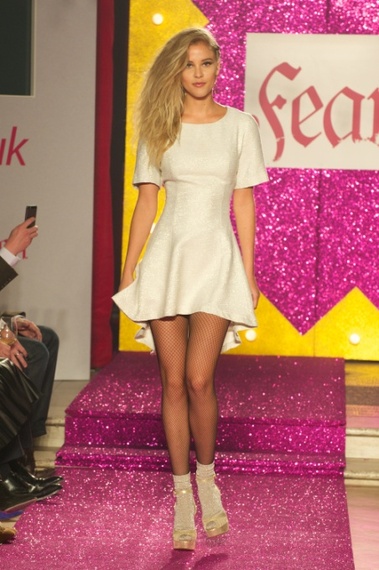 For me, when January rolls around, it'll be a month of budget meals, milk instead of wine and walking instead of taxis - along with various other penny-pinching measures - as I plan to empty out my bank account when this collection finally hits the digital high street...