I love being an expat in London. For the past 5 years, it's been tremendously exciting to discover your culture, drink your Pimm's and watch your TV. By now I have my own Fantasy Football League, I cycle on the streets of London like a blond, fearless Boris and I can hold a decent conversation about the weather. One could argue that I'm losing my Polish nationality! But then as soon as April arrives, I know that I'm still myself when all I want to do is decorate the Easter eggs!
Don't get me wrong, I love the chocolate Easter Eggs extravaganza that you have going on in the UK. I already bought my own set of Easter eggs as the gifts for my friends and flatmates. But the real Easter begins for me with colouring the eggs and decorating my Easter basket (Swieconka). We traditionally fill it in with a sampling of Easter food: eggs, bread, lamb, salt and pepper. After having it blessed in the church on Saturday, we share the food with the family on the Sunday breakfast. As long as I love and cherish this tradition, I'm not worried about losing my roots.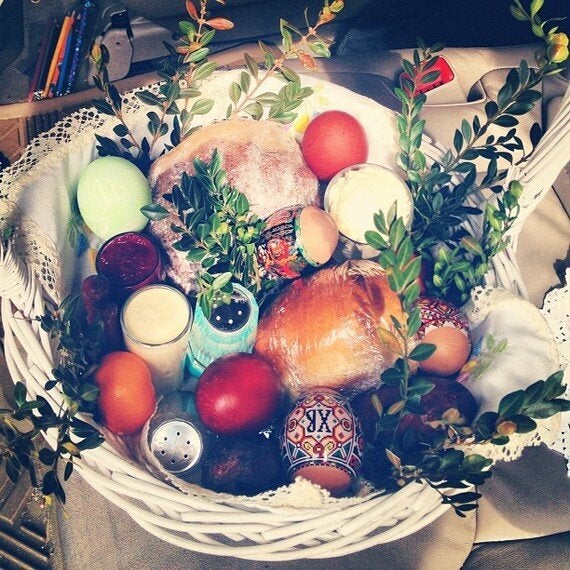 Image via @bart_szewczyk/Instagram
I'm sensing that by now you can't wait to start colouring your own eggs for Easter, or (more likely) you are slightly confused. What's the deal with those eggs? The truth is that I don't know when this tradition has started, Wikipedia tells me it goes as far back as Mesopotamia and the Roman Empire. However, I urge you to forget its pagan origins. The egg symbolises the birth of a new life. Be it Jesus, spring or your new self. If you choose to decorate your Easter eggs with me this year, it is also about embracing your inner artist and feeling like a child again. When is the last time you painted something? We used to do it all the time in kindergarten and primary school!
In what colours would you like your Easter eggs? This year I'm choosing yellow, orange, red and brown. Last week, for a brief moment, I had a mad idea to ditch the dyeing process and draw the portraits of the characters from the Game Of Thrones on each egg instead. It's not happening, thank God! I'm a geek for the most of the year; I'm not going to let it affect the Easter tradition.
Red is probably the most popular among the colours. Red - like Jesus' blood, red - like roses, red - like the Red Wedding, choose your own inspiration! You can use the ready mixed colours, but please don't. You have plenty of ingredients in your kitchen that will give you the most beautiful colours. Have a look around your kitchen and think what could turn your eggs red... Yes, it's red onion.
Simply fill the pan with water, plenty of the red onion peels and a spoon of vinegar, add eggs and bring to boil for about 10-15 minutes on a medium heat. Cool the eggs down and enjoy the beautiful red colour. No chemicals, just the onion doing its magic.
Do you want to have a guess how to make the other colours? Feel free to experiment; I will use turmeric for yellow, carrots for orange and coffee beans for dark brown. This year round, I'm also attempting the impossible and trying to make a golden egg . My recipe includes the walnut husks with onion peels and turmeric. Seriously, if I manage to 'midas' my eggs gold, I can do pretty much anything in the world. I will be invincible like Beyonce and Novak Djokovic.
Before I leave you to make your own beautiful eggs, let me show you some inspiration from Instagram. Enjoy and happy Easter!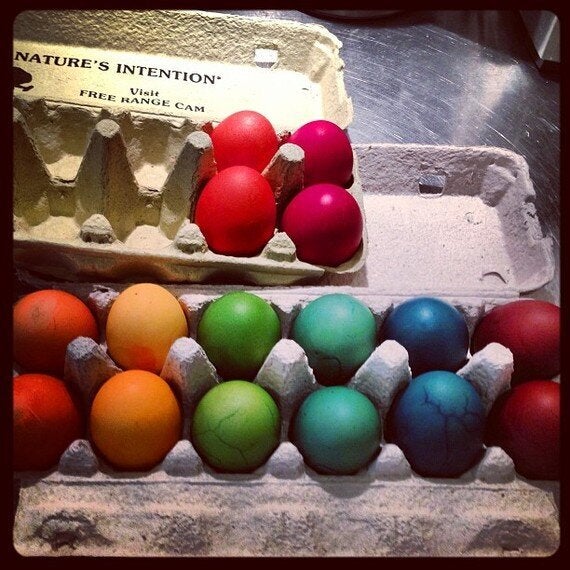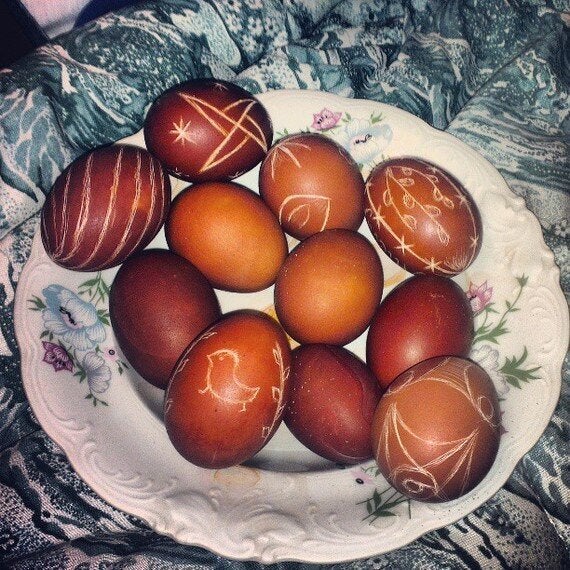 Image via @herbalis7/Instagram