There are certain milestones in a new parent's life. The first smile, the first word, the first time they say Mummy (followed by 'Daddy' forever after!) and the first time they wave goodbye to you when they start nursery
September is a popular time for kids to start nursery, possibly due to the spaces made available by older children starting school. In fact, several of my friends have just enrolled their little ones in childcare this month. I know because I've received the mandatory sobbing calls from them asking how long it takes for them to settle.
As a new parent, you're constantly learning on the job. There's no guide-books or manuals to tell you what to prepare for. Nurseries ought to come with a few tips, but until they do, we'll have to share the secrets between us!
So for all the parents waving their kids goodbye at the nursery gates for the first time, here's ten ways to be nursery ready...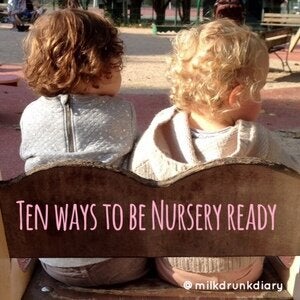 Fact. And they will especially cry when you leave them in a new environment for the first time. But let me reassure you, they also get over it very quickly - so fickle are their easy to distract minds!
Whether you expect it or not, whether you're hardcore or not, be prepared to shed a tear the first few times you drop the little one off. I'm usually as steely as Anne Robinson, but it even broke me!
You can bet when Prince George started nursery, that his cute little bag was packed with spare babygrows, t-shirts and socks. Yep, that's what they're full of. Backpacks are a must, but they don't need to be very big. Also look out for some that come with reigns - rather handy.
4. SHOP FOR RUBBISH CLOTHES
I take it as a good sign that my son comes home from nursery covered head to toe in sand, paint and bogeys! This however means he dresses as a chav for nursery! I've found some of the big supermarkets have very affordable clothes perfect for nursery.
Unless you want to spend your life sewing in names to clothes, get yourself a sharpie and start writing their initials in everything. Items go missing all the time at nursery, and to avoid coming home with baby X's shoes, get pen happy!
In and out of the car, up and down the bus, over and back to nursery. Your stroller will be clocking up more miles than Lewis Hamilton and more knocks than David Haye over the years. So invest in lightweight yet sturdy stroller - we have the UPPAbaby G-luxe.
It doesn't really matter if they eat a little or a lot, kids always come home from nursery peckish. Which is why my fridge is always loaded with hummus, yoghurts and cheese, and there's always baked beans in the cupboard. It's amazing what you can rustle up with very little.
I'm not going to lie, those first few months of nursery are an assault to the entire family, as children bring home every bug going, passing it on to every living family member! Arm yourself with hand gels, tissues and vitamins to minimise the impact.
Just as it's all going well, expect your kid to come home bitten, hit or smacked from some ridiculous incident. Accidents happen and it seems to be pretty normal. I have a rather handy Mr Men ice pack in my fridge, always ready for when Mr Bump comes out to play!
An obvious thing to say really, but the first day at nursery is a milestone event and one you'll be glad you documented. Set up a picture with your little one and their bag, as they're about to go in to nursery and it will be something you forever treasure.