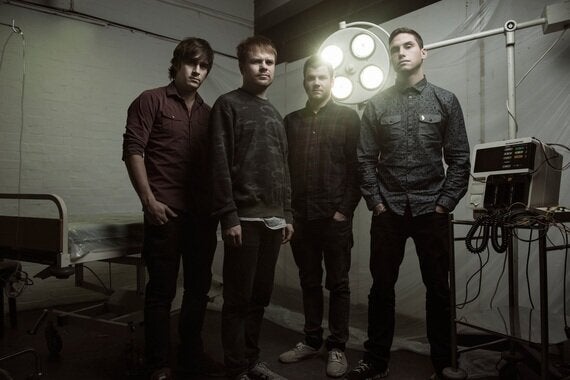 "I think it's great what he's done, there's obviously no one of his stature doing anywhere near what he's doing."
"In general I think he's great and now it's just getting frustrating because he's getting so many people turn against him because it's easy..." says Rou Reynolds on Russel Brand.
On Thursday I braved the London grizzle to meet Rou Reynolds and Rob Rolfe of Enter Shikari. The release of their fourth album is imminent (January 19th), so we were there to talk all things related to the collection of songs, aptly named 'The Mindsweep.' The general consensus of those who have been gifted the opportunity to listen to their latest output, prior to its official release, is that the St Albans foursome have delivered another gutsy, assertive and unconventional body of work.
I use the word unconventional for various reasons. Despite the fact they create sounds and draw inspiration from various genres, they are often featured or categorised alongside ALT/Rock bands, meanwhile creating work that sounds noticeably different from the majority in those scenes. However it is undeniable that their performances at festivals are as kinetic, and the crowd response as enthusiastic, as any of the huge rock bands headlining the stages. In fact it isn't uncommon for their sets to be heralded as the highlight of festival weekends due to the mass crowd surfing and audience energy their particular formula is the catalyst for.
Their reputation for triumph on stage is closely followed by their reputation for vocalising opinions on the big issues via their lyrics and videos. Their new single is a prime example of their continued willingness to be 'socially conscious' as a band. Unfortunately in tackling subjects as massive as climate change the are reported on as if they are anomalies in the music industry - largely due to the amount of seemingly apathetic acts ruling the charts.
'Anaesthetist' is unashamed in its attack on those who would dismantle our NHS in the name of corporate greed and Tory economic ideology.'
Vocalist / lyricist Rou Reynolds had this to say on the subject;
"We seem to have reached a stage of such capitalistic fervour, that we believe it acceptable to punish people for ill health. By charging for healthcare we act as if illness is nothing but one's own problem, but what is the purpose and advantage of 'civilisation' if it is not helping the most vulnerable within society?
The lottery of birth can offer us a wealth of bad luck when it comes to our health and the safety nets are being pulled in as the desire to boost profit overtakes the desire to help people."
So while I had a few minutes left with the impassioned frontman and drummer I wanted to ask them a few issues relating to politics and the environment.
Watch the video below to hear their opinions on Russell Brand's venture into Politics, whether their words reach the people that can make the big changes, that suprising tweet from John Prescott , and how they adapt their tour life to be more conscious of the envrionment and sustainability.
I had so many questions of this type I wanted to direct to the zealous pair but my time was up. I can't help but think Nigel Farage had a lucky escape.
Their tour is as follows....
FRI 09 BRUSSELS, BE - AB BOX
SAT 10 AMSTERDAM, NE - MELKWEG
WED 14 NUREMBERG, DE - HIRSCH
THU 15 BERLIN, DE - KESSELHAUS
MON 02 PARIS, FR - LA CIGALE
TUE 03 SOLOTHURN, CH - KOFMEAL
WED 04 LYON, FR - TRANSBORDEUR
THU 05 MILAN, IT - MAGAZZINI GENERALI
SAT 07 LEIPZIG, DE - HELLRAISER
SUN 08 VIENNA, AUT - ARENAN
MON 09 MUNICH, DE - MUFFATHALLE
TUE 10 WUERZBURG, DE - POSTHALLE
WED 11 COLOGNE, DE - LIVE MUSIC HALL
FRI 13 HAMBURG, DE - DOCKS
SAT 14 FRANKFURT, DE - BATSCHKAPP
MON 16 PORTSMOUTH, UK - PYRAMIDS
TUE 17 CARDIFF, UK - YPLAS
WED 18 WOLVERHAMPTON, UK - CIVIC
FRI 20 MANCHESTER, UK - ACADEMY
SAT 21 GLASGOW, UK - BARROWLAND
SUN 22 MIDDLESBROUGH, UK - TOWN HALL
TUE 24 CAMBRIDGE, UK - CORN EXCHANGE
THUR 26 LONDON, UK - ROUNDHOUSE
Rou Reynolds (Vocals / Electronics / Trumpet / Guitar)
Rory Clewlow (Guitar / Vocals)
Chris Batten (Bass / Vocals)
Rob Rolfe (Drums / Percussion / Vocals)