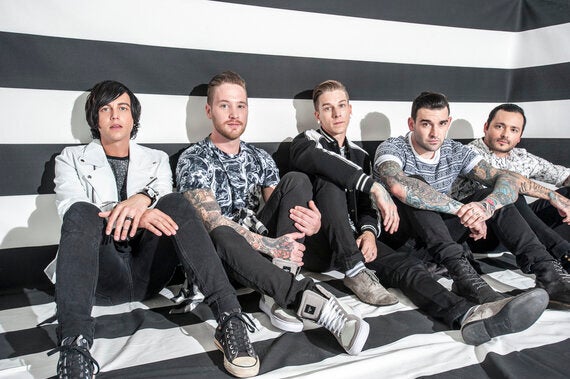 Sleeping with Sirens recently released their fourth album, 'Madness' (via Epitaph), which has been reviewed by many as their most accessible album to date (achieving 13 on the Billboard Top 200, and #3 on Top Rock Albums). While there are nods to all of their previous albums throughout, there is a clear melody driven evolution, one which is sure to give their rise an added turbo boost.
The first attempt of the album was recorded in Nashville, but was eventually put aside (for now). It was clear from this group instinct/decision that SWS knew this collection of songs weren't how they wanted to follow-up to 2013's 'Feel'. I can only imagine that this bold move cemented exactly what they were ready and eager to deliver.
After listening to the album I wasn't surprised to discover that writer, musician, and hit maker/aider John Feldmann was on production duties. Having worked with the likes of All Time Low, 5 Seconds of Summer, Beartooth...and Avicii, he has proved wildly affective in aiding the process of creating anthemic, catchy songs. While famously intense a character in the studio, he is a master when it comes to these types of compositions. He's fiercely consummate in steering a band to create those wonderfully rousing live sing-a-long moments, while making choices that will help the audience connect with and digest the personal and relatable lyrical story-telling.
There are some bands where the words 'popular' or 'successful' won't suffice. While these straight forward adjectives give you some idea that the group have an impressive audience or following, they don't do justice nor conjure the dedication, enthusiasm and loyalty found within their particular fan-base.
For many of their fans, the bands provide more than a mere soundtrack to their day. For young music fans of bands like Sleeping with Sirens, attending gigs and showing sharing a love online has helped them feel part of something, a community, a movement. It has given them the comfort of that feeling of belonging to something, being accepted - it has become drastically more than just a sonically enjoyable experience. If you are immersed in the rock/alternative scene it is impossible not to be aware of another aspect that comes alongside this intense level of admiration. Members of such bands, more commonly the vocalists, find themselves in a somewhat responsible position. Not only do they have the pressure to deliver musically (on stage and on record), they have now been elevated to a point where they are expected and called upon to help, guide or 'save' people from life's various struggles .
When I sat down with Vocalist/lyricist Kellin Quinn and Nick Martin (the guitarist who joined the band in 2013) on a distressed leather couch backstage at the Forum, I wanted to touch upon this difficult and slightly troubling topic. While being grateful of the constant and ardent support, they acknowledge the predicament this pedal-stool-ed position puts them in.
When turning to lighter subjects, like their appearance on UK TV that morning, where they joined the likes of Stacey Soloman and Lethal Bizzle on Channel 4's Weekend Brunch, we were once again reminded of the fans and their vehement devotion. The band had just been scheduled to perform acoustically at the end of the show, but due to the colossal reaction on Twitter ended up in numerous segments throughout the show. We even saw drummer Gabe Barham sporting Jockey Silks and wearing some fetching chaps during a horse shoe feature - bet he didn't see that coming! A persistant fan-base holds a lot of power...
It was the final night of their series of long stints on the road as part of their 'World Tour' alongside Pierce the Veil...which were unsurprisingly sold out. But, once again, 'sold out' doesn't do it justice. As I approached the venue at 3pm the queue of fans had already wrapped there way round the iconic Forum...and then some. I only knew my interviewees had arrived on site by the roar of elation outside.
So take twenty minutes out of your day to watch our interview and grab a snapshot of the band in 2015. Hear Kellin and Nick chat about joys and less joyful aspects of tour, former tour buddies Mallory Knox, and the honing process alongside the legendary producer. If things continue to grow the snapshot could be even more impressive in a year's time!
You can next see the guys playing on their 'We Like It Quiet" Acoustic Tour with The Summer Set and Nick Santino.
You can purchase 'Madness' on ITUNES