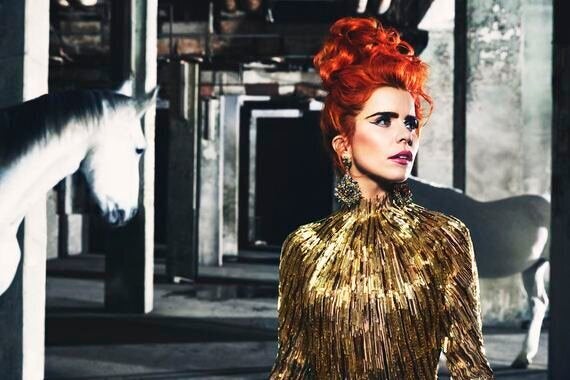 I am really spoiling you today. To coincide with the release of the stunning footage from her performance at The Barbican, and news of the November release of a special edition of her platinum selling album, I've had a chat with the charming riddle that is Paloma Faith.
You are releasing a new edition of the album, featuring four new tracks, including the new single 'Ready For The Good Life'. A deluxe double disc version will also be available, including a recording of your headline night at the Royal Albert Hall. Whenever I speak to artists there are always little tweaks and changes they wish they could make to an album. Has this given you a chance to make those little amendments, alongside adding the tracks?
I am really excited about it coming out. I haven't tweaked the album as a whole. I've just added these new additional things. I think within art it is important not to get too precious and attached to things. So when you put them out they are just what they are. A record was named that way because it was a recorded moment in times, it's not always about perfection. It's the imperfections that made us endear to things. I think I need to just record records, then let them go and move on to the next one.
How hard is it for you to say ok, this is finished?
It's very difficult for me to say something is finished despite what I just said, because art is never finished. I always to people that the only finished work I'll leave behind is when I die. So I definitely just release things usually when the deadlines comes too close and them being told off for being too nit picky us to the last minute.
I am imagine for a performer performing at venues like the Albert Hall and the Barbican with someone like Guy Barker are extremely special. How does the fact that these are largely seated events affect how you feed off the audience?
Guy Barker is a completely underrated talent and I can't imagine what it must be like to be able to to compose like he does for that many human beings at one point on the stage. It's very rare nowadays in music that funding is there, or the support is there, for all those musicians to come together to create amazing things. The money isn't behind music anymore - to do that standard of performance.
It's really really special thing and it makes me feel so grateful that I could have done it in my lifetime, not just once either, and that's why I insisted on the recording. I think its important for me how the audience responds and sometimes its quite difficult playing to seated audiences because they are less open to dancing, but at the Albert Hall it took a few songs and they were up and out of their chairs anyway, so it was cool.
Do you have a different persona depending on the type of gig/material it is?
I think I do - I tend to be more nostalgic and more classic when I play with the orchestra and I suppose take influences from the people who harp back to a time when those types of performances were more common. Then when I play with my band I suppose it is a bit more loose because I don't have to necessarily stick to sheet music or a score. I can be a bit more loos every night of a gig with my band, and I can change the length of the songs or the tempo, when they break down, or when they build up. That fluidity means i suppose I am a bit more rock 'n' roll in that situation.
When performing classic songs on the proms, Later with Jools Holland etc. how important is it that you can relate your own story to the lyrics?
The reason why a song is classic is because it communicates to a universal sense of what is it to be human, so it is very easy to relate to them otherwise it wouldn't be classic.So of course I try and make them personal .
I think the moment I thought...'ok, she's making it in America', was when I saw you pop up on E on Fashion Police. What was the moment where you thought things are going pretty well here?
I still don't think are going pretty well here. I think it's a big egg to crack. I grafted so much to get to where I am in the UK, with a lot of criticism and a lot of put downs and obstacles. I think I am just that type of person. I think until I am charting in America I don't think I've broken it.
Touring America means a lot of long stretches of traveling. How do you deal with the Cabin Fever? How do you remedy the boredom?
I found myself this tour after an 18 hour drive, banging the walls and going absolutely mental. I don't know how people manage that. It gives me a whole new level of respect for American bands that tour like that for so long. It's unbelievable cabin fever. We tend to watch films and speak to each other, and sleep as much as possible on those journeys. There's not a lot you can do about the boredom, it's an inevitable thing.
How much has having a fellow Brit (Liam Bailey) in tour with you helped with homesickness?
That was the best thing ever touring with Liam Bailey. We'd been friends from the UK and he moved to New York to see if he could make it in America. I think he was feeling very homesick. We both enjoyed it. We became even more British than usual, we were like parodies of Britishness on tour, just to compensate for being homesick.
You've said you are a London girl to the core and you¹d never move there, but has there been a moment when you've thought, 'this is pretty nice, I could get used to this?
I think San Francisco is my favourite place in America. I could probably live there bit at the moment I still want to be in London because then I can be close to my mum, my sister and my best friends in all the world.
I saw your tweet regarding the inspiring Malala. One new year¹s you made a resolution to seek out inspiring people. Who is on your current hit list. Have the ones you met lived up to your expectations?
Hanif Kureishi was top of my list of people to meet and he has definitely exceeded all my expectations. I think he is somebody that is really open to talking about emotional intelligence and I think that I lack that in men or an older generation to me. I feel like he is somebody that I can speak to about that. I've got town men in my life like that, and good friend and him, and I feel very fortunate to know men with that kind of emotional intelligence or at least an ability to analyse their behaviour. I'd still like to meet Bjork, Matthew Barney, Jeanette Winterson and hopefully that will happen soon. I don't think I could meet Malala Yousafzai because I feel so humbled by her greatness and I'd probably feel really intimidated by how brilliant she is. She makes me feel guilty about how little I do for the world and people like that just blow my mind.
Last time spoke, we talked about your love of performance artisr Slava. Has the growth in your career meant that you've been able to fulfil the grand theatrical ideas in your head more regularly?
At this point because of my success I feel like time has been quite an issue and sometimes the lack of time means that I compromise my dreams in a live sense, and I have to rely on the moment, more than what I can plan in advance.
I'm hoping that one day I get to the point where my success buys me time and money to achieve the ultimate goal of what I intend to do, but I'm really happy this campaign, with the videos and visuals up to this point, which I I've had a lot to do with.
It's a little while away still, but can you give us a glimpse into the mood board of your 2015 Arena shows?
Look up the YouTube clip called The Great Ziegfield - A pretty girl is like a melody.
I attended the private view of your Album Artists exhibition and saw all of the amazing artwork that has been created alongside your music. You obviously put a lot of personal thought (and money) into the visuals. Do you have to fight for the cause on a regular basis? Are people constantly asking you to change or cut back?
There is a lot lot eye rolling when it comes to me and being particular about visuals, but I just pretend it's not happening and push through. I think what I've leant that makes record labels pay for things is when you argue with them about the fact that they are not going to pay for something, if you say, 'I'll pay for it myself', it always makes them pay for it. It's a clever ploy.
Your job history implies, and you have confessed, that you are someone who likes to be observed. Do you have those days that you want to hide away though. How do you cope if you have to perform on those days?
I think all extroverts are closet introverts, so of course I want to hide and I think there are two very different versions of myself that are the performer and the private version. Sometimes I wake up and I can't be the performer and I am the private person and I want to hide. But I think when I have to perform on those days I just focus on the performance - that might mean that I hide from the paparazzi or don't do signings afterwards ( because I am feeling vulnerable). But I can always pull a performance out of the bag, I never ever don't feel like performing.
Your album A Perfect Contradiction is undoubtedly more upbeat.Do you think performing these more positive songs regularly has had a knock on effect on your mood ?
If anything, performing more up tempo songs has exhausted me more. It's a lot more challenging on tour because there are a lot of high noted and jumping about simultaneously, where as in the last one it was quite a deeper range and had less moving about. I am less likely to get sick when I tour the old album, but I am having a lot more fun and a lot more giggles with this one.
You usually record songs that you write yourself. Has the success of working with the legendary Dianne Warren made you want to accept more songs from writers, or was this forceful lady a special case?
I think it was a special case, it will still take a lot for me to record songs written by other people because the nature of the business now is that you don't actually make any money if you don't write them, because publishing is the biggest earner in music. You don't really make money from record sales anymore because nobody buys records.
So I think that it would just remain the same. I tend to err on the side of not wanting to, but if a song arrived on my lap that is so undeniable of course I'll record it, it'd be stupid not to.
She has a very strong way of communication, a style I believe you enjoyed (regular use of the C word). Do you tend to gravitate towards people that don¹t pussy foot around you? Does it help you stay grounded?
Yes, I think I like people who are grounded around me and just generally who are not being too careful in life because I feel safer around honesty and safer around people being true to who they are and not treating me different or strangely. I find it makes me mistrust people if they do that.
You always seem surprised when big names approach you, or admire your work (Pharrell and Diane for example). Do you think you will ever be able to accept your success and talent? Do you think your unorthodox road to becoming a singer is behind it?
There is so much involved in being a good singer, for example today I recorded Kelly and Michael, a TV show and I know that me and my band did a really great performance but the broadcast sound had a certain frequency that made my voice sound a way that I don't really like and it can sound a bit screechy. Some microphones pick it up and some don't and it's a bit of a hit and miss situation. Anyway, because of it I got a load of tweets saying that I was like a pair of fingernails going down a chalkboard, but actually if I had used a different EQ on my voice I wouldn't have. So its kind of ones of those jobs where if you become too self confident then you're screwed because you will always have things that are not within your control (that maybe you're aren't as good as people say you are).
Its just a very important thing to me to remain grounded and realistic and know that there are so many factors involved in people thinking that somebody is a great artist or not. Everyone does bad shows sometimes, so I think it's really important to me that I don't accept my success and talent, and I don't take it for granted. I think it's a mistake to take those things of granted because people build you up but they are quick to pull you down.
Nothing is ever the end of the world. No Specific piece of work is the end, it's all a collection of things that come together to make something a success, so don't dwell on specifics.
What have you recently played on your Ipod?
I barely know what an iPod is, but I do have a laptop and I've been listening to Paolo Nutini's Caustic Love quite a lot.
Stage you'd most like to play?
I there is two...The Olympia in Paris, which is where Edith Piaf used to play and Radio City in New York because I saw Leonard Cohen there and it was the only show i've been where I cried.
I think Trader Joes Almond Clusters are my guilty pleasure. You can only get them in America and every time I go I know that I shouldn't eat dairy or sugar then I buy four or five boxes, and then when I finish I go bad on no dairy and no sugar.
Who would play you in a film?
I'd like to say Christina Ricci, if she would accept the role.
If you could live within one piece of art?
I think if I had to live in a piece of art it would be Anish Kapoor sculptures because they are kind of soft and curvy with bold colours and I feel like there is warmth to them but also a celebratory feel because of the colours.
Who would you love to write a song about you?
I don't know if I'd be worth of somebody writing a song about me......the one Leonard wrote about Janice Joplin was so beautiful and moving.....maybe Andre 3000 or Paolo Nutini.
Something surprising about you?
A SPECIAL EDITION OF HER PLATINUM SELLING ALBUM 'A PERFECT CONTRADICTION' WILL BE RELEASED ON NOVEMBER 10, INCLUDING THE BRAND NEW SINGLE 'READY FOR THE GOOD LIFE'
Image supplied by Paloma Faith management.
Popular in the Community