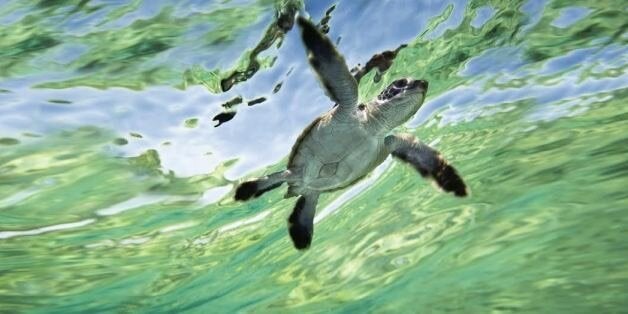 How technology is helping us work for wildlife
We're living in a time of unprecedented change. As technology is transforming every aspect of our lives, so the natural world is changing too.
Under the continuing threats of climate change, habitat loss and the illegal wildlife trade, to name but a few, our planet's ecosystems are being pushed to their limits. This year's WWF Living Planet Report, produced in partnership with ZSL, revealed that we've already lost 58 per cent of the world's wildlife populations since 1970 and if nothing changes we could lose up to two thirds by 2020, affecting everything from the humble British hedgehog, to the majestic elephants of the African savannah.
However, though the threats may be numerous, technology is increasingly playing a role in equipping front line conservationists with the tools they need to help scale up their efforts and turn the tide.
As an international conservation charity, ZSL (Zoological Society of London) is one such organisation working to develop the technological tools that enable us to better understand animals, their habitats and the threats they face so we can protect our precious wildlife.
Our Conservation Technology Unit is working to create affordable, open source hardware and software to enable scaled up species monitoring and efficient law enforcement in areas of wildlife crime, as well as help connect people to nature.
Monitoring species is a vital if we are to understand how they are faring, and how conservation action can help.
Tagging individual animals is a key part of this. Technical Specialists from ZSL have been working on a unique project developing a low-cost tag to help acquire location and behaviour data for green sea turtles off the coast of Africa. By using open source technologies and novel manufacturing, the team designed a new tag enclosure that cost 90 per cent less to produce than commercial tags. This will enable conservationists to scale up their monitoring efforts and learn more about the movements of nesting turtles, allowing better protection of their important marine habitats.
Supporting law enforcement
For many of the world's most iconic species, the illegal trade in wildlife products presents a major and growing threat - so much so that it's now considered the world's fourth-largest illicit industry after drugs, weapons and human trafficking. As technology is enabling the development of this burgeoning underground trade, so technology can help fight it.
One key challenge for conservationists is how to protect wildlife populations across vast areas of remote landscape with only a small team of rangers. Instant Detect, a technology developed by ZSL and a number of partners, goes a way to combatting this challenge.
Instant Detect consists of a system of satellite-connected, motion-triggered cameras and a variety of other ground sensors, which transmit data and images in real time to a central point - that can be almost anywhere in the world. The system can act as an early warning system to alert rangers to wildlife threats, such as the presence of poachers, allowing them to rapidly respond.
Currently deployed to protecting everything from the nests and eggs of endangered birds to wild rhino populations, this award-winning system is being used across the world and version 2.0 is currently under development. Next, the team are exploring how acoustic underwater monitoring could detect illegal fishing vessels.
Connecting people with nature
Making change relies on connecting people with the natural world and encouraging sustainable lifestyle choices by making individual consumers feel that they can make a difference.
ZSL created the Instant Wild app to bring camera trap photos of wildlife to the wider public, letting people see the amazing wildlife we're monitoring and helping budding 'citizen scientists' get involved in our work. This app sends live wildlife images from the field directly to people's phones, asking them to help identify the species, engaging people directly with our research and speeding up data analysis.
Last year we also collaborated with United for Wildlife to develop a new adventure map for Minecraft, set in the African savannah, to engage young adults in the world of conservation. The resulting game, We Are The Rangers, has been downloaded over 100,000 times and is proving hugely popular with YouTube users, with their game player videos racking up over 2.6 million views - in 10 different languages. The game has engaged large audiences across UK, US, Vietnam, Thailand and China, helping raise awareness of the illegal wildlife trade.
Despite the seeming desperate situation facing the world's wildlife, there is cause for hope. By developing and utilising appropriate technologies, making them affordable, open source and accessible to professional conservationists and nature-lovers across the world, we can offer the necessary tools to scale up our conservation efforts and tackle these challenges and hopefully help to save our precious wildlife for generations to come.
HuffPost UK Tech is running a two-week focus on our Tech For Good campaign, which aims to highlight the technology that is driving social change and making a positive, long-lasting difference to our world. If you'd like to blog on our platform around this topic, email ukblogteam@huffingtonpost.com with a summary of who you are and what you'd like to blog about.
Related